Top Spots for Bird Watching in Qatar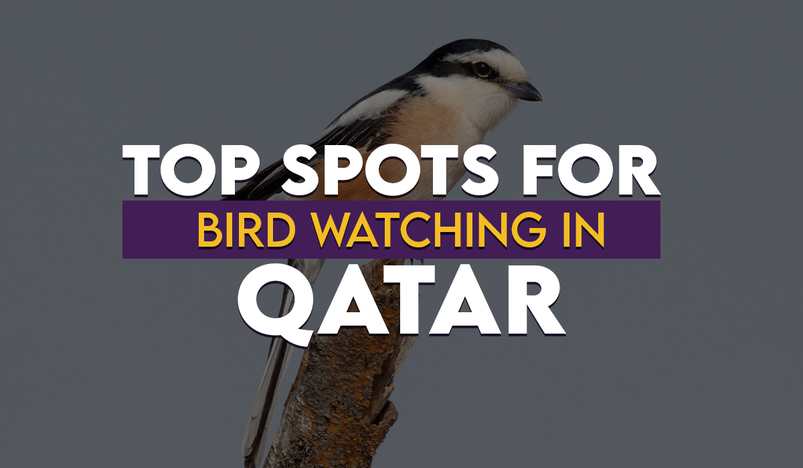 Top Spots for Bird Watching in Qatar

Are you a nature lover residing in Qatar and wondering where you could go and explore some of finest spots to watch birds and mesmerize or capture good moments through photographs?
If that is who you are, then this article is exactly where you should be to gain insights on some of the top spots for bird watching. 
Qatar is a great country in every aspect with regards to its culture, tourism, residential life, sports, food and many more.
An individual who travels from a distant country will make sure Qatar is one of the destinations that could be considered for a re-visit.
However, if you have a binocular or a camera, then lets get going to shoot the right moments with some of the amazing views and kinds of birds in Qatar.
We have curated a list of 5 top spots where you can explore, and enjoy the nature while discovering unique birds in the country.
1.    Doha Corniche
Corniche is one of the most prominent and visited spots in the country and majority of the people come here for some relaxing moments or for exercises.
Located in the Doha city, sea borders its area making it a spectacular and ideal place attracting tourists and residents. 
This is also an excellent place for bird watching as you can witness many pigeons along the way.
2.    Purple Island
Purple Island's Watch Tower is one of the renowned tourist spots in the country attracting more travellers.
It is recommended that the best time for bird watching is 5 am as varieties of birds can be seen flying through the island.
The tower housed at the Purple Island attracts many visitors for its fantastic natural features.
3.    Souq Waqif
Being one of the recommended and attractive tourist spots in Doha, Souq Waqif is also a highly visited place for its structures, local cultures and traditions included.
Right in the centre of the place you can find an amazing array of birds, which will give you some breath-taking moments.
Waqif also has an instore market namely 'birds market' that is kept there to be sold and features various kinds of birds including parrots and love birds.
4.    Al Karaana Lagoon
Guaranteeing you a tranquil environment, Al Karaana Lagoon is one of the must-visit places for bird watching.
With different species of birds featured, the chirping of the birds make it even more beautiful in this natural reserve.
Visitors and travellers in Qatar have highly recommended this place for bird watching and to enjoy the calmness derived from this spot.

5.    Aspire Park
The Park is located in Aspire zone and is one of highest visited parks by families in Qatar.
Being the biggest park in Doha city, it also features a wide range of birds for the people to enjoy.
In addition to birds, ducks and swans can also be found in the lakes situated in the Aspire Park.

Which of these top spots has caught your attention for some quality time of bird watching? Let us know in the comments below.