Top Movies to Watch this Eid 2022 in Qatar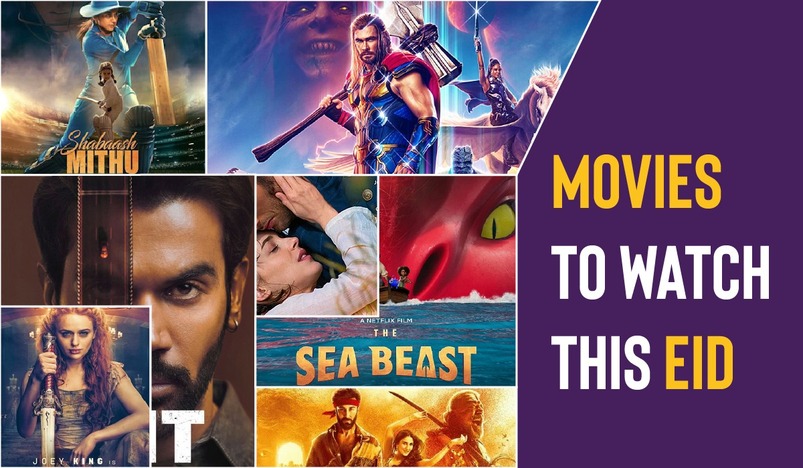 Eid 2022 in Qatar Movie Guide
Movies play a vital role in keeping us entertained especially during our holidays and days off. This Eid, enjoy some of the most anticipated megahit movies with friends and family and have a memorable experience. Some of the movies releasing this Eid are as follows.
Hollywood movies
1. The Princess (Action/Fantasy/Drama)
Release Date: July 1
Description: When a strong-willed princess refuses to wed the cruel sociopath, she is kidnapped and locked in a remote tower of her father's castle. With her vindictive suitor intent on taking her father's throne, the princess must save the kingdom. Directed by
Le-Van Kiet, written by Ben Lustig and Jake Thornton, and starring Joey King, Olga Kurylenko, Antoni Davidov.
 
2. Thor: Love and Thunder (Action/Adventure/Comedy)
Release Date: July 8
Description: Thor enlists the help of Valkyrie, Korg and ex-girlfriend Jane Foster to fight Gorr the God Butcher, who intends to make the gods extinct. Directed by Taika Waititi, written by Taika Waititi (screenplay by), Jennifer Kaytin Robinson(story by), and Stan Lee (based on the Marvel comics by), starring Chris Hemsworth, Taika Waititi (voice), Chris Pratt.
3. The Sea Beast (Animation/Adventure/Comedy)
Release Date: July 8
Description: When a young girl stows away on the ship of a legendary sea monster hunter, they launch an epic journey into uncharted waters - and make history to boot. Directed by Chris Williams, written by Nell Benjamin, Chris Williams, and starring Karl Urban (voice), Dan Stevens (voice), Jared Harris (voice).
4. Persuasion (Drama/Romance)
Release Date: July 15
Description: Eight years after Anne Elliot was persuaded not to marry a dashing man of humble origins, they meet again. Will she seize her second chance at true love? Directed by Carrie Cracknell, written by Jane Austen (based on a novel by) Ron BassAlice, Victoria Winslow, and starring Dakota Johnson, Cosmo Jarvis, Henry Golding.
Bollywood movies
5. Hit: The first case (Action/Crime/Drama)
Release Date: July 15
Description: This film is a Hindi remake of Telugu cop drama HIT, in which an officer of the 'Homicide Intervention Team' who frequently suffers from having his panic attacks does everything in his power to rescue a woman who went missing. Directed by Sailesh Kolanu, starring Rajkummar Rao, Sanya Malhotra, and Shanu Kumar.
6. Shabash Mithu (Biography/Drama/Sport)
Release Date: July 15
Description: Indian women's cricket captain Mithali Raj's biopic. Directed by Srijit Mukherji, written by Priya Aven, Vijay Maurya (dialogue), starring Taapsee Pannu, Vijay Raaz, Richard Bhakti Klein.
7. Shamshera (Action/Adventure/Drama)
Release Date: July 22
Description: In the fictitious city of Kaza, a warrior tribe is imprisoned, enslaved & tortured by a ruthless authoritarian Shudh Singh. Shamshera is the a legend for his tribe who relentlessly fights for his tribe's freedom & dignity. Directed by Karan Malhotra, written by Khila Bisht (story), Karan Malhotra (Screenplay), Piyush Mishra (dialogue), starring Ranbir Kapoor, Vaani Kapoor, Sanjay Dutt.
Source: IMDb
Have you made plans with your friends or family as to which movie you would like to watch this Eid? When and if you do, there's one great place to ensure you get to know about the latest movie releases and will be able to book tickets for your movie of choice, the leading entertainment portal of Qatar, www.q-tickets.com If you follow Q-Tickets on Facebook or Instagram, you'll get to know about upcoming releases, watch trailers and can even take part in competitions to win FREE tickets