TOP ARAB FAMILY BUSINESSES 2023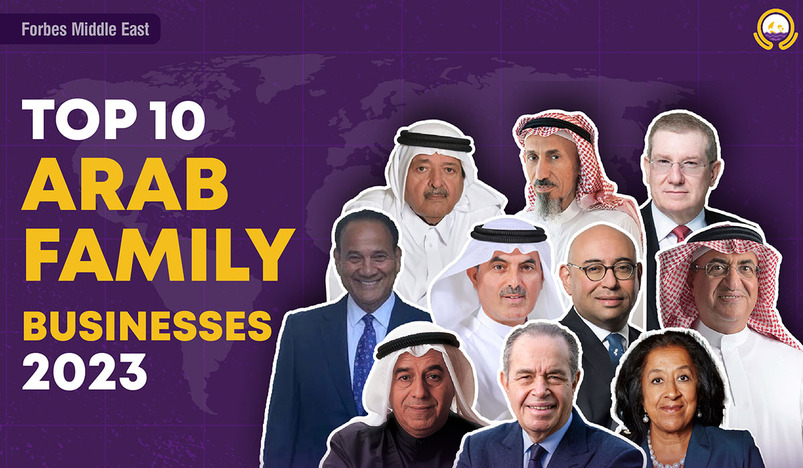 Arab Family Businesses
Most of the top family-owned businesses in the Middle East either started off as dealers, agents, or distributors for international companies, with the most successful enterprises evolving by adding more services and sectors to their portfolios. However, recently more family businesses seem to be looking to access the region's stock exchanges for growth. 
In Forbes Middle East's 2023 list of the Top 100 Arab Family Businesses, over 60% are major shareholders in a company listed on a regional stock exchange. Most of these listed companies' family businesses were among the founding shareholders. These listings not only bring in capital but allow family members to unlock value, as well as improve transparency and governance.
Of the top 100, Saudi Arabia dominates with 33 entries and is home to four of the top 10 companies. The U.A.E. comes in close second place with 29 entries, followed by Egypt with nine, and Qatar with eight.
Family businesses are still playing catchup in terms of sustainability, but as most are reaching the second or third generation, they have begun to change with the times. Many of them are bringing in corporate governance, establishing clear structures, and putting professional managers in place. A few companies have separate family boards and corporate boards, and several have non-family members on their boards. Most have a non-family member in the top management team.
Here is a list of the top 10 Arab Family Businesses.
1. Mansour Group
Established: 1952
Country: Egypt
Group Chairman: Mohamed Mansour
The Mansour Group has grown over three generations, from starting in 1952 as a cotton exporter to becoming a global conglomerate. The group has operations in automotive, investment, and foodstuff, among other sectors. Al Mansour Holding Company for Financial Investments is Egypt's largest distribution group. In May 2023, U.S. Major League Soccer (MLS) awarded a $500 million franchise to a group led by Mohamed Mansour to launch a football club in California by 2025. Yasseen, Mohamed, and Youssef Mansour had a combined net worth of $6.4 billion as of July 2023.
2. Al-Futtaim Group
Established: 1930
Country: U.A.E.
Chairman: Abdulla Al Futtaim
With operations in the automotive, finance, real estate, retail, and healthcare sectors, the Al-Futtaim Group has over 200 brands across 20 countries. It employs 33,000 people. The group owns 100% of Orient Insurance, 83.3% of the Emirates Investment Bank, and 26.3% of the Commercial Bank of Dubai. Abdulla Al-Futtaim and family had a net worth of $2.4 billion as of July 2023. In March 2023, the Al-Futtaim Group launched the Electric Mobility Company in the U.A.E., an e-mobility-focused dealership.
3. Olayan Financing Company (OFC)
Established: 1947
Country: Saudi Arabia
Chair of the Executive Committee and Deputy Chair: Lubna S. Olayan
OFC is the parent company of the Olayan Group, which was founded in 1947 by Suliman Olayan as the General Contracting Company. Today, the group has a diverse industrial, commercial, and investment portfolio. In June 2023, it supported the Asia Climate Solutions Design Grant in its first round of funding. The Olayan Group has offices in Vaduz, London, New York, Athens, Luxembourg, Singapore, and Riyadh.
4. Al Ghurair Investment
Established: 1960
Country: U.A.E.
Chairman of the Executive Committee: Abdul Aziz Abdulla Al Ghurair
Established in 1960 as a trading business, Al Ghurair was one of the first pillars of industry in the U.A.E. Today, the group has a diversified portfolio across 50 countries in food and resources, construction, energy, and venture, among other sectors. It employs around 28,000 people. In March 2023, the group's automotive division signed a partnership with Chinese automobile manufacturer EXEED to be the exclusive distributor of its SUVs in the U.A.E. In April 2023, Al Ghurair Foods signed 50-year land lease agreements worth $272.3 million with Khalifa Economic Zones Abu Dhabi. Abdulla Al Ghurair and family had a net worth of $3.2 billion as of July 2023.
5. Majid Al Futtaim Holding
Established: 1992
Country: U.A.E.
CEO: Ahmed Galal Ismail
Majid Al Futtaim Holding has businesses in retail, entertainment, real estate, F&B, and lifestyle across the Middle East, Africa, and Central Asia. The company brought the Carrefour brand to the region and owns the right to operate it in 30 countries. It currently operates 458 Carrefour stores, 29 shopping malls in five countries, and 13 hotels (11 in the U.A.E. and two in Bahrain). The group recorded revenues of $9.9 billion in 2022, an increase of more than 12% compared to 2021.
6. Abdul Latif Jameel
Established: 1945
Country: Saudi Arabia
Chairman: Mohammed Abdul Latif Jameel
Abdul Latif Jameel operates in mobility, energy, finance, and health, among other sectors. It has a presence in 34 countries across six continents and employs over 11,000 people. Fotowatio Renewable Ventures (FRV)—part of Abdul Latif Jameel Energy—entered the German market to provide nearly 800,000 homes with clean energy. FRV aims to reach one gigawatt of installed capacity in Europe by 2025. JIMCO, the family's global investment arm, was an early investor in Rivian, the electric car company. The Jameel family founded Community Jameel, which supported the Abdul Latif Jameel Poverty Action Lab (J-PAL) at MIT. J-PAL, celebrating its 20th anniversary in 2023, has impacted over 600 million lives through poverty-alleviation research and the scaling of programs.
7. Al Muhaidib Group
Established: 1943
Country: Saudi Arabia
Group Chairman: Sulaiman Al Muhaidib
Abdulkadir Al Muhaidib founded Al Muhaidib Group in 1943 as a food store. His children—Sulaiman, Emad, and Essam—operate the company. It is an investor in the Saudi stock market, with stakes in the Savola Group. The group's businesses span 25 countries, with a focus on F&B, industrial and infrastructure, real estate, and financial investment. Group Chairman Sulaiman A.K. Al Muhaidib is also the chairman of the Savola Group and the Rafal Real Estate Development Company.
8. SEDCO Holding
Established: 1976
Country: Saudi Arabia
Chairman: Saleh Salem Bin Mahfouz
SEDCO Holding is a 47-year-old Shariah-compliant, ethical, and sustainable investment firm with diversified interests in financial, real estate, and direct investments. The company mainly invests in asset management, education, healthcare, hospitality, and real estate. It employs more than 3,500 people across the world. In 2022, SEDCO invested $171.5 million in a mixed-use tourism project in Abha, Saudi Arabia. SEDCO Holding also owns 35% of Nahdi Medical Company, one of the largest pharmacy chains in the Middle East. Nahdi raised $1.4 billion in 2022, which was Saudi Arabia's largest IPO since Aramco's listing.
9. Al Ghurair Group
Established: 1960
Country: U.A.E.
Group CEO: Iyad Malas
Saif Ahmed Al Ghurair founded the Al Ghurair Group in 1960. Nasser Saidi, who is not from the Al Ghurair family, is the non-executive chairman of the board, and the rest of the board is comprised of family members. The group has a diversified portfolio in real estate, manufacturing, and finance. The BurJuman Centre in Bur Dubai is the group's flagship property under its real estate portfolio. Its petrochemical business, Taghleef Industries, is among the largest global manufacturers of biaxially oriented polypropylene film, which is used in food packaging. The group is also involved in manufacturing metal through Al Ghurair Iron and Steel. The group's investments include large stakes in Mashreq Bank and the National Cement Company.
10. Al Faisal Holding
Established: 1964
Country: Qatar
Chairman: Faisal Bin Qassim Al Thani
Al Faisal Holding was established in 1964 as a small company trading in spare automotive parts. Today, the group has over 50 companies operating across eight sectors. The group's hospitality arm, Al Rayyan Tourism Investment Company (ARTIC), has 35 hotels and projects in the Middle East, Africa, Europe, and North America. In January 2023, ARTIC and JW Marriott announced the completion of the first stage of the transformation of the JW Marriott Hotel Berlin. Al Faisal Holding's chairman Al Thani had a net worth of $1.7 billion as of July 4, 2023.
[ Source: Forbes Middle East ]