Top 9 Cultural Attractions In Qatar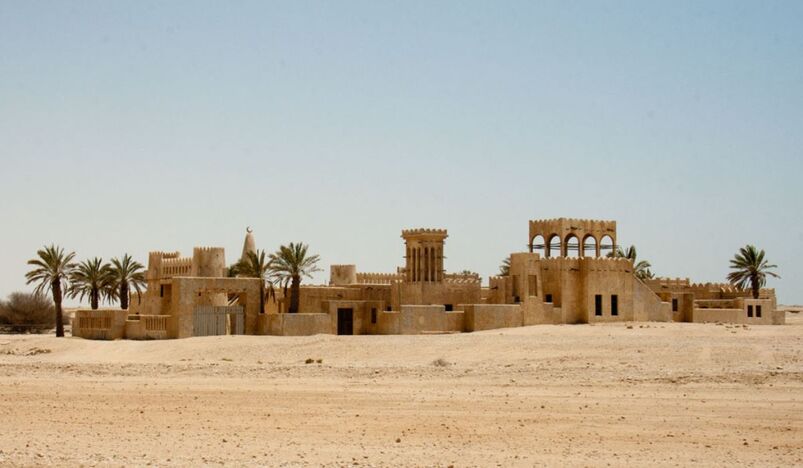 Film City
AL ZUBARAH FORT AND MUSEUM
The Al Zubarah Fort, a UNESCO World Heritage Site and a well-known historical location in Qatar, is a well-known location to explore in the nation. Al Zubarah's history stretches back to the 17th and 18th centuries. After the fort was destroyed in 1811, it was later restored. According to history, Sheikh Abdullah bin Jassim Al Thani approved the reconstruction of a fort in 1983 to safeguard the entire northwest coastline area as well as the coastal movement. However, the Zubarah Fort was quickly abandoned again after serving as a military installation up until 1986.
There are some warehouses or stores that feature art exhibits and collections of the finest gifts and antiques available for purchase. Traditional roof designs and curving walls are used in the structure 
Location: Northwest of Doha about 80 KM from the town
Timings: Travelers are advised to confirm the opening hours of Al Zubarah from the concerned authorities
Entry Fee: Travelers are advised to confirm the entry charges for Al Zubarah from the concerned authorities
FAISAL BIN QASSIM MUSEUM
Sheikh Faisal bin Qassim is a significant figure in Qatar who works to promote the nation's history and culture. The history of Qatar's people and the effects it has had on its society are traced at the FBQ museum. The Sheikh Faisal Bin Qassim Al Thani Museum, which lies outside of the city in a traditional style fort at Al Samriya Farm, is home to the Sheikh's private collection, which includes pieces of Islamic art, Qatari history, automobiles, handcrafted carpets, and money from more than four continents.
Location: Al Samriya, 22 km West of Doha, just beyond the Mall Of Qatar
Timings: Sunday: 9:00 am – 4:00 pm
Monday - Thursday: 9:00 am – 4:30 pm
Friday: 2:00 pm – 7:00 pm
Saturday: 10:00 am – 6:00 pm
Entry Fee: Free!
ZEKREET FORT 
In addition to being a historical site, the Zekreet fort is also one of Qatar's most visited tourist destinations. The fort draws a large number of tourists and history fans to admire its architectural splendor because of its peaceful surroundings and unique formation. This is one of those gorgeous locations that will transport you.
Location: Zakreet, West Coast of Qatar
Timings: 24X7
Entry fee: Free!
THE FILM CITY
The Film City is a mystery village with outstanding architecture that is located in a remote and historic area of Qatar. This attraction, however, is not like any other city because it was built to serve as a set for an old Arabian television series. The city was later abandoned, and it is now a popular tourist destination. The area is so well-liked by foreigners because of its stunning architecture. 
The city often referred to as the Ghost Town in Qatar, is situated in a quiet and alluring setting that is relatively Free!!! from human impact.
Location: Zekreet peninsula, Qatar
Timing: 24X7
Entry Fee: Free!
AL RAKAYAT FORT 
The magnificent forts that Qatar is proud of are also an important aspect of their history and culture. One of the best historical sites in Qatar where you can see the splendor of old art and architecture is Al Rakayat Fort. Although this fort from the 19th century may not be as stunning and gorgeous as other forts in Qatar, it is still well-known for its historical significance. The fort, which is nearby Ar Rakiyat Village, was constructed to protect the only freshwater source from natural disasters. Ar Rakiyat's purpose is justified by its name, which translates to "Well." Its existence is not the subject of any noteworthy legend, yet it is nevertheless a significant discovery.
Location: Northern city in Qatar
Timings: 24X7
Entry Fee: Free!
AL WAJBAH FORT
One of Qatar's finest historical monuments that you must visit is Al Wajba Fort. In the fight of 1893, when Qatari forces destroyed the Ottoman army, the fort was crucial. Al Wajba Fort has continued to be a wonder and an important Doha destination ever since. 
One of the nation's oldest forts, Al Wajba Fort, has seen every historical development and catastrophe. Al Wajba Fort was once home to His Highness Hamad Abdullah Al Thani, and it had previously been a palace for various sheiks throughout history. You'll not only catch a peek of this allure, but the fort's history also 
Location: Western Doha, Qatar
Timings: 24X7
Entry Fee: Free!
MUSEUM OF ISLAMIC ART 
Travelers can view the finest historical collections at the Museum of Islamic Art, one of Qatar's top museums. 
The museum, built by renowned architect I.M. Pei is situated on its own island and covered with limestones, which significantly improve its appearance. 
This museum greatly grabs the interest of visitors with its display of more than 15000 manuscripts,a substantial collection of pottery, glassworks, textiles,  rare books and much more . But hold on, do you know what else the Museum of Islamic Art has to offer? The Holy Quran from the seventeenth century, which is a key draw, is kept in the museum.
Location: Doha, Qatar
Timings: Saturday to Thursday: 9 AM - 7 PM and Friday: 1:30 PM - 7 PM
Entry Fee: Free!!!
  
SOUQ WAKIF
Souq Waqif is a traditional market and a significant location that was built on an old marketplace. Although the market is well-known for shopping in Qatar today, A shopper's paradise, where you can purchase high-quality materials for handicrafts, art and accessories from Qatar, traditional apparel, and more. It was once a center for dealing animals but the market still has the same style and allure that attracts so many tourists. 
Location: Souq Waqif Doha, Qatar
Timing: 24X7
Entry fee: Free!
BARZAN TOWERS
Barzan Towers is one of Qatar's most well-known historical sites due to its distinctive shape, Qatari architecture, and rich past. The tower was constructed by Sheikh Mohammed bin Jassim Al Thani in the nineteenth century with the intention of monitoring local activity. Building the tower was done in order to protect the area against Ottoman invasion. During Ramadan, it was also used to record dates and timings and observe the moon's motion. These towers stand as a stunning example of architecture beneath the great Arabian sky, reflecting the high caliber of the time's art.
The towers received significant changes when they were repaired in 2003, even though they still serve as a historical landmark in Qatar. To make them a more appealing choice for everyone, some air conditioning amenities were provided.
Location: Mohammed Bin Jasim, Umm Salal
Timings: 2 pm to 7 pm
Entry Fees: Free!