Top 5 Outlets Serving Best Baklavas in Qatar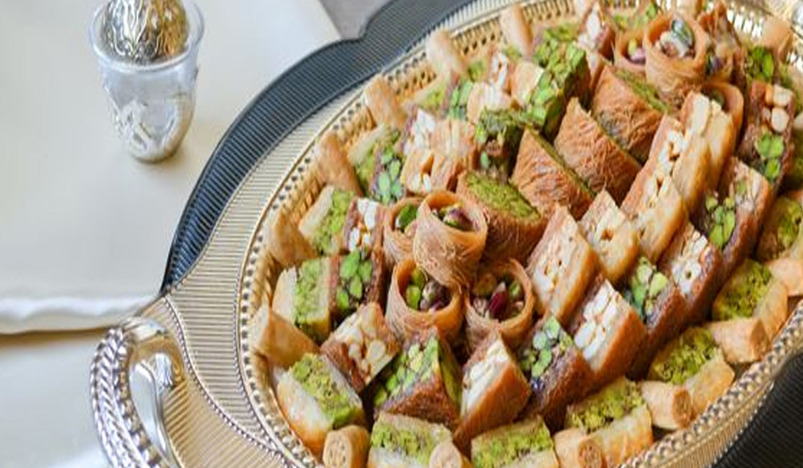 Baklavas in Qatar
The layered pastry made of filo pastry, filled with chopped nuts, and sweetened with syrup or honey – Baklava is a truly enriching dessert.
It is one of the most popular desserts in the middle eastern region especially in Iran, Turkey and the Gulf states.
First baked during the Ottoman Empire it can be served in the cold room temperature or can be re-warmed. 
These freshly baked baklava dessert is widely popular in Qatar and is one of those cuisines often bought for some appetizing moments. 
Let us look at some of the top 5 outlets in Qatar that serves the best bakhlava dessert.
1. Al Nashama
One of the most visited by the public, Al Nashama offers some of the finest and delicate qualities of sweets.
The baklavas served in this outlet is also one of the bests in the region that serves some authentic taste.
To know more about their services, offers, and information regarding the sweet, place a call on 44358634.
2. Al Aker Sweets and Bakeries
A must-visit outlet for all baklava and kunafa lovers as it comes with some palatable desserts in addition to that.
All the Arab sweets served at Al Aker Sweets and Bakeries are very delicious and filling to the soul.
Call them on 4411 3111 to avail their services and feel the refreshing sweets that guarantees to capture your minds.
3. MADO Qatar
MADO Qatar is a Turkish restaurant that offers almost all continental sweets in addition to different flavors of cake and ice creams. 
One of the best sweets available in this outlet for sure is the sweet pastry baklava and it is a must-try one.
For more information regarding price, and other services do contact the store on 4436 4622.
4. Patisserie Suisse Nasser
Filled with amazing cakes and sweets, Patisserie offers you the variety of delectable desserts.
Often tasted sweet in this outlet is the baklava due to its lusciousness included in it.
To avail their valuable services and to make your bookings, contact Patisserie on 44323234.
5. Hot Bread Bakery
One of the best and the oldest bakeries in Doha, the hot bread bakery is known for its scrumptious and soothing desserts in the country.
The Egyptian outlet is particularly known for the most delicious baklava sweets in the country.
Contact Hot Bread Bakery to know more about their offers on 4465 2422 and let them know your interests!
Which of these outlets grabbed your mind to taste some of the most amazing baklavas in Qatar? Let us know in the comments in below!