Top 5 Outdoor Activities in Qatar You Can Do While Social Distancing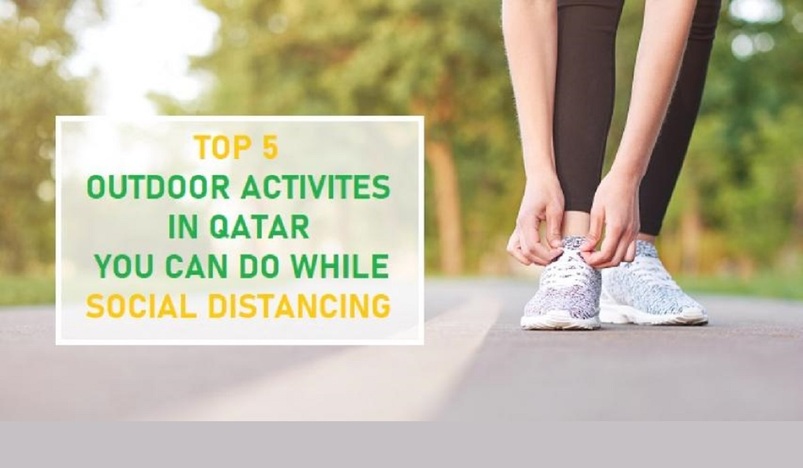 Outdoor Activities in Qatar
Stuck at home? Don't let COVID-19 pandemic derail your health and fitness goals.
Staying inside and remembering to get outside may sound like an oxymoron. But, some physical activities are better than none! 
Summer is here in Qatar. We're finally able to swap winter jackets for light shirts, boots for sneakers, and shed some layers. Now, it's time to switch your TV and PC screens for some outdoor fun!
Here are our 5 of our best low-risk ways to "move more in the outdoors" while social distancing in Qatar:
1. EXERCISE
Move more, sit less. It is recommended that adults should get at least 150 minutes of moderate-intensity exercise per week. 
Although it is not scientifically proven that regular exercise can make us less susceptible to catching Covid-19, various studies show that it bolsters our defences against other viral infections like influenza and common cold.  
While exercising, our immune response to vaccination may also increase. So, if you're working from home, try taking activity breaks throughout the day by exercising outdoors.
But, is it possible nowadays? The good news is, individuals are allowed to undertake exercise in parks and open spaces, according to a recent announcement of the Ministry of Public Health (MoPH).
Hotel Park Doha is raising awareness on the importance of taking advantage of the health benefits one can get outdoors.
Find a secluded area to read in the water gardens, enjoy moments under the shade of a Date Palm, lounge under the light of West Bay's skyscrapers, or better yet enjoy your favorite cold treats to beat the summer heat! 
While exercising, don't forget these guidelines from MoPH:
Do's
• Do exercise in groups. However, you must be 2 or 3 in a family group who are living together.
• Do any individual sporting activity, such as running and walking for exercise.
• Do wear masks if you come within 3 meters from others when exercising. You may not wear it while exercising outdoors.
• Do ensure a 3 meters minimum distance from others when exercising outdoors.
Dont's
• Do not stop and sit on benches or grass.
• Don't stop for food/picnics.
• Don't go in groups or social gatherings.
Note:
Outdoor gyms, playgrounds, and skate parks to remain closed.
Did you know? There are some parks in Qatar where you can go for a fresh workout starting May 28, during the first phase of gradual lifting of COVID-19 restrictions. Read this article for more details: Top 5 Parks in Qatar Where You Can Visit for Leisure Activities Starting Phase 1
2. BEACH FROLICKING
Get your dose of "Vitamin Sea" at the pristine white sand beaches of Qatar as they open on May 28 at a limited capacity.
Hotel beach resorts like Hilton Salwa Beach Resort & Villas are gearing up for their reopening on Phase 1.
Note:
• Waterpark, restaurants, beach and swimming pools will be open from May 28 at a limited capacity
• Small groups of up to 5 people or members of the same family are allowed to open beaches with a capacity of up to 30%.
Getting a dose of Vitamin Sea isn't just a luxury. It's a necessity. Exposure to direct sunlight allows your body to produce the Vitamin D it needs to maintain strong bones and a robust immune system. 
If a day at the beach is not enough for you, you can opt for a staycation in any of the hotels with beach resorts for total relaxation. Read more at: Top 6 Staycation Destinations in Qatar
3. CAMPING AND WATERSPORTS
Find calm amid the chaos by going on a kayaking adventure with your family. There are packages being offered by some Qatar's leading outdoor adventure and watersports companies such as the Blue Pearl Experience, AquaSports Qatar and 365 Adventures Qatar.
Have a smooth-sailing kayaking in the mangroves, while observing Qatar's fascinating wildlife. Enjoy bird watching during the mangrove tour. Have a short break by swimming and snorkeling at the Purple Island. And learn about Mangroves Ecosystem's Brief and conservation.
Catch the sunset in the Inland Sea. Experience an Arabian Night paddle. Go on mountain biking, hiking, camping, and the list goes on.
There's no limit to what you can do outdoors. But, remember: While restrictions are loosening up, the pandemic still isn't over. 
That means that we still need to be cautious in public spaces. It's fine to go for a walk or hike outside in non crowded areas. But, let your guard down.
People who are not vaccinated, such as children under the age of 12, are still vulnerable to COVID-19 and should take precautions when deciding when and where to go out.
.4. EXTREME SPORTS
Care to dare some adrenaline-fueled challenges? Extreme watersports is not for the fainthearted. But, it's also for those who are willing to try.
But, before buckling up your harness and soaring high above the skies, read this ultimate guide for this intense aerial sport: All About 'Paragliding' in Qatar: Read this Before You Try it!
Adrenaline junkies in Qatar are social distancing with thousands of feet altitude way above the clouds. And, then get landed or go ashore by Paragliding, Paramotoring, Kitefoiling, and Kite boarding, and Kitesurfing to either desert dunes or seas. What's more? The new trend: Wing Surfing!
5. MUSEUM VISIT
Beat your isolation blues by going on a museum visit. While it is more of an indoor experience, did you know that many of the museums in Qatar also have outdoor areas for you to chill out while keeping a safe distance?
Yes, and if you are planning for a cool escape with your family starting May 28, add this activity to your bucket list. 
Read on to find out what the museums in Qatar can offer in their outdoor facilities here: Top 5 Museums in Qatar and Interesting Facts You Probably Didn't Know
While staying at home helps to shield us from the pandemic, missing out on time outdoors might alter our risk of catching diseases in other ways. 
So, don't just get slumped on your couch and get unenthused by the thought of working, cooking dinner, scrolling your phone, or doing your mundane house-bound routine. Check out the above sure-fire ways to de-stress during this uncertain time.
Stay active while social distancing!
So, what are you up to on the reopening of leisure parks and amusement centers? Tell us in the comments!