Top 5 Must-Visit Beaches in Qatar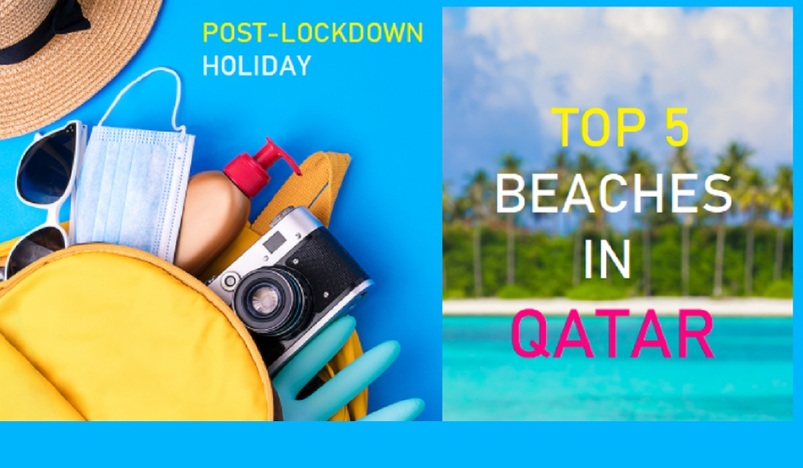 Best Beaches in Qatar
"B.E.A.C.H - Best Escape Anyone Can Have."
If you're reading this, you're probably a beach bum, an expatriate, or a tourist on a quest for a beach getaway in Qatar. 
The good news is: This country has a lot of sea escapades for you… beach lover!
Whether you've been here for a month or a decade now, there's always something new to discover beyond its futuristic skyscrapers and ultramodern architectural sites.
Peninsula in Persian Gulf
Qatar is a peninsula with a 563-km coastline (350 miles) surrounded by breathtaking beaches. Winter or spring here means one thing: beach time. 
As 'a piece of land that sticks out into water' on the Persian Gulf, the state experiences sunny skies all year round – which makes it a fantastic destination for those who want to get a dose of 'Vitamin Sea.'
Here are our picks for the 5 beaches in Qatar to rack up tons of likes on your social media feed – while you're on post-lockdown holiday.
Important Reminder: Starting May 28, small groups of up to 5 people or members of the same family are allowed to congregate. Private beaches are allowed to operate at 30% capacity due to the current COVID-19 restrictions in place.
Add-on: Because beach break wanderlust drives the millennials. A place's Instagram appeal is equally important. So, we added some Insta tips for each spot. After all, this is the generation that invented the expression, "Do it for the gram."
1. AL MAJFAR BEACH (UMM TAYS)
"Qatar's Most Beautiful Beach"
Al Mafjar (also known as Umm Tays or Old Ruins) Beach has been named the most beautiful beach in the country by members of the Qatar Natural History Group.
It is worth mentioning the abandoned historic village, Al Mafjar, where this beach got its name. This site is easily recognizable by the fences around it. 
Al Mafjar is a tiny hamlet with a beautiful and unspoiled beach that transitions into the nearby mangroves and features a sandbank. It can be reached by wading through calm water, which will be around knee-deep during high tide.
The remains of the old village are fenced due to conservation reasons, but they can be spotted through the fence and there is a colonial style villa built next to the historic village.
Things to Bring:
• As there is no shade, bring a large umbrella for protection.
• Water-proof shoes
• Plenty of water and some snacks (there are no shops in the area)
• Diving goggle, fins and snorkel
• Sunscreen
Travel Tips:
• Umm Tays Beach is located at the northernmost point of Qatar, near Fuwairit Beach.
• You don't need a tour operator to access the beach. Rent a car or take your 4WD and drive north on the main highway until you reach the end of the road, approximately 90 minutes from Doha. 
• Driving there with a sedan is trickier than to Fuwairit, but the landscape is beautiful. 
• You should arrive at Al-Jumail, an abandoned fishing village surrounded by mangroves and a few old forts. Follow the signs from the village to Umm Tays Beach.
• Best way to Al Mafjar/ Umm Tays Beach:
- From Doha drive north on Shamal Highway until you reach Al Shamal and the highway ends at the second roundabout.
- Turn right and after about 2.5 Kilometers turn left on the small paved road. Continue until just before you reach a group of houses at the shore turn right onto a dirt-track.
- Follow the track parallel to the shore until you reach Mafjar that can be recognized by the fenced abandoned village.
• The water is clear (and deep) and if you're going alone or have small children, this beach isn't advisable unless you stay in the shallow channel. 
Activities to Enjoy:
• Swimming - In the shallow channel is safe for families with kids.
• Wading - To observe fish and crabs
• Snorkeling - To the halfway sunk car is interesting as it provides shelter to small fish that are cool to discover
• Kitesurfing - If you have the equipment and proper training
• Kiteboarding - It is possible when the wind is good
• Strolling - The sand is soft and crossing the shallow channel that separates the beach from the land is a pleasure to cross.
• Picnic - When the tide is low, you can walk or wade to a little peninsula that is popular with picnickers.
Instagram Appeal:
• Umm Tays Beach is surrounded by forts, mangroves, an old abandoned fishing village, and a few run-down vacation homes that look like they've been empty for years. 
• It is close to Umm Tais National Park – an important protected habitat for birds and other animals. 
• It is quite a remarkable sight and gives a good idea about what life could have been like here in the old days. 
"Happiness is sand between the toes."
2. INLAND SEA (KHOR AL ADAID)
"The Sea Meets The Desert"
Qatar's jewel – the Inland Sea – also known as Khor Al Adaid Beach,  is one of the only places where the sea meets desert.
The area, which was declared a nature reserve in 2007, is one of the few places in the world where the sea meets the desert. In fact, Qatar is attempting to get it named as a UNESCO World Heritage Site.
Travel Tips:
• The Inland Sea is located near the Qatar-Saudi border (a 90-minute drive south of Qatar and about 30 minutes away from Sealine Beach). 
• Overall it takes about two and a half hours to get there from Doha.
• No roads lead to this beach, so you'll need a 4-wheel drive vehicle if you want to transport yourself there. 
• Tour operators offer frequent trips including overnight packages, but if you have a 4WD and some mad dune-bashing skills, then it will be double the fun. However, you have to drive through the mesmerizing sand dunes of Mesaieed.
• It's better to have an experienced driver navigate and take you to the Inland Sea, and if you're not used to driving on the dunes then you shouldn't drive. But it's definitely worth it, the beach is really scenic and very clean. 
• If you're going without an organised tour, don't go too far out – there are scorpions in the sand! 
• The best time to visit, as the natives and anyone who's seen says it, is during the high tide. This is the time when the sand dunes gently slip into the sea and give stunning views.
Activities to Enjoy:
• Fishing - It is a great spot for fishing, especially during the winter season. 
• Camping - This inlet creates a scenic camping spot
• Swimming - The waters are great for swimming
• Sunrise/Sunset Chasing - Don't miss the spectacular views from sunup to sundown
• Sandboarding  - This sport is more or less like skateboarding or Surfing on the water
• Dune Bashing:
- Don't be surprised if you see huge numbers of 4WDs pulling off road for some dune-bashing on the trip to the water's edge. 
- Listen to the sand dune's song. These ethereal whistles and haunting moans can only be heard in a few places around the world. 
- The humming sounds and ghostly whispers occur when the sand is completely dry. Keep a sandboard in your car for some adventure. 
• ATV Riding - There are special zones for ATV sports and areas with access to water and electricity, which can be rented out.
Instagram Appeal: 
• The Inland Sea is surrounded by gigantic rolling sand dunes, and it is an ideal place to play in the sand before a swim in the blue waters of the inlet.
• The sand dunes touch the water and turtles can be seen. 
• It is rumored that dugongs are visible from this area, along with some migratory birds.
"Sky above. Sand below. Peace within."
3. SEALINE BEACH
"Peace Lives Forty Miles South of Doha"
Sealine Beach is one of the most frequented beaches in Qatar by citizens and residents alike, and you can't blame them. Why? It's super-soft sandy areas makes it a top option for beach swimming and more. 
This beach in Mesaieed is ideal for families and groups of friends as it offers a wide variety of activities.
You can access the beach as a guest of the resort, which gives you access to the facilities including loungers, umbrellas, the pool, restaurants and other activities. 
Travel Tips:
• Sealine Beach is located just 30 minutes at the southern end of the Qatari peninsula, close to the town of Mesaieed and its Sealine Beach Resort. 
• It is 35 minutes drive from Doha International Airport and 40 minutes from Doha City.
• Rent a dune buggy or go dune-bashing on the beautiful dunes and enjoy sight-seeing.
Activities to Enjoy:
• Watersports - This long stretch of beach offers a variety of water sports equipment for rent. 
• Swimming
• Buggy Ride - Particularly renowned for its calming experience, guests staying at the resort can even rent a buggy and drive around the desert. 
• Sunbathing
• Boat Ride
• Camel riding
• Safari tours 
• Sunrise/Sunset Chasing - It is a fantastic spot to watch the sunrise and sunset.
• Dune Bashing - For those who prefer to play in the sand, dune buggies and quad bikes are available for hire at the resort.
• ATV Riding - Quad bikes and ATVs are also available for hire at the resort.
• Resort Staycation - Visitors can have lunch, drinks, or book a room for the night.
Instagram Appeal: 
• Have some photo-ops around the sand dunes and savor the views around you as the dunes touch the sea.
• Try any of the activities mentioned above and don't forget to take some Insta snaps!
4. AL MAROONA BEACH
"The French Beach"
You've probably heard of Maroona Beach, which some people also call the "French Beach" (for reasons not yet confirmed). If you know, let us know in the comments!
Nestled on the north eastern tip of Qatar, just before Fuwairit Beach – Al Maroona is one of Qatar's most popular beaches. Why? Its fine sand and shallow waters make it a must-visit destination.
The list of Doha's best beaches would not be complete without the mention of this beach. It's a super spot to catch some late afternoon sun, swim, barbecue and then even camp out. 
Things to Bring:
• There's absolutely nothing around though, so bring:
- Food supply
- A large umbrella
- Beach mats
- Lots of water
Travel Tips:
• From Doha to Al Maroona, it is approximately 1 hour and 10 minutes from Al Shamal Road.
• This beach is located just before (to the south of) Fuwairit Beach.
• The best time to come to the beach is early in the morning during summers and in the afternoon during the winter season.
Activities to Enjoy:
• Sandcastle Building - Children can enjoy a gala time here as the sand of the beach is perfect to create varied sand sculptures.
• Swimming - Can be enjoyed here by both adults and little swimmers who like to play in the water.
• Beach Frolicking
• Picnic
Instagram Appeal: 
• You will love how soft the sand is – perfect for sandcastle-building time with the family. 
• Strike a pose with Insta-worthy golden sand and warm turquoise waters.
• Golden soft sand and crystal-clear waters of the sea make this beach scenic and perfect for your photo ops.
• Plenty of attractive marine life can also be spotted here like jellyfish, starfish, crabs, turtles, fishes and many others. 
5. KATARA BEACH
"A Beach in the Heart of the City"
You don't need to go far to experience the fun under the sun, sand, and sea – the Katara Beach is only a stone's throw away from Doha City.
As the most accessible family beach near the West Bay, this place is located right at the heart of Qatar and forms a part of the renowned Katara Village.
Katara's private beach spans over 1.5km. Not only it becomes a popular weekend spot for locals and expats, but it also offers a safe environment for families and beachgoers. 
To visit Katara Beach and use its facilities, you need book tickets. Details are provided here.
Timings: 
- Beach no.3: from 9:00 AM until 10:00PM.
- Beaches no. 4 & 5: from 2:00PM until 10:00PM.
- Swimming ends at sunset. Last time for purchasing watersports tickets minimum 30 minutes before sunset.
Travel Tips:
• Katara Beach is situated inside Katara Cultural Village on the east coast between West Bay and the Pearl.
• It's only one mile long, and you must pay an entrance fee.
• There is a strict dress code precluding women from showing elbows and knees.
The space offers a variety of activities, including fishing trips, parasailing, water skiing, wake-boarding, kneeboarding, and windsurfing. You will also find a bouncy castle in the water, along with banana boats, kayaks, sailing dinghies, and canoes.
Activities to Enjoy:
• Gondola
• Pedal Boat
• Speed Boat Rides
• Parasailing
• SUP
• Water Skiing
• Water Sports - This beach features one of the highest concentrations of water sports that Qatar has to offer. 
• Children's Play Area - Where kids can participate in child-friendly water activities.
• Dining - There are many restaurants that serve the best food in town.
Instagram Appeal: 
• Make the most out of your stay on the beach and take unlimited camera shots!
• The beach is also renowned for the attractions nearby like art galleries and show theatres where you can get picture-perfect snaps.
"An escape to the beach is an idea of paradise."
Modest is Hottest
This country abounds with peaceful, unspoiled, easy-to-access beaches. Be aware, however, that Qatar is not a place for scanty bikinis. 
Before you pack your beach bag, bear in mind that modesty is strictly adhered to in this conservative Muslim country. Anyhow, you wouldn't want to get some serious stares or be advised to cover up.
You'll be expected to respect the local traditions. The rules are more relaxed, however, at resorts and hotels.
Preparation on Vacation
According to Visit Qatar, the country's official tourism portal, it is important to highlight that many of the public beaches are currently under a renovation project.
Visitors can still enjoy them; however, it is advised to bring along necessities, such as beach parasols or cold water. 
Moreover, access to a few public beaches includes rocky roads, so it is recommended to access them with an appropriate vehicle.
Seas The Day
Your post-pandemic lockdown is sorted – what else awaits? 
Don't forget: Check local government restrictions, rules, and safety measures related to COVID-19 and take personal comfort levels and health conditions into consideration at all times while enjoying your break.
The next time you visit any of these beaches, leave footprints of fun. Seas the day!
If this article brings you a sense of nostalgia on your previous encounter at any of the beaches mentioned above, share to us your experiences in the comments below!