Top 5 Hotel Iftar & Suhoor Takeaway & Delivery boxes in Qatar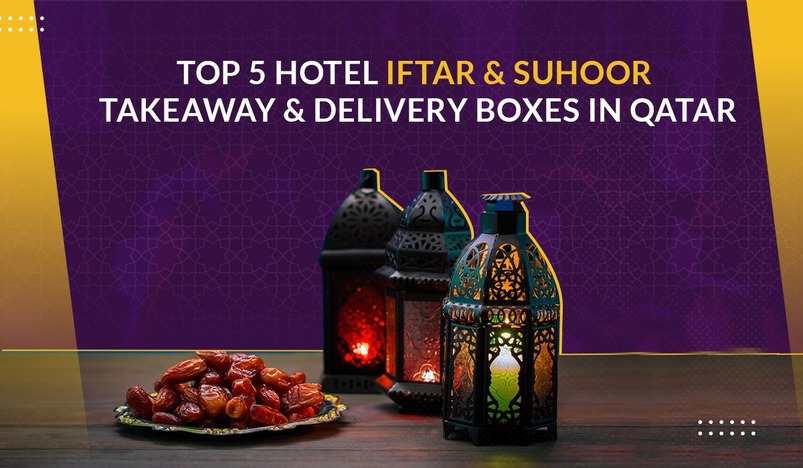 Check out below the best Iftar and Suhoor, Takeaway and Delivery Boxes to order from the finest hotels in Qatar.
1. Alwadi Hotel Doha – MGallery
Iftar hampers filled with Arabic classics are available for delivery or to take away, so you can enjoy the best of the Alwadi Hotel at home.
Price: QAR 180
Location: Mushaireb Downtown Doha, 4009 9999
2. Banyan Tree Hotel
Order a takeaway iftar or suhoor from the Banyan Tree and you'll receive a box of Arabic plates good for up to seven guests so that you can enjoy the finest tastes.
Price: QAR 900. 
Location: Banyan Tree Doha, Mushaireb, 4410 3310.
3. City Centre Rotana
Takeaway iftar boxes are available at City Centre Rotana. If you are breaking your fast with family and friends, you can also order lamb ouzzi, which is marinated overnight before being slowly cooked for four hours.
Prices:
QAR 145 (iftar for one)
QAR 270 (iftar for two)
QAR 399 (lamb leg ouzi)
QAR 899 (half lamb ouzi)
Location: City Centre Rotana Doha, West Bay, 4445 8888.
4.Centara West Bay, Hotel
Guests of the Centara Hotel in West Bay can take home iftar and suhoor boxes filled with Arabic and Indian plates beginning at QR169 for two. You can avail free delivery within West Bay and The Pearl-Qatar, or QR15 within Doha city limits.
Prices:
QAR 169 (silver)
QAR 239 (gold)
QAR 269 (platinum)
Location: Centara West Bay Hotel & Residences Doha, 4009 5530.
5.The Ritz-Carlton Doha
From The Ritz-Carlton Doha, you can order iftar takeaway items like spinach fatayer, hummus and stuffed vine leaves, lentil soup and Arabic bread as well as kebabs, okra stew and chicken machboos. Desserts, including umm Ali and barazek, are sure to please.
Price:
Location: West Bay Lagoon, 5599 0916.
Orders can also be made via Snoonu and Talabat.