Top 5 Beaches in Qatar to Visit During Eid al Adha 2022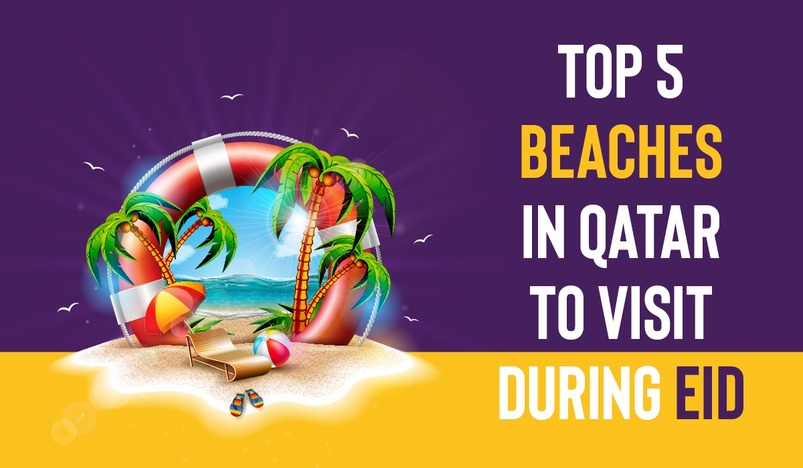 Best Beaches in Qatar for Eid
Qatar is a peninsula, which means it is surrounded by sea from most sides, giving access to have and develop more beaches. Summer is the perfect time to visit beaches to cool yourself in the seawater and relax your mind, body and soul or if you wish to get a great tan going. Here is a list of top beaches in Qatar for you to visit with your friends and family this Eid. 
1. Zekreet Beach
Zekreet beach located at the West coast of Qatar is famous for its uniquely shaped rock formations on both sides of the highway. This location also has a sculpture Richard Serra Art Piece just in the middle of the desert, which is able to withstand strong dust storms. The rocky terrain is a good spot for tourists and locals to do desert photoshoots. The beach has clear water and extends till the Bahrain border. It also has desert camps with all facilities that is perfect for staycations or a weekend stayover. This beach is approximately 45 - 50 minutes away from Doha. Enjoy a BBQ session by the beach with your family or friends this Eid and have a relaxed vacation.
2. Inland Sea (Khor Al Adaid)
About a 30 minute drive from the Sealine Beach is a hidden spot for all the beach lovers out there, Inland Sea. It is located exactly at the Qatar-Saudi border, which is at the South of Qatar. The best sunsets at the desert can be watched from the top of the sand dunes. The ride to the beach is an adventure that is a must try in the desert. It is better to have an experienced driver with you as you must cross some sand dunes on the way, which is not easy to drive on. Overall, it takes about two and half hours to get there from Doha and is a must visit place due to its beautiful desert scenery.
3. Umm Bab
Umm Bab, which is also called the "Palm Tree Beach", is located in the municipality of Al Rayyan. There is a small cluster of palm trees by the beach, hence the name. Many people don't know about this beautiful spot in Qatar, so take the opportunity to visit this beach during Eid and have an amazing time.
4. Al Thakhira Beach 
Al Thakira beach is a coastal stretch of land at the northern end of Al Khor corniche. It has benches under umbrella-like shaded areas with a sea view and the largest mangrove forest in Qatar. Al Thakira is home to the Avicennia Marina species, known as the grey or white mangrove trees. Some of the oldest and largest mangroves can be found at Al Thakira and Al Khor. It is a great location for walking, fishing, grilling, or even camping.
5. Maroona Beach
Maroona Beach also known as the French Beach is located at the North-East of Qatar. It is 80 km drive from Doha, perfect to get away from the busy city life and ease your stressful life. It is a family-friendly beach, however, with no facilities. So, one must carry tables, charis, BBQ equipments, food and drinks as well because there are no restaurants. Visit this tranquil spot for Eid.
This Eid al Adha, find the time to take a peaceful walk at the beach to cleanse your mind of all worldly affairs that's been bothering you and to simply relax. Since most beaches are away from Doha, the long drive with great music also feels like therapy to some people. Visit the farthest beach this Eid and explore as much of the massive coastline that Qatar has to offer.