Things to do this weekend: September 9 - 11, 2021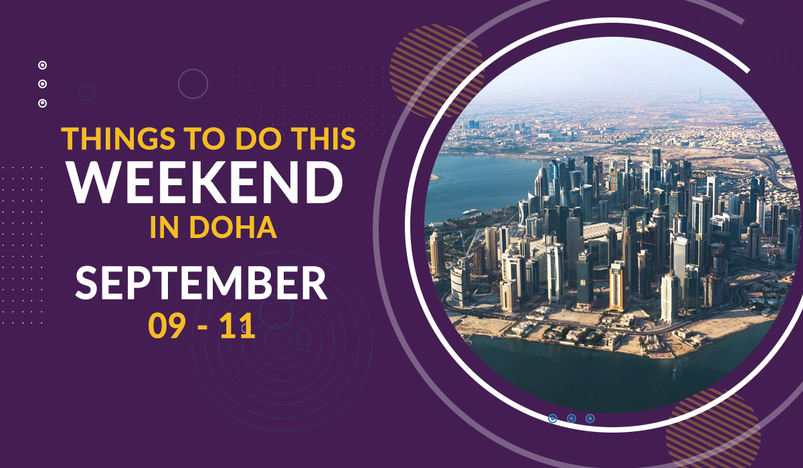 Things to do this weekend: September 9 - 11, 2021
Make this weekend fun and exciting with various events you could explore in the gulf state and ensure you adhere to the imposed precationary measures in the region to curb the further spread of coronavirus. Here are few of our selections for you to make this weekend jovial. 
 
1.    S'hail Exhibition 2021
S'hail – The Katara International Hunting and Falcons of Exhibition 2021 is a world-renowned platform hosted by Qatar and is popular for Hunting & Falconry. The primary aim is to preserve and promote the art of Hunting & Falconry. Attend this exhibition, events, activities, and awareness programs. Entry is limited to visitors who have completed the COVID-19 vaccine doses. The age allowed to enter is 12 years and over. Walk into Wisdom Square, Katara which will take place until 11 September from 9 am to 10 pm. For more information contact them on +974 4408 1546 or alternatively email them s-hail@katara.net.
Website: https://s-hail.qa/
2.    Mazeej: Fire Station Staff Exhibition
For all art enthusiasts, here's an opportunity to enjoy the "Mazeej" exhibition at the fire Station anytime between 9 am and 7 pm as the entry fee is free. Hurry up because you don't want to miss this chance as it gets over on 11 September. Call the team on +974 4422 4222 or alternatively Email firestation@qm.org.qa
Website: https://www.firestation.org.qa/en/content/exhibition-mazeej-fire-station-staff
3.    Mal Lawal 3 - Celebrating collectors in our community 
Are you a museum and exhibition exploring enthusiast? Then this one is just for you! In this edition, Mal Lawal 3 features 26 collectors and different kind of unique objects like manuscripts, weapons, maps, coins, heritage items, jewellery, clothing, vintage cars and more. Are you excited? Located at the National Museum of Qatar this event is organised until 15th of September from Saturday to Thursday between 09:00 am and 07:00 pm, and on Fridays between 1.30 pm and 07:00 pm. To know more information contact them on +974 4452 5555 or email the team: infonmoq@qm.org.qa 
Website: www.nmoq.org.qa

4.    360 play Mini Golf  
Fascinated in playing golf indoors? Here's an exciting opportunity to play mini golf with your loved ones as this event will be a combination of mini golf with the access of pirateship for kids. Ensure all covid protocol and play your favorite sport while your kids can enjoy in a giant pirateship. Cost varies for children, adults and daily comers.  For more details visit: https://www.q-tickets.com/Events/EventsDetails/8878/360-play-mini-golf

5.    Seagrass Tales, Dugong Trails 
Are you aware of the intriguing facts and mysteries sea creatures Dugongs hold? Do you know all about Dugongs in Qatar and other fun facts? The National Museum of Qatar (NMoQ) in collaboration with ExxonMobil Research Qatar (EMRQ) is conducting an Exhibition on Dugongs. The exhibition introduces Dugongs and their life in sea and explains all about its habitat. You will also get to experience on the significant work of scientists researching about these amazing creatures in Qatar and what must be done in order to protect them and their environment through both science and daily actions. You can purchase the ticket online as it costs QR 50 for adults, QR 25 for students, and free of cost for all children below 16 years old. For more information call them on 4452 5555 or alternatively email on infonmoq@qm.org.qa 
Website: https://nmoq.org.qa/exhibitions