Things to do this weekend: November 4-6, 2021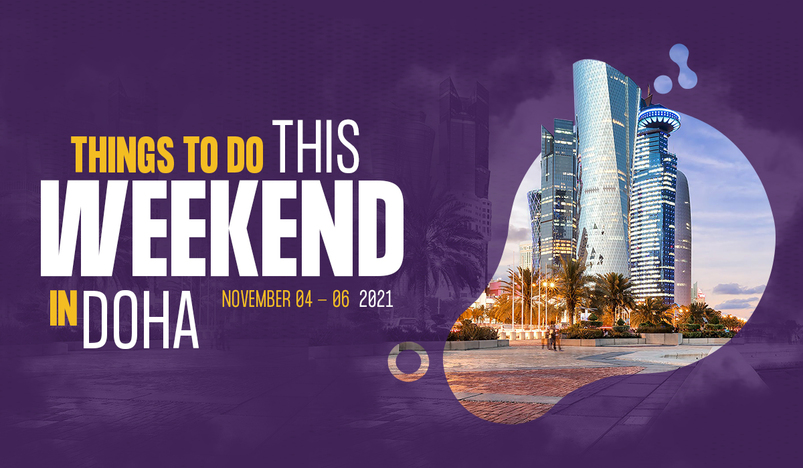 Where to go and what to do this weekend in Qatar
Qatar is in a festive mood this weekend, as India's biggest and most important holiday of the year, "Diwali" is being celebrated by the Indian community – the largest among the expatriate population in the country.
Join the festivity by treating your family and friends to a fun-filled weekend with these exciting activities and events in Doha from today 'til Saturday.
Take note however, though Qatar has achieved phase 4 of gradual lifting of COVID-19 restrictions, it is still important to adhere to the preventive and precautionary measures in place to ensure yours and others' safety.
Here are our top picks for Things to Do in Qatar from November 4-6, 2021:
1. Enjoy Diwali with a Tamil movie – the "ANNATTHE"
Superstar Rajinikanth is set to give the perfect Diwali gift to fans with the release of his latest film, Annaatthe. 
This  Indian Tamil-language action film is based on the relationship shared between a brother and his sisters.
A doting brother goes after the evil guy who has made his estranged sister's life miserable. Watch the full movie at Qatar cinemas by booking your tickets online now at www.q-tickets.com 
2. Celebrate the Festival of Lights at Dalchini
Offering a Lavish Indian feast; savor Diwali Social Dinner table top buffet, where you can share signature Indian dishes and good times.
Date: 4, 5, 6 November 2021 from 18:30-23:30hrs
Prices:
QAR 249 for 2 people inclusive of soft beverages for 2 hours
QAR 199 for 1 person inclusive of soft beverages for 2 hours
To reserve your table, call 4009 5520 or WhatsApp 3001 5360.
3. Watch a Tamil action movie – the "ENEMY"
Though there have been many Tamil films that have dealt with the friends-turned-foes relationships, the "Enemy" promises to offer something new.
Enemy is a Tamil action thriller movie, which chronicles the story of two childhood friends who end up on opposite extremes of morality, and face each other in a good vs evil war.
Catch it in Qatar cinemas by booking your tickets online today at www.q-tickets.com. 
4. Take your family and friends to 360 Play Mini Golf
Looking for a place to have fun with your family and friends this weekend? 360 Play Mini Golf is the place to be. Here you can enjoy playing golf indoors and your kids can spend exciting time in a giant Pirate Ship loaded with action-packed activities and obstacle courses.
Follow all COVID-19 protocols while in the play area to ensure everyone's safety. Cost varies for children, adults, and daily comers. 
360 Play Mini Golf is open daily during mall hours. For bookings, visit www.q-tickets.com.
5. Treat your loved ones to a fun-filled day at Desert Falls Water & Adventure Park
One of the largest theme parks in the Middle East, brace yourself for a jaw-dropping adventure at the Desert Falls Water & Adventure Park with more than 50 slides, rides, and attractions  located within Hilton Salwa Beach Resort & Villas.
Take a plunge into the Sea Caves Water Park, which is part of Desert Falls Water and Adventure Park. It features 28 slides and rides, including the water park's signature ride "The King Cobra" and many other attractions including the Kids Ship Pool, the Whizzard Mat Racer, inner tube slides, Surfing Dunes, Family Abyss, Falls Pool and the Wave Pool. Book your tickets to the Sea Caves water & Adventure Park here.
There is also a Ladies Only Night available every Wednesday here with free shuttle service free shuttle service ???????available to take you from Doha to Desert Falls Water & Adventure Park and vice versa.