Things to do this weekend: May 5-7, 2022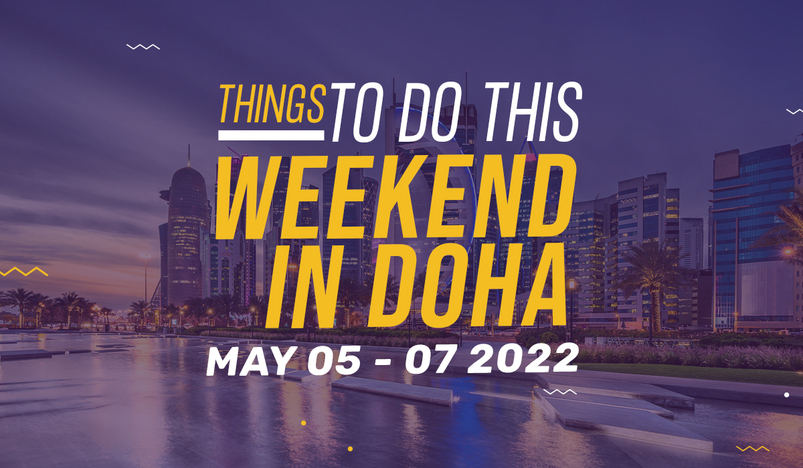 Where to go and what to do this weekend in Qatar
Check out our top picks for Things to Do in Qatar from May 5-7, 2022 below.
Note: Events are subject to change as per the organizers. Follow the COVID-19 measures in place to ensure yours and others' safety.
1. Eid Celebration at KidZania Doha
KidZania Doha has a lot in store for you this weekend. 
The fun never stops at KidZania. Get 30% off on admission tickets this Eid untill May 9th.
Location: Aspire Zone next to Hyatt Plaza 
Date: 28 April to 9 May
Timings:
May 1-5: 12 pm -11 pm
May 6: 1 pm - 11 pm
May 7: 10 am - 10 pm
Tickets Purchase: www.tickets.kidzania.qa
Ticket Rates:
Babies (0 - 1-year-old): Free
Toddlers (2 - 3 years old): QR 67
Kids (4 - 16 years old): QR 112
Adults (17-60 years old): QR 67
Seniors (60+ years old): QR 67
Contact: +974 4482 6222
2.Alice In Wonderland
Join Alice on her magical journey in wonderland. Live at the Oasis stage at Mall of Qatar.
Enjoy a fun stage performance with the "Alice in Wonderland" show from May 2nd - May 10th at Mall of Qatar.
Dates:
5 May 2022  
Time:
6:30 PM -  7:10 PM
8:00 PM -  8:40 PM
9:30 PM -  10:10 PM
6 May 2022  
Time:
5:00 PM -  05:40 PM
6:30 PM -  07:10 PM
9:00 PM -  09:40 PM
7 May 2022  
Time:
5:00 PM -  05:40 PM
6:30 PM -  07:10 PM
9:00 PM -  09:40 PM
3.Eid Festival at Hyatt Plaza 
Enjoy the spectacular clowns and tree men show at Hyatt Plaza Eid Festival.
Date: 2-6 May 2022
Timings: 6:30, 8:00, 9:00 PM
4. Fantastic Beasts:The Secrets of Dumbledore
The third installment of the 'Fantastic Beasts and Where to Find Them' series follows the adventures of Newt Scamander.
Watch this adventure and fantasy film with your family and friends. It's now showing at Cinemas. 
Book your tickets now at www.q-tickets.com.
5.Kayaking Tour by MIA
Discover the Museum of Islamic Arts with the kayaking tour! 
Enjoy learning about the Museum as you get directed by a kayaking expert and a certified lifeguard. Make sure you know how to swim! 
The tour will begin at the jetty in the bay at the Museum of Islamic Art, where you will be taken on a relaxed paddle to the main Dhow Harbor. The tour will last up to one hour.
Note: You must bring a towel and athleisure wear for Kayaking. It is also recommended to wear sunscreen.
Location: MIA Park
Dates: 1 April 2022 - 31 May 2022
Timings: 2 pm - 9 pm
Contact: +974 3319 4445
Email: info@aquasportsq.com
Ticket Purchase: Online on paddleq.checkfront.com/reserve/
Price:
Adult - QR 140
Kayak Teenagers (18-12 yrs) - QR 90
6. Beanstalk
Kids can't get enough of Qatar's newest Beanstalk adventure play area!
360 Play brings you this exciting entertainment hub designed to entertain and engage the whole family in some action-packed adventures!
Visit the Beanstalk today at the Mall of Qatar, located in front of the Food Court. Book now at www.q-tickets.com or contact 7064 4011 for more details.
Date: February 10, 2022 - February 23, 2023
Timing:  
Saturday to Wednesday: 10.00 AM to 10.00 PM
Thursday: 10 AM to 11:30 PM
Friday: 1 PM to 11.30 PM
Location: Mall of Qatar
Ticket Rates: General Pass (20 Mins) QAR 30, Premium Pass (40 Mins) QAR 50, Super Pass (1 Hour) QAR 60, and Family Pass - 1 Adult + 3 Kids (1 Hour) QAR 200
Ticket Purchase: Book now at https://www.q-tickets.com/Events/EventsDetails/9195/beanstalk
7. Mahaseel Market 2022
The Cultural Village Foundation, Katara, in cooperation with the Agricultural Affairs Department of the Ministry of Municipality, is organizing the 6th edition of the Mahaseel festival in Katara's southern area with the participation of 38 agricultural and food stalls.
The festival dedicates its position and role year after year as an annual economic platform that supports the local production of food industries and local agricultural products and supports farm production in the country.
Date: March 7 - May 16, 2022 (Thursdays, Fridays, and Saturdays of every week)
Location: Katara Cultural Village (Katara South parking, opposite St. Regis Hotel)
Time: 09:00 pm - 09:00 pm
Entry: Free
Ticket Booking: Entry is Free
8. Museum of Illusions
Enter the fascinating world of illusions that will trick you but amaze you at the same time. It will be an excellent and unimaginable experience because whatever you see in the Museum of Illusions is not what it appears to be.
Contact Details:
Location: 1st Floor, The Gate Mall, Omar Al-Mukhtar St. Doha, Qatar
Telephone Number: +974 40206273
Email: info@museumofillusions.qa
Opening Hours:
Sunday to Wednesday (9 am – 10 pm)
Thursday And Saturday (9 am – 10 pm)
Friday (1 pm – 10 pm)
Ticket Rates:
Adult (16+ years): 80 QAR
Child (3-15 years): 60 QAR
Child (3-below): Free
Family (2 adults & 2 kids under 15 years): 220 QAR
Special Needs: 40 QAR
Ticket Bookings: www.q-tickets.com/Events/EventsDetails/9110/museum-of-illusions