Things to do this weekend: March 31-April 2, 2022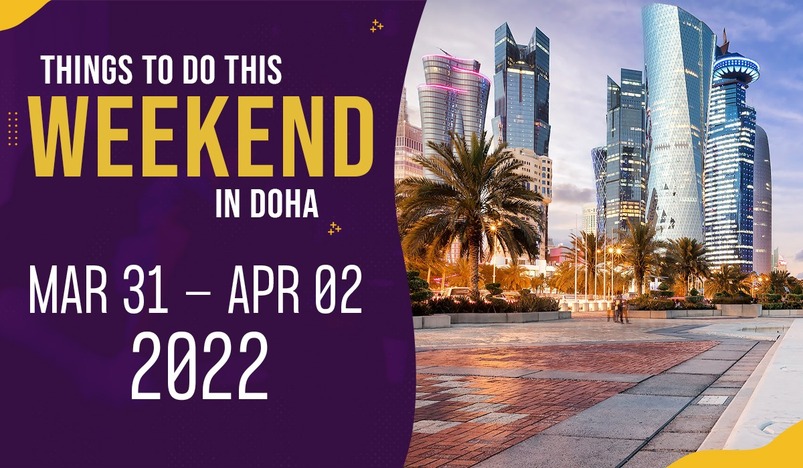 Where to go and what to do this weekend in Qatar
Check out our top picks for Things to Do in Qatar from March 31-April 2, 2022 below.
Note: Events are subject to change as per the organizers. Follow the COVID-19 measures in place to ensure yours and others' safety.
1) RRR
A story of two people who become friends when they cross paths in Delhi. What happens when they learn each other's true intentions? Find out in this exciting film set in 1920.
Watch Trailer
2) Kite Festival at Hilton Salwa Beach Resort
Enjoy a day at the beach with family fun guaranteed with our kite making and flying sessions from 2:00 PM Onwards at Hilton Salwa Beach Resort.
This festival is in partnership with Peek events.
You can purchase your ticket for QR 150 on Q-Tickets website. 
3) Dates Festival at Souq Waqif
During Ramadan, dates are in high demand, so be sure to visit the Local Dates Festival, held at Souq Waqif (Al Ahmad square). The festival opens its doors daily from 9 am to 9 pm and Friday from 3 pm to 10 pm.
The event is ongoing till the 2nd of April.
The dates are of excellent quality and are highly affordable in comparison to other markets. 
The festival is held in collaboration with the Ministry of Municipality.
4) Automotive Exhibition at National Museum of Qatar
Discover a world-class collection of classic automobiles, at Qatar Automotive Exhibition.
You have the chance to explore and learn about how impactful automobiles are, and how they contribute to culture. 
You will get the chance to know about 20 unique cars which you can loan from members of the Qatar Auto Museum advisory board, as well as automobile lovers within the community. 
The automotive exhibition serves as a platform launch of Qatar Auto Museum, designed by Pritzker prize-winning architect Rem Koolhaas.
Dates & Timings: 
The NMoQ Outdoor gallery is open till April 4th. 
As for Mawater Gallery, it is open till next year January 20th 2023. 
You can always visit the museum from Saturday-Thursday from 9:00 am till 7:00 pm.
The Museum is also open on Friday 1:30 pm till 7:00 pm.
5) Family Shopping Bazaar 2022 at Katara
Visit Katara Cultural Village for the Family Shopping Bazaar 2022, where you can find a wide variety of products such as clothes, perfumes, food, and goods from different cultures.  
The Bazaar takes place in Katara's Southern Area from 20 March - 6 April 2022, where a large tent is set up.
The doors is open from 10 AM - 10 PM, and on Fridays from 3:00 PM - 11:00 PM
6) Italian Brunch at Cucina
You're in for a treat at Cucina with a brunch prepared by Chef Claudio Trovato and his team! 
You can find Cucina at City Centre's Marriott Marquis Doha.
If you want to save yourself some time before visiting Cucina, you can check out their online menu before you go. 
Dates & Timings: 
The Italian brunch is served on Fridays from 12:00 pm to 4:00 pm 
Prices are QR 145 per head and QR 265 per head including selected beverages.
For any specific inquiries, you can call Cucina on 4419 5510
7) Seafood Night by Seasons Restaurant, Movenpick Hotel Doha
Each Thursday and Friday you can enjoy unique seafood flavors at Movenpick Hotel Doha's Seafood Night at the Seasons Restaurant!
Gather your family and friends for a seafood buffet including a salad bar, delectable appetizers, scrumptious mains, and a wide range of desserts, only for QR 125 riyals, in a limited time offer lasting till this Saturday April 1, 2022.
For reservations and booking, you can call 44291111.
8) Visit the 3-2-1 Qatar Olympic and Sports Museum
Be the first to come and explore the history and heritage of sports in Qatar. The museum is set to open its doors on 31st March 2022.
Located at the heart of the Sport City, 3-2-1 museum explores the origins, development, and culture of sports in Qatar and beyond, as well as the value and positive impact of sports.
You can expect Interactive exhibits and Innovative activity areas as the museum prepares for opening. 
More information about the museum dates and timings will be announced later.
9) Kayaking in Al Thakira 
Kayaking is a relaxing activity for all the family. You will go on a trip to the north of Doha to discover Qatar's hidden natural heritage in Al Thakira.
Then, You will paddle through Qatar's mangroves and enjoy a sunset.
Paddling with friends is a good way for you to bond, relax, and have a good time. 
Prices are as follows: QR 1200 per 6 persons QR 1100 per 5 persons QR 1000 per 4 persons QR 900 per 3 persons QR 800 per 2 persons, QR 750 for one person
To book, visit Q-tickets website. You can choose any date or time of your preference.