Things to do this weekend: March 24-26, 2022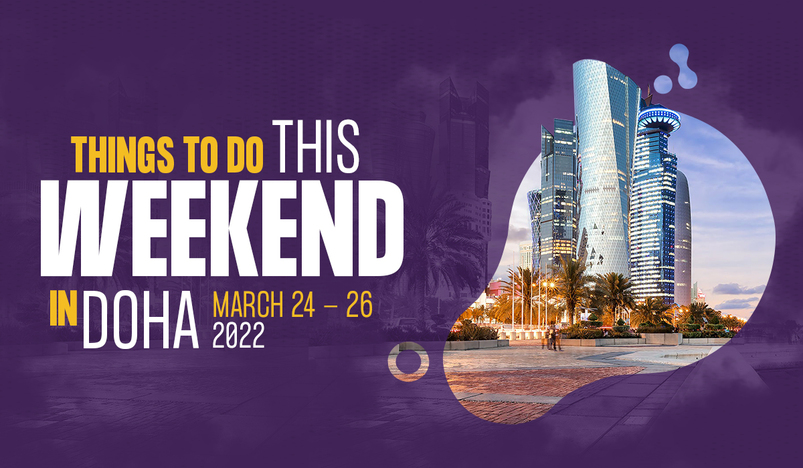 Where to go and what to do this weekend in Qatar
Check out our top picks for Things to Do in Qatar from March 24,26, 2022 below.
Note: Events are subject to change as per the organizers. Follow the COVID-19 measures in place to ensure yours and others' safety.
1) Dates Festival at Souq Waqif
During Ramadan, dates are in high demand, so be sure to visit the Local Dates Festival, held at Souq Waqif (Al Ahmad square). The festival opens its doors daily from 9 am to 9 pm and Friday from 3 pm to 10 pm.
The event is ongoing till the 2nd of April.
The dates are of excellent quality and are highly affordable in comparasion to other market. 
The festival is held in collabration with the Ministry of Municipality.
2) Celebrations at W Doha 
Enjoy fun activities at Market, La Spiga, and Spicae Market during W Doha anniversary week
Lights Off, Earth On! 
This Saturday, March 26th marks Earth Hour. Join the celebration at Wham.
Enjoy the glow of neon light while you party in the dark. 
Doors open from 8:00-11:00 PM. 
For inquires you can contact 4453 5135 or 7794 3975.
3) Coffee Tea Chocolate Festival
Until the 26th of March, Al Bidda Park is hosting a coffee, tea, and chocolate festival.
Gather and connect with friends, from 3:00pm to 11:00pm .
This is a great opportunity to stay on top of the latest trends, innovations, and technologies in the industry.
A barista competition will also take place and exclusive sample from leading brands are present. 
You can reach the destination by car or metro and take the red or green lines to Al Bidda metro station for easy and quick access. 
For inquireies you can contact +974 55090769 or +974 33414909.
4) Virgil Abloh: Figures of Speech
Qatar Museum is hosting a wide range of events during this month which feature admission free of charge.
At Doha Fire Station - Garage Gallery you can find Virgil Abloh: Figures of Speech . It runs from Saturdays to Thursdays from 9am to 7pm and Fridays from 1.30 pm to 7pm.
A wide range of works by the late American artist are featured at the gallery, ranging from visual arts to music, fashion, architecture, and design. 
By illustrating objects and people in his works as 'figures of speech', Abloh's exhibition invites visitors to engage in a dialogue.
To book tickets, visit the firestation website   
5) Pearls of Music
Join the Philharmonic and enjoy an extraordinary concert on March 26th.
The Qatar Philharmonic Orchestra collaborates with the winners of the Young Talent Award, American Protege Competition, and Crescendo Competition in a memorable concert with soloist Lulwa Al Shamlan and conductor Kamoliddin Urinbaev.
By purchasing the tickets you get an exclusive 15% discount on the upcoming Pearls of Music concert.
The fees for this concert are QR 300 for VIP, QR 200 for Grand Tier , and QR 150 for Dress Circle.
Tickets are required to be purchased online. There are no refunds or exchanges. Attendees must be fully vaccinated with Green Eteraz status to attend. Children under six are not permitted in the venue.
For information and booking, please visit Q-tickets.
6) Family Shopping Bazaar 2022 at Katara
Visit Katara Cultural Village for the Family Shopping Bazaar 2022, where you can find a wide variety of products such as clothes, perfumes, food, and goods from different cultures.  
The Bazaar takes place in Katara's Southern Area from 20 March - 6 April 2022, where a large tent will be set up.
The doors is open from  10 AM - 10 PM, and on Fridays from 3:00 PM - 11:00 PM
7) DUNE BASHING 
Discover the thrill of a desert adventure by driving over the sand dunes.
As you are cruising, you will have the opportunity to view the Inland Sea, the water border between Saudi Arabia and Qatar. 
On an afternoon trip, you can take in the sunset while you surf the sands. The trip starts typically at 9:00 a.m., 1:00 p.m., and 2:00 p.m.
Add-ons: Camel riding, Quad Biking, Falcon Handling, Sandboarding Dune Bashing for 8 hours with lunch or dinner.
8)  1-Hour Dive at Nomadik Hub Diving Center
The Nomadik Hub diving center offers various diving activities that start at 7:00 am. 
It is a fantastic experience to dive with professionals at Nomadik Hub Diving Center. Whether you are an absolute beginner or an advanced diver, you can expect a professional dive that is safe and enjoyable in a timely manner. 
When you arrive, get ready for the departure to Sealine Beach at 7:30 AM and then prepare to explore the underwater sea life. 
To book, visit Q-tickets. The fee is QR 350 per one hour of diving, and you can choose any date of your preference. 
9) Kayaking in Al Thakira 
Kayaking is a relaxing activity for all the family. You will go on a trip to the north of Doha to discover Qatar's hidden natural heritage in Al Thakira.
Then, You will paddle through Qatar's mangroves and enjoy a sunset.
Paddling with friends is a good way for you to bond, relax, and have a good time. 
Prices are as follows: QR 1200 per 6 persons QR 1100 per 5 persons QR 1000 per 4 persons QR 900 per 3 persons QR 800 per 2 persons, QR 750 for one person
To book, visit Q-tickets. You can choose any date or time of your preference.