Things to do this weekend: March 17-19, 2022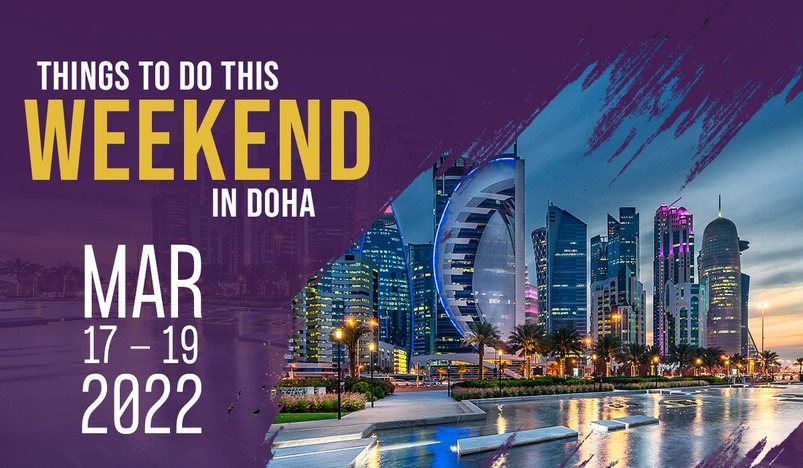 Where to go and what to do this weekend in Qatar
Check out our top picks for Things to Do in Qatar from March 17-19, 2022 below.
Note: Events are subject to change as per the organizers. Follow the COVID-19 measures in place to ensure yours and others' safety.
1.Amir Cup Finale 2022
Tickets for the final match of the 50th Amir Cup are still on sale. 
Get your tickets today to enjoy the final show between Al Gharaafa and Al Duhail, on Friday March 18th, 2022.
The game will start at 7:00 Pm at Khalifa International Stadium. This stadium will also be home to the FIFA World Cup Qatar 2022™
The Amir cup finals will be onenjoy the finals from the following ticketing link: 
http://tickets.qfa.qa.
You can also purchase the tickets physically from Abdullah Bin Khalifa Stadium (Gate 5) and Jassim Bin Thani Stadium (Gate 7 and 8), between 4:00-10:00 PM.
Ticket Rates:
Category 1:  50 QAR
Category 2: 10 QAR
Date: March 18th, 2022
Ticket Bookings: https://tickets.qfa.qa/qfa/seatingPlan.html?idProduct=933#
Terms & Conditions:
Make sure that your Ehteraz status is Green with a golden frame on it.

Make sure to take the rapid test for your unvaccinated child at an approved health center 24 hours before the match so that it can be seen on Ehteraz.

No entry will be allowed if the above-mentioned conditions are not met.
2. Golden Gazelle Chocolate - Doha
Golden Gazelle Chocolates offers the finest chocolate made from pure cocoa beans,cocoa, powder, and chocolate blocks . Enjoy luxurious gourmet chocolate made with love.
We visited the Golden Gazelle Chocolates' Chocolatier Evgeniya Sokolova, to find out how these awesome chocolates are prepared using preservative-free ingredients imported from Europe. 
Find out what authentic chocolate tastes like in Qatar with Golden Gazelle Chocolate. 
Location:  Al Hazm Mall and Umm Slal Mohammed. 
3. North of Qatar Tour 
Dates: Ongoing until June 28, 2022
Timing:  9:00AM Onwards
Ticket Bookings: Book now at Q-tickets.com.
You will be taken on an air-conditioned bus or 4WD vehicle up to the north of Qatar to witness the country boats being built by the craftsmen. You will then visit the Al Thakira mangrove swamp at Al Khor, where you can watch the birds.
Explore the ruins of old mosques, cities and ruins of original Qatari homes from 200 years ago, in a deserted village. The original homes were made of limestone and mud mortar.
On a clear day, Bahrain can be seen from the extreme northern tip of Qatar, Al Shamal. Eat your lunch or drink some coffee or tea in a small cafe en route.
In this trip you can enjoy the following perks:
Pickup and Drop

Coffee, Tea, Juice and Bottled Drinking Water

Personal Insurance

 
Rates:
QR 500 per person 

QR 600 for two person 

QR 700 for three persons
4. Moonlight Mangrove Al Thakira 
Those who love nature, water, and water sports will find kayaking in Al Thakira, north of the seaside city of Al Khor in Qatar, an exciting and thrilling experience. The trip takes 3 hours, of which 1hr 30 min is spent in the water.
Tour Guide (multilingual tour guides are available)

Equipment (kayak, paddle, dry bag, lights if needed)

Safety (life jacket)
Rates:
QR 200  per person above 12 years old 

QR 75 for a kid between 5-12 years old
Book now at www.q-tickets.com and contact 77706906 for more details on the timings. 
Date: Ongoing until October 11th 2022.
Location: Discover Arabia camp (Al Thakira)
5. 2022 Beach Games
Heading to Katara Beach this weekend? then dont forget to catch up with Qatar Olympic Committee 2022 Beach Games
Katara beach is organizing a week of an enjoyable tournament that includes QOC Beach Games that will be happening along side other activities.
Date: March 19th-25th, 2022
Location: Katara Beach
6. The Batman Movie
In his second year of fighting crime, Batman uncovers corruption in Gotham City that connects to his own family while facing a serial killer known as the Riddler.
Watch this action, crime, and drama film now showing at Qatar Cinemas near you!
Book your tickets now at www.q-tickets.com.
7. 360 Play Mini Golf
Looking for a place to have fun with your family and friends this weekend? 360 Play Mini Golf is the place to be. Here you can enjoy playing golf indoors and your kids can spend exciting time in a giant Pirate Ship loaded with action-packed activities and obstacle courses. 
Follow all COVID-19 protocols while in the play area to ensure everyone's safety. Cost varies for children, adults, and daily comers. 
360 Play Mini Golf is open daily during mall hours. For bookings, visit www.q-tickets.com.