Things to do this weekend: June 16-18, 2022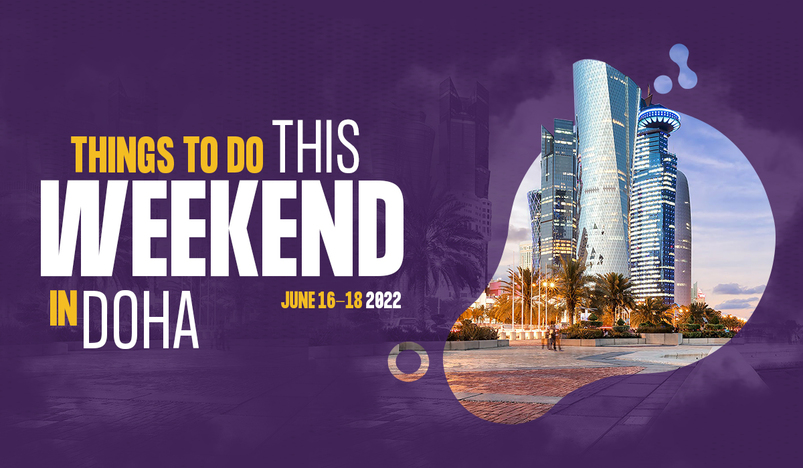 Where to go and what to do this weekend in Qatar
Check out our top picks for Things to Do in Qatar from June 16-18, 2022 below.
Note: Events are subject to change as per the organizers. Follow the COVID-19 measures in place to ensure yours and others' safety.
June 16 2022 - Thursday
1.Pipilotti Rist: Your Brain To Me, My Brain To You
Pipilotti Rist: Your Brain to Me, My Brain to Yours is an immersive experience of light and sound, blurring the boundaries between technology and human perception representing the collective unconscious of the Qatari people, highlighting their unity and strength. 
Disclaimer: This exhibition contains flashing lights that may cause discomfort and/or trigger seizures for people with photosensitive epilepsy and other conditions with sensitivity to light.  
Dates: 21 March 2022 – 20 December 2022
Timings: 9:00 AM - 6:00 PM
Location: QBEC Gallery, National Museum of Qatar (View Map)
Contact: +974 4452 5555
Tickets Purchase: This is a free event. However, Tickets must be reserved online. 
2. Summer Festival 2022
At Doha Festival City (DFC), there will be ongoing celebrations throughout summer which will be held with international entertainment performances and sports-inspired fun activities for the whole family.
Activites will include, Football activities, Kid's corner, and live stage shows.
Dates: 16th of June -16th of July
Timings: 10:00 am to 11:00 pm.
Location: DFC Centre Court, Ground Floor & Entertainment Node (View Map).
Contact: +974 4035 4444
3.Gourmet District at the Pearl
The Gourmet District at the Pearl is hosting a bazaar that will feature an indoor food park with delicious meals from five cuisines. 
At this Bazaar you will find jewelry, clothes, trays, flowers, and more. Grab this opportunity to enjoy live music (with with Nazo & Firas), meet new people and have fun while checking out some of the best handmade crafts in Doha.
Dates: 16th of June 
Timings: 6:00 PM - 10:00 PM
Location: Gourmet District, the Pearl (View Map).
Contact: +974 77454440
4.Ragheb Alama Concert
In an exciting and exceptional evening, the Superstar Ragheb Alama will perform a selection of his hits in a LIVE concert at the Oasis stage at Mall of Qatar.
This is a free event, open to the public. 
Date: June 16th, 2022 
Timings: 9:00 PM - 9:00 PM 
Location: Oasis Stage, Mall of Qatar (View Map)
June 17 2022 - Friday
1. Wael Kafoury Live Concert
Lebanese star Wael Kfoury will be performing live in Doha on June 17th 2022. The concert will take place at Doha Exhibition and Conference Center (DECC) in West Bay.
Wael Kafoury fans! Buy your tickets for this live concert and enjoy the best hits. Book now on Q-Tickets.com
Date: June 17th, 2022 
Timings: 9:00 PM 
Location: DECC
Ticket Purchase: 
Tickets are available online on Q-Tickets website. 
Prices:
• VVIP – 1200 QAR
• VIP – 900 QAR
• Gold – 600 QAR
• Silver – 400 QAR
2. FIBA Under 16 Asian Championship Qatar 2022
Dates: June 12, 2022 - June 19, 2022
Timings: 7:30 PM - 9:30 PM
Location: Al Gharafa Basketball Hall, Al Rayyan club (View Map).
Contact: +974 40401900
Ticket Purchase:
Tickets are available Online on Q-Tickets website. 
Prices:
40 QAR - 100 QAR 
3.Yousef Bahzad: Earth Metal
Yousef Bahzad is a Qatari-American visual artist. His practice consists of mainly painting and experimental photography. 
Earth Metal by Yousef Bahzad explores themes of erosion and manifestation, and the notion that the land itself shapes people, and subsequently, people thereon shape the land.
According to Yousef Bahzad, he approaches his paintings "through expressive abstraction and a tinge of the surreal through a lens of mystery which invokes questions within the viewer."
This event is free for public. 
Dates: 25 May 2022 - 16 July 2022
Timings: 09:00 am - 07:00 pm
Location: Gallery 3 of the Doha Fire Station (View Map).
Contact: +974 4422 4222
June 18 2022 - Saturday 
1.The Best Of Brahms 
Enjoy three of the greatest pieces of classical music ever played, and join the Philharmonic for a wonderful evening with the Maestro Elias Grandy.
The concert includes one of the great musical expressions of tragedy from the Romantic age "Brahms' Tragic Overture" and Brahms' Symphony No.  1. You will listen to Queen Marie Antoinette's favourite Symphony "Symphony No 85 known as La Reine (The Queen)" by Haydn.
Dates: June 18, 2022
Timings: 7:30 PM - 9:30 PM
Location: Katara Cultural Village, Opera House (View Map).
Contact: +974 44548185
Ticket Purchase:
Tickets are available online on Q-Tickets website. 
Prices:
75 QAR - 200 QAR 
2.Sketching Workshop by Cass Art Qatar
Cass Art Qatar is offering sketching workshop for both kids and adults once every week.
The workshops are led by Rehin Kader an accomplished visual artist who previously worked at The White Majlis at the FBQ Museum.
If you want to know the basics on how to sketch then join Rehin Kader at thE sketching workshop and learn the basics of pencil and charcoal drawings.
Dates: June 18, 2022
Timings:
Kids: 3:00 PM - 4:00 PM 
Adults: 4:30 PM to 6:30 PM 
Location: Cass Art Qatar, Fire Station, Mohammed Bin Thani St, (View Map).
Contact: +974 33401892
Ticket Purchase: 
You can pay upon arrival. 
Prices:
Kids - 350 QAR
Adults - 650 QAR
3. Arabic Calligraphy Group Exhibition 
If you are fascinated by Arabic Calligraphy and you consider yourself passionate about Arabic Language and calligraphy, then check out this exciting exhibition happening at the St Regis Hotel.
This event is free of charge.
Dates: May 10 - June 20
Timings: Open daily from 04:00 pm - 10:00 pm
Location: The St. Regis Doha - Al Gassr Resort
4.National Cruise
With National Cruise, pick your trip from three different packages, and enjoy the fantastic views of the blue waters as you cruise around the Pearl, the Corniche, and other major attractions in the City.
1.Hit the Beach
Escape the hustle and bustle of the city life and soak up the sights aboard a dhow. What a better way to spend your weekend. Leave your worries behind and create a moment to remember on-board National Cruise.
Price: QAR 199
2.Dinner Cruise
Step aboard the Cruise for an unforgettable evening. Departing from the Box Park, you'll enjoy a leisurely three-hour cruise along the Pearl and unobstructed views of west-bay Building, skyline, Islamic museum and more.
Price: QAR 299
3.City Tour By Sea
A touch of heritage meets modern architecture during this 2-hour mid-day cruise from M.I.A., pass by Katara the cultural Village and The Pearl-Qatar and vice versa through the waters of Arabian Gulf. Hop on and hop off and travel by cruise to discover the major tourist destinations in Qatar.
Price: QAR 149
Contact: 77999666 - 66000926