Things to do this weekend: December 16-18, 2021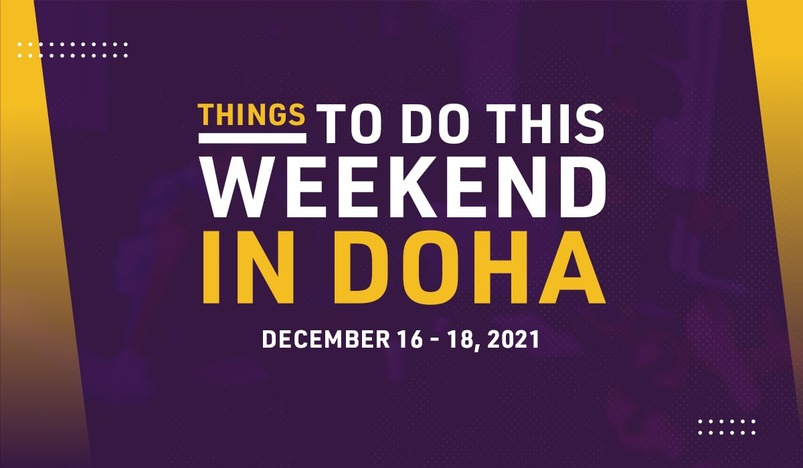 Things to do this Weekend in Doha
Check out our top picks for Things to Do in Qatar from December 16-18, 2021 below:
Note: Events are subject to change as per the organizers. Follow the COVID-19 measures in place to ensure yours and others' safety.
Thursday:
1. Dreesha Performing Arts Festival 
Indigo Concert by Dana Al Fardan - World-renowned Qatari Contemporary Composer, Dana Al Fardan, will headline the stage to perform music from her ground-breaking fourth album, Indigo, during Doha's inaugural D'reesha Performing Arts Festival 2021.
Composer, songwriter and symphonic artist, Dana Al Fardan will enthral visitors with a seven-song concert, accompanied by a chamber orchestra and inventive light and colour theatrics, during Qatar's first-of-its-kind performing arts festival.
Friday:
1. Fireworks at The Torch 
The Torch Fireworks event will take place in Aspire Zone at 7pm on December 17, 2021. The Torch Fireworks event is a key part of Qatar's winter season activities in the lead up to Qatar National Day, in addition to the celebrations that have been taking place in Katara over the past two weeks and the QND Decoration.
The second edition of The Torch Fireworks event will light up Doha's skies for over ten minutes, with a high impact display for spectators. Visitors can also take the opportunity to enjoy other activities at Aspire Park during Qatar National Day, including Qatar Balloons Festival. 
Saturday: 
1. Qatar National Day Celebrations
This year's celebration will be held at various locations across Qatar in a new form and style. 


2. National Day Cruise at The Pearl
Be on board at the National Cruise and witness the spectacular fireworks display in celebration of Qatar National Day.
Location: The Pearl, Tower 1, Gate 1
Timing(s): 6:30 - 9: 30 PM
Tickets: Visit www.nationalcruise.com, call or WhatsApp: 77999666 - 66000926.
Celebrating Qatar National Day is always different with National Cruise. With an integrated cruise on board and a spectacular fireworks display to witness, you're sure to have a National Day like to remember,


3. Qatar Balloon Festival & Aspire Park Events
Float amongst the clouds with over 30 Hot Air Balloons from around the world. Witness a mascot show, night glow, & DJ performance. Learn more about the Qatari traditions and join in other exciting activities.
Location:  Aspire Park
Timing(s): 4:00 PM - 10:00 PM


4. FIFA Arab Cup Finals
Be a part of the much-anticipated final match of the first FIFA pan-Arab football tournament.
Location: Al Bayt Stadium
Timing(s): 6:00 PM
5. Katara Cultural Village
Take part in the last day of the Traditional Dhow Festival 2021 and other QND activities in Katara.
Location: Katara
Timing(s): 3:00 PM - 10:00 PM
6. Msheireb Downtown Doha
Savor some delectable offers from restaurants and revel in National Day-themed attractions in Msheireb Properties.
Location: Msheireb Downtown Doha
Timing(s): 9:00 AM - 10:00 PM
7. Villagio Mall & Mall of Qatar
Shop & dine with special QND offers from Villagio Mall, where you can also enjoy lots of activities for the whole family. Watch the ARAB CUP 2021 matches on the Oasis giant screens of MOQ and take part in the mall's National Day activities.
Location: Villagio Mall - Al Waab St. & Mall of Qatar - Al Rayyan St.
Timing(s): 9:00 AM - 10:00 PM

Note: Events are subject to change as per the organizers. Follow the COVID-19 measures in place to ensure yours and others' safety.
Check this list for more QND events for you to participate in. Follow Qatar Day's live coverage of Qatar National Day on December 18, 2021.