Things to do this weekend: Aug 26 to 28, 2021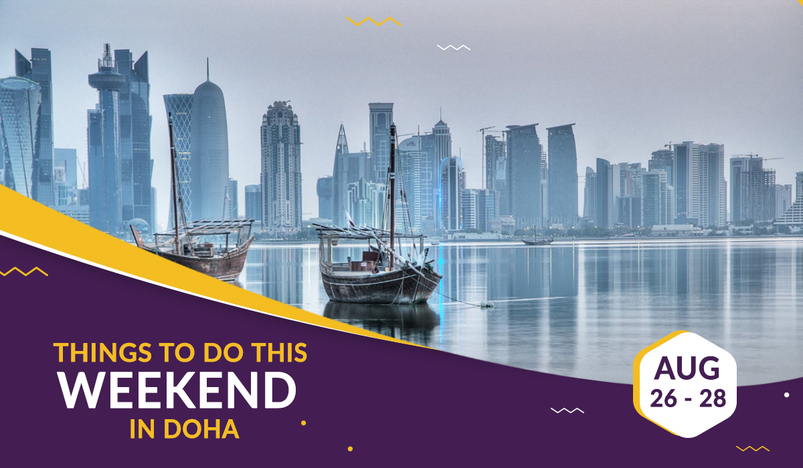 Things to do this weekend: Aug 26 to 28, 2021
Feeling excited as yet another weekend draws near? You must be wondering how we could spend our time in a productive manner with the loved ones. We have jotted down a few list of events to explore in Qatar and if you're up for it, do join by abiding the preventive measures set in place to ensure your safety. 

1.    Mal Lawal 3 - Celebrating collectors in our community
Are you a museum and exhibition exploring enthusiast? Then this one is just for you! In this edition, Mal Lawal 3 features 26 collectors and different kind of unique objects like manuscripts, weapons, maps, coins, heritage items, jewellery, clothing, vintage cars and more. Are you excited? Located at the National Museum of Qatar this event is organised until 15th of September from Saturday to Thursday between 09:00 am and 07:00 pm, and on Fridays between 1.30 pm and 07:00 pm. To know more information contact them on +974 4452 5555 or email the team: infonmoq@qm.org.qa 
Website: www.nmoq.org.qa
2.    Banana Island Resort Doha 

Get away this weekend to the most fun and fabulous Island in Qatar – The Banana Island Resort Doha by Antara.Visitors will be provided with great packages to spend the whole day in the resort and make the most of its sandy beach and turquoise water.The day pass prices include pool and beach access, QR 200 voucher to spend at any resort restaurant, QR 50 credit per person to spend on any resort activity, and boat transfers. These offers are available only until 31 August. For more information, please contact +974 4040 5131 or alternatively email on teens.doha@anantara.com
3.    360 play Mini Golf 
Fascinated in playing golf indoors? Here's an exciting opportunity to play mini golf with your loved ones as this event will be a combination of mini golf with the access of pirateship for kids. Ensure all covid protocol and play your favorite sport while your kids can enjoy in a giant pirateship. Cost varies for children, adults and daily comers. 
For more details visit: https://www.q-tickets.com/Events/EventsDetails/8878/360-play-mini-golf
4.    Water Sports At Katara
Take a mesmerising break this weekend with your loved ones and enjoy the water sports at Katara Beach, which is open until September 15 from 3:30 am to 11:00 pm. Dive in to experience some of the finest water sports in the country. For more details contact the team on +974 5544 9862 or Instagram:  @kataraqatar
5.    Sky Masters Sports Club 
Have you ever wondered what is it to fly like a bird? As Sky Masters Sports Club offers you this childhood dream of flying, you will be briefed on the safety measures by a certified instructor via intercom. Grab this amazing opportunity during Eid holidays to enjoy and relax 20 minutes of flying with breath-taking views, sights and smells from a 360-degree angle while flying low and slow. Located near the Sealine Beach in Mesaieed, this will be open to the public from 5:30 am onwards everyday. 
For more details on booking tickets and registering: https://www.q-tickets.com/Events/EventsDetails/8927/sky-masters-sports-club