Things to do this Eid al Adha 2022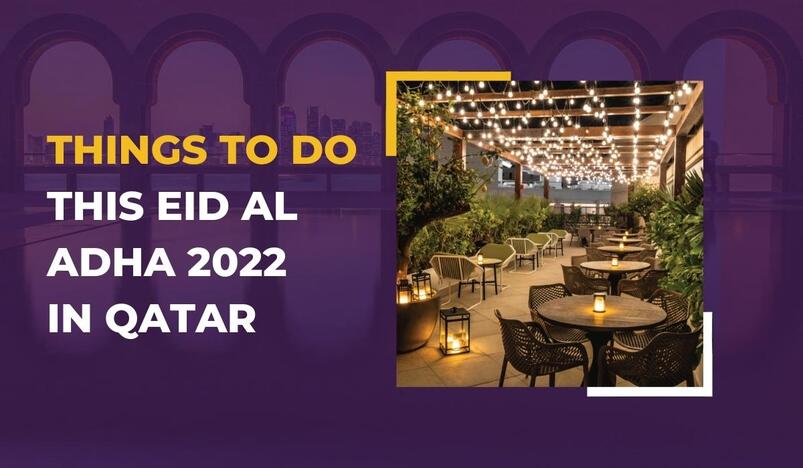 Things to do this Eid
Eid is the best time to find exciting opportunities in Qatar. You can exercise one of these activities to form a new connection with people you just met or spend time with your loved ones to make your bond stronger. These amazing offers at various places will keep you out of boredom and will make your Eid extra special.
Enjoy an Eid staycation

Eid is all about relaxing and enjoying the festivities by doing what you love. Since Eid is on the weekend, you can take a break from all your work and enjoy a staycation over the long weekend. If you love to relax at a hotel with a good view and good food, check out these amazing hotel offers for an Eid staycation. Click here to read more about the Eid deals in Doha for staycations.
Eat your heart at amazing restaurants
Who does not love a full table meal to share with friends and family? Qatar has a lot of casual dining restaurants that you can visit to share a good meal with your loved ones and make this Eid memorable. Some of the top restaurants that are offering Eid deals are Coral, La Mar Doha, Marko and so much more. You can find more details about the Eid offers in this article.
Catch an Eid release movie at a Cinema
Movies are the biggest entertainment source for all. The different genres keep engaged a wide range of audiences starting from kids to teenagers to adults. Celebrate this Eid by watching the latest movie coming out in the nearest theatre. Some of the most awaited movies that are releasing in July are Thor: Love and Thunder starring Chris Hemsworth, Natalie Portman (for all the marvel fans out there), Persuasion starring Dakota Johnson, Cosmo Jarvis, Henry Golding (Jane Austen lovers), Shamshera starring Ranbir Kapoor, Sanjay Dutt, Vaani Kapoor, HIT: The First Case starring Rajkumar Rao, Sanya Malhotra (Bollywood movie fans). You can book your movie tickets at Q-Tickets.
Visit one of the many museums in Qatar
Qatar has a rich cultural history with lots of information to share with the audience or stories to pass down from generations. The transformation of Qatar from a barren land with no people to one of the fastest-growing cities with millions of people living at the heart of the city, Qatar has gone through some massive changes. Qatar has built many museums to showcase its historical changes over the last few decades. Since Qatar is becoming a sports hub, it has recently built a sports museum called 3-2-1 Qatar Olympic and Sports Museum, which you must visit to explore the sports achievements in Qatar. Another important museum to visit where you can learn a lot is the Sheikh Faisal Bin Qassim Al Thani Museum, which is a privately owned museum in Al Shahaniya (a little outside of Doha). Other museums which you can visit are the National Museum of Qatar, and Mathaf: Arab Museum of Modern Art. 
Spend a day at Hilton Salwa Beach Resort 
Salwa Beach Resort is a unique destination in Qatar that "feels like nowhere else", which is their slogan and they proved it through their excellent customer service. This is not just a place to relax and enjoy the view by the beach in the resort, but also has a lot of activities that you can engage in. One such activity is to visit the Desert Falls theme park for a water sports adventure. Another exciting activity is to join the KAIA beach club where you can get the ultimate retreat with elements of music, dining, entertainment, and a pool or beach getaway pass. You can also enjoy a fun getaway with the resort day pass which provides you with exclusive access to some of the most exciting attractions and dining outlets the resort has to offer! Lastly, you can also choose to relax at the 3.5 km long private beach and enjoy the splash pad while you unwind in a private cabana at the pool. You can book your tickets online at www.q-tickets.com.
Take your kids to a fun-filled playtime at 360 Play

Running out of options to entertain your kids? Think no more as 360 Play has come up with various play areas where you can drop off your kids and relax endlessly. These play areas are available in malls and are best to keep your kids engaged while you can enjoy shopping at your own pace. One of the most famous 360 Play areas is the 360 Beanstalk which is located in the Mall of Qatar. To find more 360 Play area locations and book your tickets visit Q-Tickets.  
This article was to give you ideas on how to explore Qatar this Eid and engage in activities. If you found this useful, share it with your friends and family.