Things to do in Qatar this weekend: September 29 to October 1, 2022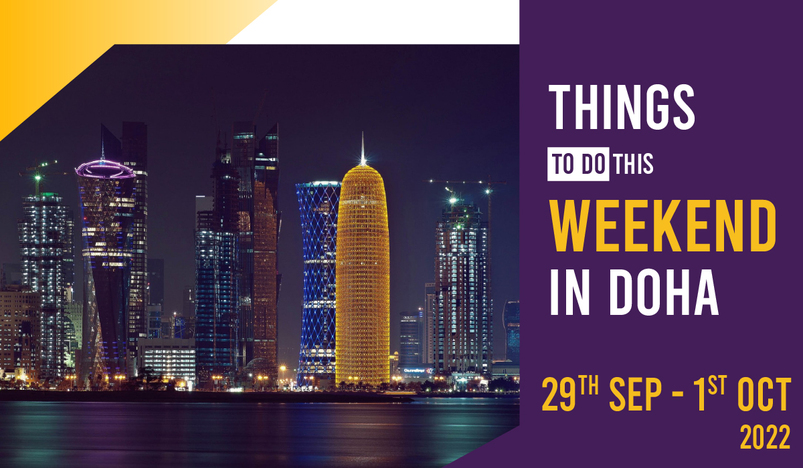 Where to go and what to do this weekend in Qatar
Check out our top picks for Things to Do in Qatar from September 29 to October 1, 2022 below.
Note: Events are subject to change as per the organizers. Follow the COVID-19 measures in place to ensure your safety and that of others.
September 29, 2022 - Thursday
1- Dandiya Night
Red Apple Events presents Dandiya Night at the Dusit Ballroom which will be converted to look like a mela with food stalls, enhanced beverages, and music. India's #1 DJ Akhtar will be headlining along with the local lineup of Doha's best DJs comprising of female DJ Maana, DJ Ansh, DJ Ryan, and DJ AX3. The night will be strictly for couples and mixed groups only with access to kids and kids under 10 years old will be free of cost to enter. Get ready for an ultimate 5-star experience and get your tickets now.
Dates: 29 September, 2022
Time: 7:00PM Onwards
Location:  Pearl Ballroom, Dusit Doha Westbay
Price:Couples (QAR200), Single (QAR150)
2- Mucize' 22 - Harisankar live in Qatar
'MUCIZE 22, HARISANKAR LIVE IN QATAR' which is gonna happen on 29th of September 2022 at Al Arabi indoor stadium Qatar in association with Raheep Media. After 3 years Harisankar os going to perform in Qatar...
MUCIZE 22 is a collective by some enthusiastic, passionate youngsters in Qatar who love art and artists. We believe whatever the art form, art always tries to convey some kind of energy and feeling to it's audience..
Above 4 years old require ticket
Date: 29 September 2022
Time: 7:00PM Onwards
Location: Al Arabi sports club indoor hall
Price: VVIP (QAR500), VVIP Single (QAR200), Platinum - Single (QAR150), Platinum Family - 4 admits (QAR500), Gold (QAR100), Silver (QAR50)
3- Nancy Ajram Concert
Sensational Lebanese singer and popstar Nancy Ajram will enthral music lovers in Qatar with her sonorous and fascination voice this Thursday! 
The concert is part of the mall's comprehensive three-month plan to bring world-renowned artis and shows to celebrate the FIFA World Cup Qatar 2022.  
Date: 29 September 2022
Time: 9:00PM to 11:00PM
Location: Mall of Qatar
Price: Free
September 30, 2022 - Friday
1-  ROCKAWAY BEACH 6
Rockaway Beach is back and bigger than ever!
Rockaway Productions in partnership with Sound Garden is proud to present the Rockaway Beach 6 with multiple (local) live bands and DJ Farhan!
Limited EARLY BIRD tickets are available NOW at the reduced price of QR150, including one beverage.
So don't miss out and get your tickets now and we'll see you on Friday, 30 September at the Doha Sports Park
Date: September 30, 2022
Time: 3:00AM Onwards
Location: Doha Sports Park
Prices: QAR150
2- Dance Disco Dandiya
It is with your feet that you move… but it is with your heart that you dance.' Dandiya Themed event, local DJ Sarfraz and DJ Arun and celebrity DJ from India to groove you on their tunes Huge production with the big stage, LED Wall, Sounds, and Lights Live DJs, Live Food Stalls, Live Dhol, Art, and Culture. lip-smacking food. A night to cherish Indian festivity. Let's play dandiya together at Al Arabi Stadium Indoor Hall. Mark your date 30 Sep, the gate opens at 6 pm to 11 pm.
Date: September 30, 2022 
Time: 6:00 PM
Location: Al Arabi Sports club indoor stadium
Price: Couple (QAR150), Single (QAR100)
October 1, 2022 - Saturday
1- Welcome to Serenades
Join the Philharmonic for an evening of Serenades by Dvorak and Mozart. The event's first half will take you through Dvorak's Wind Serenade in D Minor, a piece that evokes the old-world atmosphere of musical performances at the castles of the Rococo period. The second half will see Mozart's Serenade for Orchestra in D Major performed. The work is popularly known as the Haffner Serenade as it was commissioned to be used during the wedding festivities of Marie Elisabeth Haffner and Franz Xaver Spaeth on the 21st of July 1776. The orchestra's established and multi-grounded concert master Joo Young Oh will perform as soloist and lead the Philharmonic as conductor for this enchanting event.
Date: September 30, 2022 
Timing: 7:30 PM
Location: Pre-University Education (PUE) Theater, Education City
Prices: Side Orchestra (QAR125), Center Orchestra (QAR150), Upper Orchestra (QAR125), 1st Balcony (QAR125)
2- Sophia Al-Maria: INVISIBLE LABORS daydream therapy
Sophia Al-Maria: INVISIBLE LABORS daydream therapy is curated by researcher and independent curator Amal Al Haag in close collaboration with Mathaf's assistant-curator Abdulrahman Mohammed Alkubaisi.
The exhibition consists of a variety of media including installations, video and commissioned soundscapes, all of which foreground the importance of storytelling as a strategy of survival, imagination and reclaiming stories.
Date: Ongoing until January 21, 2023
Timing:  
Saturday to Thursday: 9:00AM - 7:00PM
Fridays: 1:30AM - 7:00Pm
Location: Mathaf: Arab Museum of Modern Art, Doha
Prices: Free