Things to do in Qatar this weekend: September 15 to 17, 2022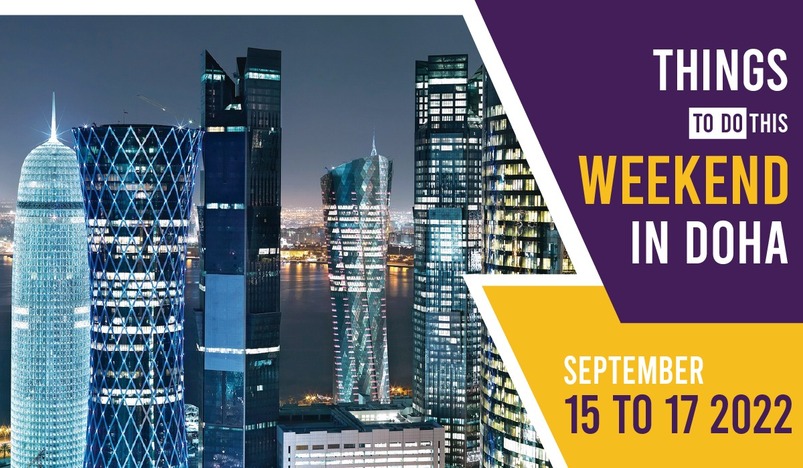 Where to go and what to do this weekend in Qatar
Check out our top picks for Things to Do in Qatar from September 15 to 17, 2022 below.
Note: Events are subject to change as per the organizers. Follow the COVID-19 measures in place to ensure your safety and that of others.
September 15, 2022 - Thursday
1- Wizard of Oz the Circus Show

Alchemy Project Entertainment and Qatar Airways in association with Qatar Tourism, sponsored by Ooredoo are delighted to set a red carpet for a circus musical show "Wizard of Oz" during Qatar Live 2022 in Doha, Qatar.
A magical experience for families to attend the mesmerizing musical circus show 'Wizard of Oz' and help favorite characters to gain kindness, courage and wit.
An adaptation of L. Frank Baum's famous novel 'Wizard of Oz' tells a touching story about Dorothy and her friends' incredible adventures in a musical circus-show performance. An exciting show featuring spectacular circus stunts, brilliant vocal parts, bespoke animation, and vivid costumes is designed to brighten up your days.
Dates: 15 September, 2022 to 17 September, 2022
Time: 
Thursday: 6:00PM
Friday: 3:30PM Onwards and 7:30PM Onwards
Saturday: 1:00PM Onwards and 5:00PM Onwards
Location: Lusail Multi Purpose Hall
Price: Silver 1 (QAR145), Silver 2 (QAR195), Gold 1 (QAR245), Gold 2 (QAR295), Gold 3 (QAR245), Platinum (QAR345), Royal (QAR545)
2- Gopi Sundar Live Ensemble
Gopi Sundar live ensemble for all music lovers in Doha on 15th September 2022. A gift for Onam for all South Indian & Asian communities along with talented artists like Gopi Sundar, Amritha Suresh, Mohammed Jasim & Swetha along with their crew band members.
Date: 15 September 2022
Time: 7:30PM Onwards
Location: Al Arab sports indoor hall
Price: VVIP (QAR500), VIP- Single (QAR150), VIP - Family (QAR500 (Admits 4)), Gold (QAR100), Silver (QAR50)
September 16, 2022 - Friday
1-  Celebrate Onam with Manju Warrier & Mithun Ramesh
Onam is in the air and the renovated Indian coffee house is all set to restart and relaunch on the 16th, this Friday at 8 pm by the Lady superstar Manju Warrier at Fereej Abdul Azeez, Doha. 
To embark on this celebration, we are hosting a cultural extravaganza accompanied by Onam sadya with Manju Warrier and celebrity RJ Mithun Ramesh, at Regency Hall.
The event commences by 12:30 pm with the finest sadhya serving 30 varieties.
Date: September 16, 2022
Time: 12:30PM Onwards
Location: Regency Hall
Prices: SIngle (QAR200), Family - Admits 4 (QAR600)
2- Indra Neelima
Catch K S Chithra, Sharreth Vasudevan and Nithya Mammen  at Al Arabi Sports club indoor hall on 16th September 2022.
Date: September 16, 2022 
Time: 6:30PM Onwards
Location: Al Arabi Sports Club Indoor Hall
Price: VVIP ( QAR300), VIP (QAR200), Gold (QAR100)
September 17, 2022 - Saturday
1- Abeer Al-Tamimi: Beyond the Rules
This solo exhibition dives into artist Abeer Al-Tamimi[MOU1] 's interest in human interaction and behaviour. During her residency at Cité International des arts in Paris, the artist wanted to interact with as many people as possible to answer questions such as why we behave the way we do? And can we control our behaviours and emotions?
Date: Ongoing until September 24, 2022 
Timing: 
Saturday to Thursday: 9:00PM to 7:00PM
Friday: 1:30PM to 7:00PM 
Location:  Gallery 3, Fire Station
Prices: Free
2- Story Time: The Tale of the Four Palm Trees
The fictional account of the adventures of four palm trees will enthrall children and be a source of important life lessons, including the virtues of patience, hope, and forgiveness.
Date: September 17, 2022
Timing:  5:00PM to 6:00PM
Location: Heritage Garden, NMoQ
Prices: Free (Register Online)