Things to do in Qatar this weekend: September 1 to 3, 2022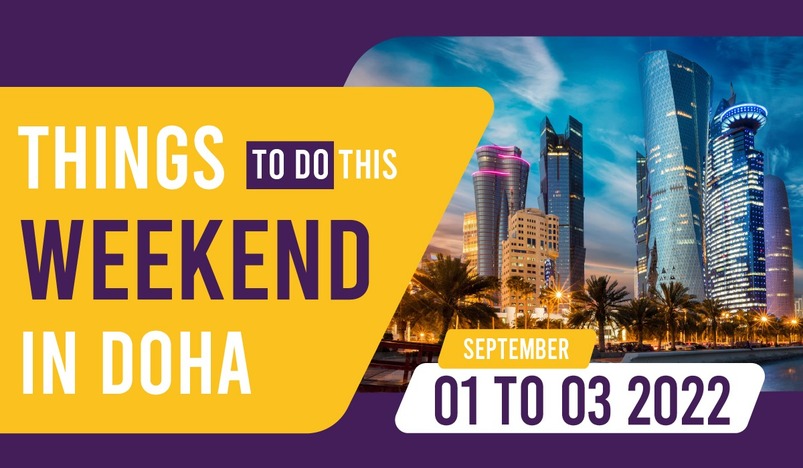 Where to go and what to do this weekend in Qatar
Check out our top picks for Things to Do in Qatar from September 1 to 3, 2022 below.
Note: Events are subject to change as per the organizers. Follow the COVID-19 measures in place to ensure your safety and that of others.
September 1, 2022 - Thursday
1- U.S Film Fest 2022 at Katara Drama Theatre
The Embassy of the United States in Qatar invites movie-lovers to a film festival, September 1-3, 2022, at the Katara Drama Theater. In celebration of Hispanic Heritage Month in the United States, renowned films featuring Hispanic protagonists will be shown every night.
Hispanic Heritage Month is commemorated yearly by U.S. Americans to honor Hispanic achievements and contributions to the American story, both past, and present, and to celebrate the diversity of the American people.
This year's Hispanic Heritage Month national theme is "Unidos: Inclusivity for a Stronger Nation," which aligns with the United States' value of stronger communities being built when all voices are represented.
The U.S. Film Festival gives movie-goers the opportunity to celebrate diversity and inclusion with three films featuring Hispanic characters.
Dates: 1 September, 2022 - 3 September, 2022 
Time: 7:00PM
Location: Katara Drama Theater, Building 16
Price: Free
2- "Coffee for Two: Cultures in Dialogue" exhibition by FBQ Museums
The Coffee for Two – Cultures in Dialogue exhibition, opened Sunday at Katara – the Cultural Village, featuring a selection of around 50 artifacts that put a spotlight on the beverage as a universal language and symbol of generosity.
The exhibition Coffee for Two - Cultures in Dialogue takes a closer look at the history of the well-known brew with maps that track the coffee route. This is because there are numerous ways to prepare and drink coffee, such as some that are quick, some that are slow, some that include milk and sugar, some that are hot, and some that are cold.
The exhibition emphasizes both the historical development of coffee and its modernization. Comparing old photographs from the FBQ Museum's collection to recent images of people drinking coffee on the go demonstrates how tradition and knowledge are continually blending to create a culture of social engagement and sharing.
Date:  Ongoing until 21 September 2022
Time: 10:00 AM to 10:00 PM
Location: Hall 47, Katara Cultural Village
Price: Free
September 2, 2022 - Friday
1-  MADE IN QATAR - Film Screening
Embrace Doha is pleased to announce that we will be hosting the Made In Qatar film screening in collaboration with Doha Film Institute.
The screening will take place in our Qatari Majlis based in Souq Al Wakrah, giving you the chance to experience local filmmaking in Qatar's first and only cultural house.
Date: Ongoing until September 15, 2022
Time: 7:00PM to 8:30PM
Location: Embrace Doha Cultural House, Souq Al Wakrah
Prices: 20QAR
2- String Art Workshop
The exhibition is part of the cultureal initiative launched by Sheikh Faisal Bin Qassim Al-Thani Museum in 2018 dubbed "The Majlis Cultures in Dialogue". It was launched in France and has toured various European capitals, including Paris, Vienna and Valletta
The Katara edition celebrates the culture and traditions around coffee as a univeral language that connects people around the world and promotes cultural exchanges and social cohesion. It featuers a selection of around 50 artifacts used in the preparation and making of coffee during ancient times, as well a collection of photos and videos, which explore cultural practices around home brewed Arabic Coffee.
Date: September 2, 2022 
Time: 4:00PM - 5:30PM and 5:30PM - 7:00PM
Location: Katara Building 19
Price: 10QAR
September 3, 2022 - Saturday
1- 2X22 Exhibition by Mubarak Al Thani & Simon Mortimer
The 2X22 exhibition aims to celebrate Qatar's cosmopolitan nature in the lead-up to the 2022 FIFA World Cup, as seen through the eyes of a Qatari and an expat.
Date: Ongoing until September 9, 2022
Tiiming:  7:30PM
Location: W Doha Hotel & Residences, Diplomatic Street
Prices: Free
2- "Paths 2" Exhibition by Al Markhiya Gallery
Al Markhiya Gallery opened the "Paths 2" exhibition which is the second part of a previous exhibition of the gallery at Katara Art Center, Qatar.
The exhibition, which runs until October 23, includes 32 paintings by artists belonging to various creative schools, Abdullah Al Asaad from Syria, Hosni Abu Karim from Jordan, Zaid Al Zaidi, and Salem Mathkour from Iraq.
Date: Ongoing until October 23, 2020
Timing:  10:00AM to 9:00PM
Location: Al Markhiya Gallery, Katara Art Center
Prices: Free