Things to do in Qatar this weekend: October 6 to 8, 2022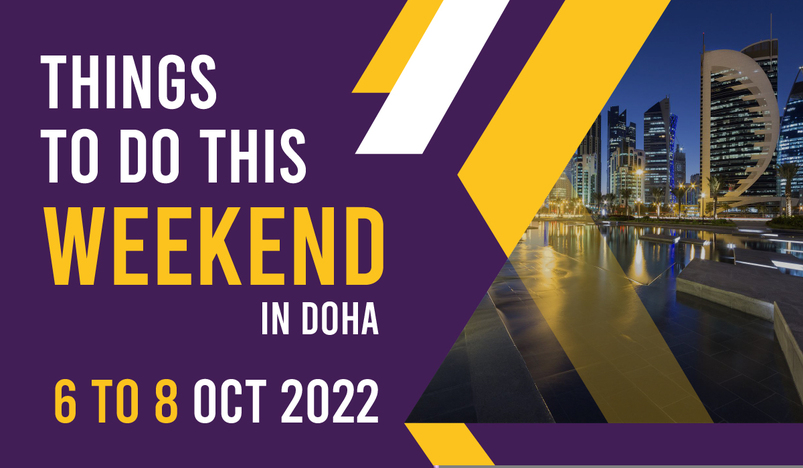 Where to go and what to do this weekend in Qatar
Check out our top picks for Things to Do in Qatar from October 6 to 8, 2022 below.
Note: Events are subject to change as per the organizers. Follow the COVID-19 measures in place to ensure your safety and that of others.
October 6, 2022 - Thursday
1- "Clash" Workshop by Alhosh Gallery
Alhosh Gallery is inviting you to attend the presentation of the works of a group of artists under the slogan "Clash", which combines art and fashion, in cooperation with scale 7, in addition to their hosting of the Sustainability Week at the event headquarters.
Dates:  Ongoing until October 7, 2022
Time: 4:00PM to 9:00PM
Location: Scale7 Musheireb 
Price: Online
2- World of Football
Visitors will be able to relive memories of some of the greatest World Cup moments of the past, get behind the scenes of Qatar's successful bid to welcome the world and see our plans for the future.
Date: Ongoing until April 1, 2022
Time: 9:00AM to 7:00PM
Location:  3-2-1 Qatar Olympic and Sports Museum
Price: Adult (QAR100), Child- Under 16 (Free)
October 7, 2022 - Friday
1-  "Almaha Almaadeed: Inspired by the Land" Exhibition
Almaha Almaadeed is a Qatari artist, living and working in Qatar. Her work narrates the practice of archiving cultural memory and family history. Referring to herself as a "naturalist", she enjoys exploring the desert landscapes and flora of Qatar.
This project questions the effects of urbanization in Qatar on re-engagement with nature. The artistic process involved contextualizing family archives, while the curatorial methodology employed an interdisciplinary reading; encouraging the audience to view Almaha's work from multiple perspectives.
Modern literary thought from the Gulf has informed the conceptual lens, primarily Cities of Salt (Abdul Rahman Munif, 1984).
Date: Ongoing until January 28, 2023
Time: 09:00AM to 07:00PM
Location: Mathaf: Arab Museum of Modern Art, Education City
Prices:  Adult (QAR100), Child (Free)
2- "Safar" Exhibition at the Museum of Islamic Art
The Museum of Islamic Art, in collaboration Ministry of Foreign Affairs - Qatar will present Safar, an exhibition highlighting the experiences of Afghan refugees in Qatar after their evacuation in 2021.
Date: October 6 to December 31, 2022 
Time: 9:00AM to 5:00PM
Location: Museum of Islamic Art - Park, Qatar
Price: Free
October 8, 2022 - Saturday
1- Pipilotti Rist: Your Brain to Me, My Brain to You at National Museum of Qatar
our Brain to Me, My Brain to You is an invitation for people of all ages to go on an immersive journey of self-discovery through a multisensory experience that inspires introspection and awe. The large-scale site-specific installation by internationally-renowned Swiss artist Pipilotti Rist is the artist's first in the Middle East.
Date: Ongoing until December 20, 2022 
Timing: 9:00AM to 6:00PM
Location: QBEC Gallery, National Museum of Qatar
Prices: Free
2- Automotive exhibition at National Museum of Qatar
Qatar Museums launches automotive exhibition at National Museum of Qatar (NMoQ) as part of announcement of plans for Qatar Auto Museum, designed by Pritzker prize-winning architect Rem Koolhaas.
Date: Ongoing until January 20, 2023
Timing:  12:00PM to 10:00PM
Location: National Museum of Qatar
Prices: Free