Things to do in Qatar this weekend: November 17 to 19, 2022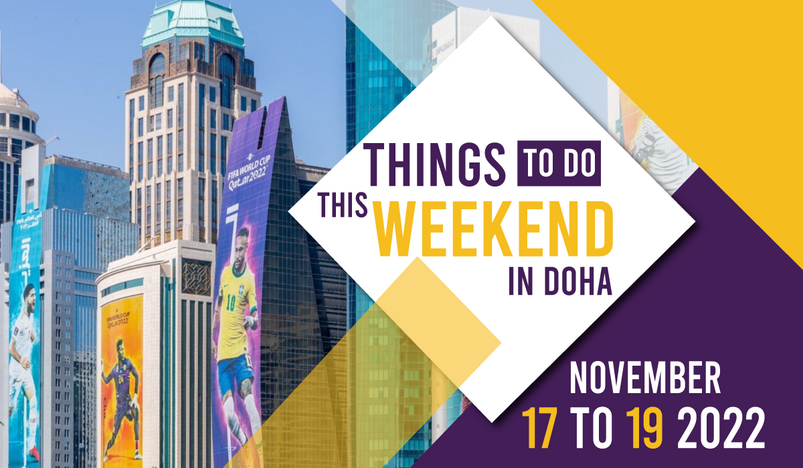 Where to go and what to do this weekend in Qatar
Check out our top picks for Things to Do in Qatar from November 17 to 19, 2022 below.
Note: Events are subject to change as per the organizers. Follow the COVID-19 measures in place to ensure your safety and that of others.
November 17, 2022 - Thursday
1- MONSOON WEDDING MUSICAL 2022
  
Award-winning film director Mira Nair brings her iconic, exuberant, sumptuous film Monsoon Wedding to life in a new musical adaptation set to light up the stage this fall.
East and West converge at the four-day wedding celebration of Delhi-born Aditi and New Jersey-raised Hemant. A south Delhi princess, Aditi has agreed to marry on the rebound from a disastrous affair, but her activist cousin Ria urges her to think beyond marriage. Hemant, the Ivy-league groom from New Jersey, has never felt at home in his own skin and is hoping to find an anchor with his new wife's family. As the lavish festivities get underway, Aditi's bravery lands her into trouble, her father is in the thick of financial woe, Hemant is just as lost in the old world as in the new, and dark family secrets come to light. In Monsoon Wedding the Musical, two families across oceans come together and decide if they can find a way towards loving each other or if their differences will tear them apart.
Prepare for a perfect storm of drama and hope, love and laughs, and a whole lot of rain!
 Dates: November 17 - November 27
Time: 5:00 PM ONWARDS
Location: ABDULAZIZ THEATER, SOUQ WAQIF
2. TROPHY CELEBRATION AT ASPIRE PARK
With only days to go until the big kick-off, the FIFA World Cup™ trophy has arrived in Qatar ahead of a special event at Aspire Park from Tuesday 15 November to Friday, 18 November 2022.
The famous prize has undertaken a global tour in recent months, visiting every country which has qualified for the FIFA World Cup Qatar 2022™. In total, the trophy visited 51 countries and territories in the lead-up to this year's tournament, which will be held in eight state-of-the-art stadiums from 20 November to 18 December.The event will be held from 4 pm to 10 pm and presented by local comedian Hamad Al Amari. It will feature a host of activities for all the family.
Dates: November 15 - November 18
Time: 04:00 PM - 10:00 PM
Location: Aspire Park, Qatar
Price: Free!
3. TIKI- TAKA
Popular football slang 'Tiki-Taka' describes "a harmonious style of playing the game". Drawing inspiration from this fun word play, The Ritz-Carlton Sharq Village Doha brings patrons an elevated experience where they can indulge in the best of dining, entertainment and soak in a buzzing ambiance with football fever in the air. Bringing together the breathtaking amalgamation of sun, sand and crystal-clear waters of the gulf, explore this unmatched haven at the ultimate beachfront resort in Doha.
Discover a mesmerizing selection of eclectic cuisine hand-picked from our stunning line-up of restaurants & lounges at the resort and set sail into a thrilling journey starting at our sprawling resort pool & infinity pool, onto the private beach stretch spanning 350meters and culminating all the way at Iris Lounge.
Indulge in riot of amazing food & drinks, upbeat music performances and a buzzing vibe.
Dates: November 15 - December 28
Time: 10:00 AM ONWARDS
Location: INFINITY POOL, BEACH AND IRIS LOUNGE (THE RITZ-CARLTON SHARQ VILLAGE DOHA)
4. AL WALID EL HALLANI LIVE CONCERT
Discover the true meaning of rhythm with the rising star Al Walid El Hallani in a live concert at Mall of Qatar.
Date: 17 November 2022
Time: 09:00 pm - 10:00 pm
Location: Mall of Qatar
Price: Free!
November 18, 2022 - Friday
1-  QATAR KASO
Get Ready to have the most exceptional and first time Live Performance of KASO in QATAR this Friday, 18th of November. 
With Good times + good beats only by the best DJs in Tunnel Lounge DJ KAT JIMENEZ & DJ STEPHAN. Enjoy, breathe, and be free under the beats and free flowing party all around! Visit one of the best clubS in Doha! 
Date: Friday, Novermber 18
Time: 6:00 PM ONWARDS
Location: THE TUNNEL CLUB , BEST WESTERN PLUS HOTEL
Price: Starting from QAR 350 
2. INCA WORLD @ MIX BAR 
INCA is a Creative Concept with Cultural & Pentatonic sounds inspired by the cultural mix of the Inca Empire originated in South American countries. A unique music journey awaits you every day starting from November 18th until the 18th of December.INCA World at The Westin Doha Hotel and Spa -Mix Bar will be located at the biggest rooftop venue Mix Bar, where the matches will be broadcasted live on big screens with the best comfort food & cold brews in town!
Live DJ performance with international resident DJ's playing party tunes till 2am daily. All games will be screened on 2 Giant LED screens in the venue. Table booking can be made in advance. 
Date: November 18 - December 18
Location: MIX BAR @ THE WESTIN DOHA HOTEL & SPA
Price: Starting from QAR 220
November 19, 2022 - Saturday
1- QETAIFAN BEACH FEST
A month-long party on the beachfront. Great Music, Football, Beach Activities, Food and a Good Cause!
The festival brings together people from different cultures and all walks of life through the 'international languages' of music and football. In addition to a premium fan camp alongside the beach-front site, the event offers a variety of attractions and entertainment.
Date: November 19 - December 18
Time: 10:00 AM to 4:00 AM
Location: Qetaifan Beach North
Price: Starting from $65
2-  "The Fisherman's dream" by Giuliano Peparini


Experience a world-class acrobatic spectacle ''The Fisherman's dream' by Giuliano Peparini, to be premiered on the 19th of November.
The Fisherman's Dream encapsulates Qatar's rich history and culture and it's amazing growth over the past decades. Inspired by the famed history of Qatar's pearl divers and their search for the dana pearls, the production will be a visual spectacle made up of 65 performers: acrobats, contortionists, slack walkers, and dancers, all supported by video and visual effects that will light up the sky.
Date: November 19 - January 5
Time: 6:30 PM - 10:00 PM
Location: Linear Park canal, Qetaifan Island North
Price: Free!