Things to do in Qatar this weekend: May 11 to May 13, 2023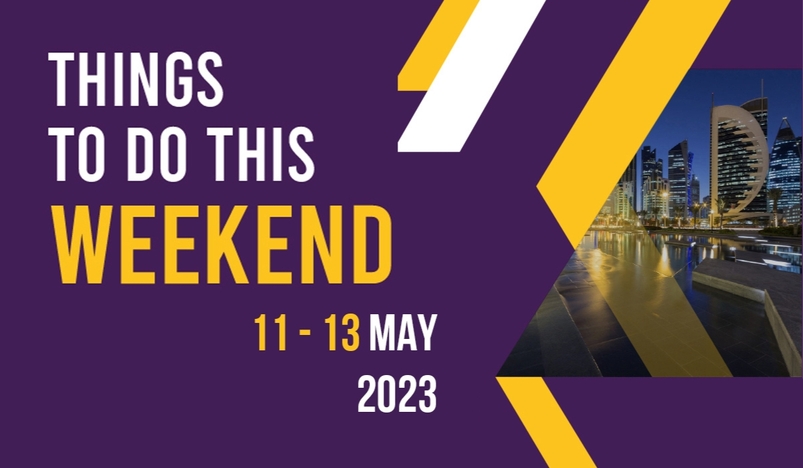 Things to do in Qatar this weekend: May 11 to May 13, 2023
Check out our top picks for Things to Do in Qatar from May 11 to May13, 2023, below.
Note: Events are subject to change as per the organizers. 
May 11 - Thursday
1. Orient Pearl Nights - FARES KARAM, AYMAN ZBIB and JIHAD AKEL
The tickets include set menu dinner and soft drinks
Join us for the Oriental Pearl Nights concert on May 11th at Oriental Pearl Restaurant! Be captivated by musician Jihad Akel's melodies, mesmerized by the electrifying act of Ayman Zbib, and enthralled by the dynamic performance of the Dazzling Fares Karam. Get ready to enjoy the night to the fullest at this extraordinary event of pure auditory delight!
Gates Open at 8 PM
Dinner Served at 9 PM
Tickets must be purchased online.
Date: 11 May 2023
Time: 8:00PM Onwards
Location:   Orient Pearl
Tickets: Q-Tickets
2. The Sheyaab Show 2023

Kuwaiti sensation, Sheyaab Band will be here at Mall of Qatar with a night full of entertaintment. Be there to enjoy the family-friendly comedy show, music, drama, and more.
Date: 11 May 2023 - 13 May 2023
Time: 8:00PM - 9:30PM 
Location:  Mall of Qatar
Phone:  +974 40346000
3. ARZ KIYA HE - INTERNATIONAL KAVI SAMMELAN AND MUSHAIRA

Join the Philharmonic for the unique MAias Alyamani & Yahia Tello's Electro Maqam experience, an entertaining journey where Arabic music magic meets the electronic world. Chill out with multitalented artists performing an exciting fusion of oriental melodies and electronic samples blending together for an exceptional evening.
Tickets must be purchased online. There are no refunds or exchanges. Under 6's will not be admitted into the venue. Audience members will be guided to their seats by a QPO representative. Allocated seats by organisers must not be changed for health and safety reasons. Doors close promptly at concert commencement. Out of respect for the musicians and fellow audience members please silence your mobile phones and refrain from flash photography.
Date: 11 May 2023 
Time: 7:30 PM ONWARDS
Location: Qatar National Convention Centre, Auditorium 3
Tickets: Q-Ticket
4. Cinema by the Sea at West Bay Beach
Head to the beautiful West Bay Beach for a fun, family-friendly outdoor cinema experience. Set along the shores of Doha's stunning skyline—DFI is proud to present 'Cinema by the Sea', an outdoor screening series of films for the whole community to enjoy.
Date:  11 May
Time: 7 PM 
Location: West Bay Beach
Price: QR 30/adult (Free for kids under 12)
Screenings: Website
May 12 - Friday
1. WORLD JUDO CHAMPIONSHIPS - DOHA 2023
The World Judo Championships – Doha 2023 will bring together more than 500 of the best world's judokas from over 90 countries. First held in Tokyo in 1956, the event has grown considerably and now features men's, women's and team competitions. Organized by the International Judo Federation, the action gets under way at the Ali bin Hamad Al Attiyah Arena on May 7. The state-of-the-art venue has previously hosted world class events. Don't risk missing out on the latest world championships to be held in Qatar, book your tickets now.
Children under 12 years old are allowed free entry
Date: 07 May 2023 - 14 May 2023
Time: 10:30AM Onwards
Location:  ALI BIN HAMAD AL ATTIYAH ARENA (ABHA ARENA)
Tickets: Q-Ticket
2. ALL STAR BASKETBALL BY INSPIRA

SINGER: ZEPHANIE DIMARANAN (IDOL PHILIPPINES GRAND WINNER)
ALL STAR BASKETBALL CAST
Kyla (The Queen of R&B)
GERALD ANDERSON
ION PEREZ
JC DE VERA
PAOLO GUMABAO
YOUNG JV
JOSH COLET
LANCE JUSTIN CARR
JOE VARGAS
PATRICK SUGUI
GAB LAGMAN
ARWIND SANTOS
Guest needs to buy VIP OR Gold if they have children below 4 years. 
Use promo code: RAMADAN40 and get 40% discount valid from 25th March to 31th March 2023
GATE RULES
GATE FOR VVIP - VIP GATE
GATE FOR GOLD SILVER AND BRONZE - SEPARATE GATE
3. Hello Summer at Tawar Mall

Let the summer fun begin! Enjoy a weekend of fun activities and adventures for the whole family at Tawar Mall on 12 May 2023 from 5 pm - 9 pm.
Activities include a puppet show, games & competitions, story telling, cartoon characters, and more!
Date:12 May 2023
Time: 5:00 PM - 9:00 PM
Price: Come and join - It's free! Come and join - It's free!
Website: https://www.instagram.com/p/CsBgFoQIng1/?igshid=NTc4MTIwNjQ2YQ%3D%3D
3. RPM Festival 2023 - The Backyard

The RPM Festival is back for another year, promising to be even bigger and better than before. Last year's festival was a huge success, showcasing an incredible lineup of bands and giving exposure to local talent in Qatar. Organized by The Backyard in collaboration with Rockaway Beach, this year, the festival will feature more than 15 live bands, playing a mix of pop and rock music.
Don't miss this opportunity to discover new talent and support local musicians. So head over to The Backyard on 11th and 12th of May for a night of live music and entertainment.
Date: 11 May 2023 - 12 May 2023
Time: 1:00 PM - 12:00 AM
Location: DOHA GOLF CLUB
Website: Click here
Tickets: Buy Ticket 
May 13 - Saturday
1. La Maison Furniture Expo 2023
The largest international contracting in the furniture industry event in Qatar, La Maison Furniture Expo, is the Qatari trade fair for the furniture industry. The event focuses entirely on one of the most important pillars of the interior design industry. It is a must for interior designers, business people, or enthusiasts.
Date: 9 May 2023 - 13 May 2023
Time: 02:00 pm - 09:00 pm
Location: Doha Exhibition and Convention Center
Ticket Purchase: Online
Price: Come and join - It's free! Come and join - It's free!
Website: https://www.lamaisonexpo.org/
2. TASWEER PHOTO FESTIVAL
Established by Qatar Museums under the leadership of its Chairperson, Her Excellency Sheikha Al Mayassa bint Hamad bin Khalifa Al Thani, and supported by the Social & Sport Contribution Fund (Daam), Tasweer Photo Festival Qatar is being developed as a focal point for the personal and professional creative growth of photographers and image-makers in the region. Tasweer is building on Qatar Museum's commitment to nurture artistic talent, and to develop Qatar's arts economy and support creative industry.
The Tasweer 2023 biennial exhibitions are:
I AM THE TRAVELER AND ALSO THE ROAD: Mathaf
A CHANCE TO BREATHE: M7
DOHA FASHION FRIDAYS: M7
HADEER OMAR: AND THEREAFTER: Al Koot Fort
MASHAEL AL HEJAZI: MY MOTHER LULWA'S HOUSE: Majlis Barahat Al Jufairi
Date: 15 March - 20 May 
Webpage: TASWEER