Things to do in Qatar this weekend: January 12 to 14, 2023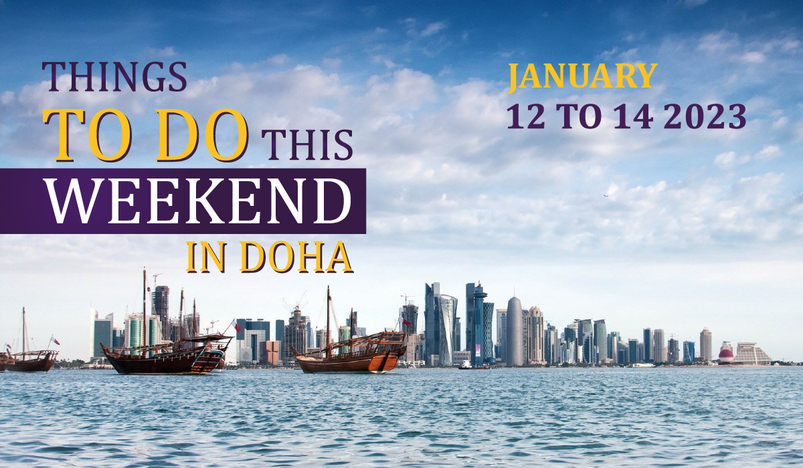 Where to go and what to do this weekend in Qatar
Check out our top picks for Things to Do in Qatar from January 12 to 14, 2022 below.
Note: Events are subject to change as per the organizers. Follow the COVID-19 measures in place to ensure your safety and that of others.
January 12 - Thursday
1. Intaj: Film, Television and Theatre Exhibition by DFI
The Doha Film Institute (DFI) opened Wednesday a multimedia exhibition, Intaj, which traces the history of Qatar's film, television, and theatre. Makes sure to check out the event at Sikkat Wadi Msheireb as part of the Doha Film Experience activities.
Date: Until January 22
Time: 10:00 AM ONWARDS
Location: Sikkat Wadi Msheireb
2. Qatar Auto Museum Exhibition
A Sneak Peek at Qatar Auto Museum celebrates the mission to drive culture forward and to inspire the next generation of innovators, designers, engineers, collectors and policymakers through a shared passion for cars.
Date: Until January 20
Location: National Museum of Qatar, Mawater Gallery
January 13 - Friday
1. QRS Winter Edition - Race1
The events will comprise of distances ranging from Mini-Kids 800M to Adults 10K. All events will be run on accurately measured short courses with multiple laps and will be restricted to a maximum of 300 participants.
RACE 1: Friday 13 January 2023 (Aspire Park)
RACE 2: Friday 27 January 2023 (Al Bidda Park)
RACE 3: Friday 03 February 2023 (Al Bidda Park)
RACE 4: Friday 17 February 2023 (Aspire Park)
Time: 6:30AM Onwards
Tickets: Q-Tickets
2. Singing Sand Dunes Cleanup 2023
Join DEAP Qatar this Friday at the beautiful singing sand dunes for a cleanup drive. This is a kid and family friendly activity and Gloves, pickers and bags will be provided.
Dates: 13 January 2023
Time: 03:00 PM - 05:00 PM
Location: Singing Sand Dunes
3-  Hayakuum at Al Shaqab 2023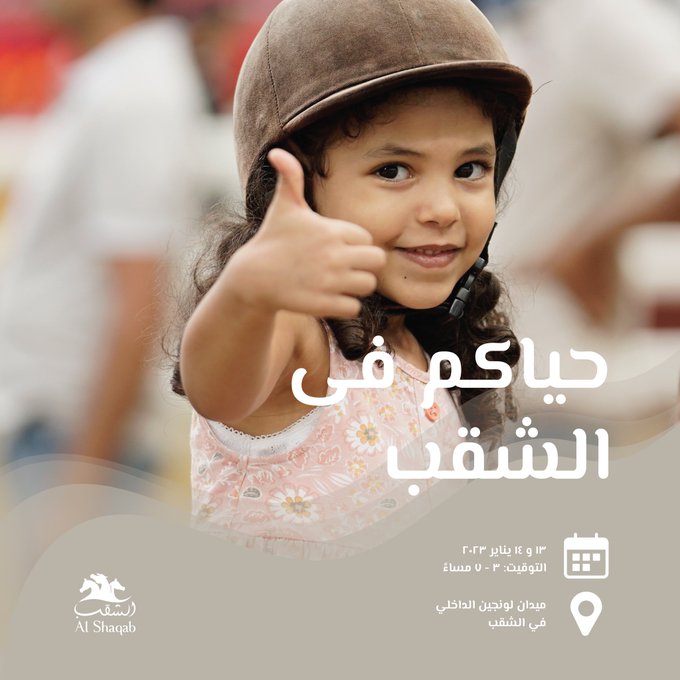 Head to Hayakum at Al Shaqab- an event held from 13-14 January at Longines Indoor Arena, and witness exciting activities including horse and pony riding, carriage rides, bouncing castles, arts and crafts and much more. This event is for families and children.
Date: January 13- January 14
Time: 3:00 PM - 7:00 PM
Location: Longines Indoor Arena, Al Shaqab
January 14 - Saturday
1. Marmi Festival 2023
The 14th edition of the Qatar International Falcons and Hunting Festival (Marmi 2023) will start on 1 January 2023 until 28 January 2023.
Date: 1 January 2023 - 28 January 2023
Time: 05:00 am - 12:00 pm
Location: Sabkat Marmi in Sealine
2- Mangrove Kayaking Eco. Adventure
Nestled along the coast near Al Khor is a vast and beautiful mangrove forest, the best way to access the forest is by kayak. We will take you through the network of channels that have been carved out by tidal action. The area supports a lot of bird life and is a favorite destination for nature lovers. Sun set is a perfect time to see the birds and listen to the sounds of the forest.
Suitable for families and those looking for a relaxed easy paddle taking in the greenery and bird life of the nature reserve
Date: 2 January 2023 - 31 March 2023
Time: 06:00 am - 05:00 pm
Location: Purple Island, Qatar
3- METAL NIGHT Saturdays
With all-night metal music videos on the big screen, guest Bands, Metal Games and a lot more fun activities in a one-of-a-kind Metal Night- At VIKINGS REST0 BAR
Date: January 14
Time: 9:00 PM ONWARDS
Location: Best Western Plus Hotel - Doha