Things to do in Qatar this weekend: December 15 to 17, 2022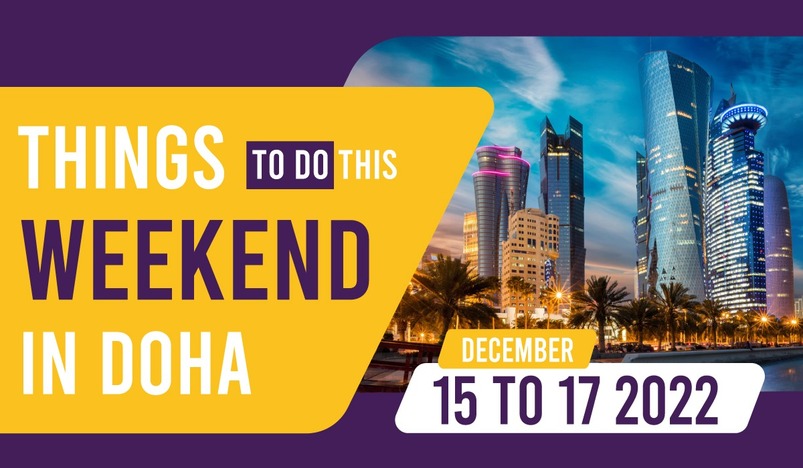 Where to go and what to do this weekend in Qatar
Check out our top picks for Things to Do in Qatar from December 15 to 18, 2022 below.
Note: Events are subject to change as per the organizers. Follow the COVID-19 measures in place to ensure your safety and that of others.
December 15 - Thursday
1. Festival in Motion
Festival in Motion is here to celebrate dance, music, art, and architecture. Set at the heart of the World Cup festivities in Qatar, each performance draws inspiration from the public spaces and heritage sites of Qatar.
Festival in Motion was conceived by Her Excellency Sheikha Al Mayassa bint Hamad bin Khalifa Al Thani, Chairperson of Qatar Museums, and co-curated by two internationally acclaimed artists: French choreographer Benjamin Millepied, Artistic Director and Co-founder of the influential LA Dance Project, choreographer of the film Black Swan, and former Director of the Paris Opera Ballet, and renowned American composer Nico Muhly.
Experience a series of stunning public performances across Qatar's top Public Art & Heritage sites.
Location: Schedule
Date: December 5 - December 20 2022
Time: 8:00AM - 8:00PM
Price: Free
2. Avatar The Way of Water
The sequel to the Oscar winning film Avatar follows Jake Sully as he lives with his newfound family formed on the planet of Pandora. Once a familiar threat returns to finish what was previously started, Jake must work with Neytiri and the army of the Na'vi race to protect their planet.
Tickets: q-tickets.com
December 16 - Friday
1. CR Fashion Runway
Leaders in fashion, music and culture from Qatar and around the world come together for a history-making celebration during the World Cup, Qatar Fashion United by CR Runway. 150 designers and brands on the world's biggest catwalk. International music artists.
The event will feature showstopping performances by international superstars, including Post Malone, DJ Snake, Kadim Al Sahir, Khaled, Nancy Ajram, Ozuna, Zakes Bantwini and more.
Dates: December 16 2022
Time: 4:30PM - 11:30PM
Location: 974 Stadium
Tickets: q-tickets.com
2. Doha Film Experience - Geekdom
Qatar's largest pop-culture event will be held at Lusail Boulevard this year! Join us as we celebrate our inner-geek with a host of fantastic activities for nerds of all kinds at Lusail Boulevard, Geekdom building.
There will be a fantastic cosplay day, edge-of-your-seat video game tournaments, incredible screenings, talented artists, fun karaoke, and more. 
Date: December 3 - December 16 2022
Time: 2:00PM - 11:00PM
Entry: QAR10
Location: Schedule
December 17 - Saturday
1- Akon Live Concert
One of the best-selling R&B/hip-hop artist Akon performs live in Doha for the first time. Akon often sings hooks for other artists and is currently accredited with over 200 guest appearances and 32 Billboard Hot 100 songs. He is the first solo artist to accomplish the feat of holding both the number one and two spots simultaneously on the Billboard Hot 100 charts twice. Along the way Akon has worked with some of the biggest names in hip-hop and R&B, including Snoop Dogg, Eminem, Gwen Stefani, and Michael Jackson.
Known for its blend of African lyricism and urban beats, Akon's music reaches across genres and provides an example of the multicultural evolution of African-American music.
Date: December 17 2022
Time: 6:00PM - 3:00AM Concert & 11:00PM - 12:00PM Akon
Location: Doha Golf Club 
2-  "NONSTOP ENTERTAINMENT" - QetaiFAN Beach Fest


Enjoy your day at the beach with your loved ones and  let's celebrate together, 3 special artists, international DJs, Live Show & Band, and Fireworks. 
Date: December 17 2022
Time: 10:00AM 
Location: Linear Park canal, Qetaifan Island North
Price: General Admissions (Free), Stage Pass ($65) & VIP Lounge ($100)