Things to do in Qatar this weekend: December 1 to 3, 2022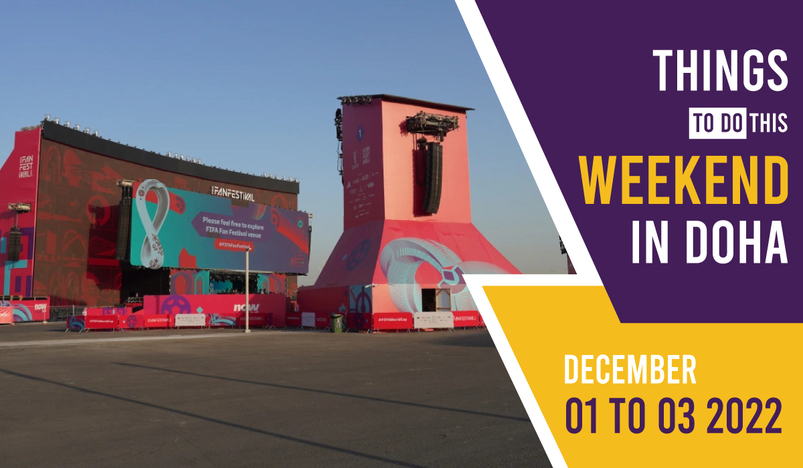 Where to go and what to do this weekend in Qatar
Check out our top picks for Things to Do in Qatar from December 1 to 3, 2022 below.
Note: Events are subject to change as per the organizers. Follow the COVID-19 measures in place to ensure your safety and that of others.
December 1 - Thursday
1. FIFA FANS CUP
For the first time in the history of the FIFA World Cup, 32 teams of fans will compete for the Fans' Cup at the FIFA World Cup Qatar 2022. The four-day Fans' Cup event will be contested by supporters of all 32 competing nations from 29 November to 2 December.
Organized by the Supreme Committee for Delivery & Legacy (SC), the five-a-side tournament will be played in the same format as the FIFA World Cup™, with group matches and knockout rounds until the winner is crowned. 
Location: FIFA Fan Festival (playground)
Date: 29 November 2022 - 2 December 2022
Time: 12:30 PM - 04:00 PM
Price: Free! 
2. TIKI- TAKA
Popular football slang 'Tiki-Taka' describes "a harmonious style of playing the game". Drawing inspiration from this fun word play, The Ritz-Carlton Sharq Village Doha brings patrons an elevated experience where they can indulge in the best of dining, entertainment and soak in a buzzing ambiance with football fever in the air. Bringing together the breathtaking amalgamation of sun, sand and crystal-clear waters of the gulf, explore this unmatched haven at the ultimate beachfront resort in Doha.
Discover a mesmerizing selection of eclectic cuisine hand-picked from our stunning line-up of restaurants & lounges at the resort and set sail into a thrilling journey starting at our sprawling resort pool & infinity pool, onto the private beach stretch spanning 350meters and culminating all the way at Iris Lounge.
Indulge in riot of amazing food & drinks, upbeat music performances and a buzzing vibe.
Dates: November 15 - December 28
Time: 10:00 AM ONWARDS
Location: INFINITY POOL, BEACH AND IRIS LOUNGE (THE RITZ-CARLTON SHARQ VILLAGE DOHA)
December 2 - Friday
1. FLYING SUPERKIDS
Enjoy a magnificent display of high-tempo acrobatics, gymnastics, dancing, comedy, and more by the Flying Superkids at Mall of Qatar!
Dates: December 1 - December 10
Time: 10:00 AM ONWARDS
Location: Oasis Stage, Mall of Qatar
2. INCA WORLD @ MIX BAR 
INCA is a Creative Concept with Cultural & Pentatonic sounds inspired by the cultural mix of the Inca Empire originated in South American countries. A unique music journey awaits you every day starting from November 18th until the 18th of December.INCA World at The Westin Doha Hotel and Spa -Mix Bar will be located at the biggest rooftop venue Mix Bar, where the matches will be broadcasted live on big screens with the best comfort food & cold brews in town!
Live DJ performance with international resident DJ's playing party tunes till 2am daily. All games will be screened on 2 Giant LED screens in the venue. Table booking can be made in advance. 
Date: November 18 - December 18
Location: MIX BAR @ THE WESTIN DOHA HOTEL & SPA
Price: Starting from QAR 220
December 3 - Saturday
1- QETAIFAN BEACH FEST
A month-long party on the beachfront. Great Music, Football, Beach Activities, Food and a Good Cause!
The festival brings together people from different cultures and all walks of life through the 'international languages' of music and football. In addition to a premium fan camp alongside the beach-front site, the event offers a variety of attractions and entertainment.
Date: November 19 - December 18
Time: 10:00 AM to 4:00 AM
Location: Qetaifan Beach North
Price: Starting from $65
2-  "The Fisherman's dream" by Giuliano Peparini


Experience a world-class acrobatic spectacle ''The Fisherman's dream' by Giuliano Peparini, to be premiered on the 19th of November.
The Fisherman's Dream encapsulates Qatar's rich history and culture and it's amazing growth over the past decades. Inspired by the famed history of Qatar's pearl divers and their search for the dana pearls, the production will be a visual spectacle made up of 65 performers: acrobats, contortionists, slack walkers, and dancers, all supported by video and visual effects that will light up the sky.
Date: November 19 - January 5
Time: 6:30 PM - 10:00 PM
Location: Linear Park canal, Qetaifan Island North
Price: Free!