Things to do in Qatar this weekend: August 4 to 6, 2022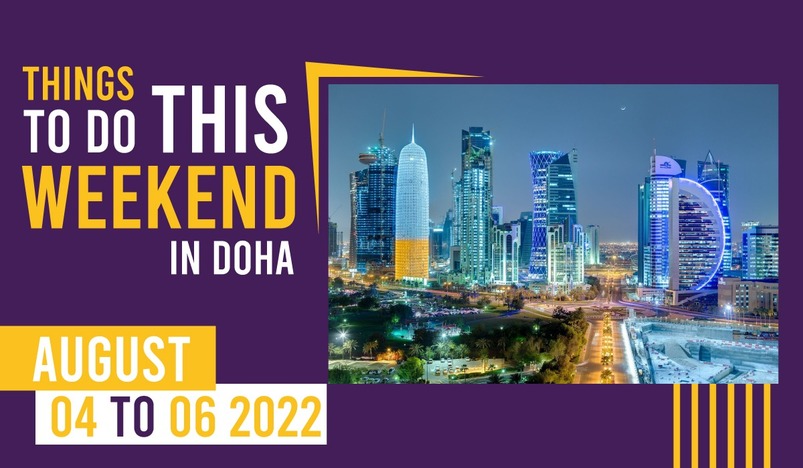 Where to go and what to do this weekend in Qatar
Check out our top picks for Things to Do in Qatar from August 4 to 5, 2022 below.
Note: Events are subject to change as per the organizers. Follow the COVID-19 measures in place to ensure yours and others' safety.
August 4, 2022 - Thursday
1- DC League of Super Pets 
Krypto the Super-Dog and Superman are inseparable best friends, sharing the same superpowers and fighting crime side by side in Metropolis. However, Krypto must master his own powers for a rescue mission when Superman is kidnapped.
Watch this Animated, action and comedy film now showing at Qatar Cinemas near you.
Book your tickets now at www.q-tickets.com.
2- 7th Local Dates Festival (Souq Waqif)
The Ministry of Municipality represented by the Agricultural Affairs Department, in cooperation with Souq Waqif management, is organizing the 7th Local Dates Festival with participation of more than 80 specialized local farms.
The festival aims to support and encourage local production of dates in conjunction with the production season in the country.
Date: Ongoing until August 10, 2022. 
Time: 03:00 pm - 09:00 pm
Prices: Free
Location: Al Ahmad Square, Souq Waqif
3- DFI: Qatari Film Fund
The Qatari Film Fund call for submission of shorts and features in development opens from 1st of August to 1st of September 2022.
The Qatari Film Fund offers support for the furtherance of the skills and accomplishments of Qatari filmmakers. The fund is committed to the development of up to four feature films, and the development, production, and post-production of up to eight short films annually.
Feature films developed through the fund are eligible for financial support for production, and one film will be selected for production funding in the following year. Projects are selected through two funding cycles per year.
Eligible projects are considered for funding in three stages:
Stage 1: Please submit your project with the submission requirements as per the chart below by email to qff@dohafilminstitute.com. Projects will be evaluated by a selection committee of Institute staff and external deliberators.
Stage 2: If your project is shortlisted, you will be contacted for an interview to discuss your project. You will meet with Institute development, production, and post-production executives who will discuss development, production and post-production requirements.
Stage 3: You will be notified whether or not your application is successful. If your application is unsuccessful, the Institute will offer, upon request, notes and feedback on your project and suggest development opportunities through one of the Institute's Learning Initiatives. You may reapply for support for the same project in a later funding cycle should you wish.
If your application is successful, the Institute will collaborate with you on the development, production, and post-production of your project to its fullest potential.
Date: Ongoing until September 1, 2022. 
Time: 12:00 am - 11:59 pm
Prices: Free
Location: Anyone based in Qatar can apply
Submission: qff@dohafilminstitute.com
August 5, 2022 - Friday
1- OKWONKO
Major Nameye Khadija popularly known with his stage name Mejja is a Kenyan Genge artist. He was signed to Calif Records where he released multiple collaborations. His single 'Jana Kuaje' won him an award at Kenya's Chaguo la Teeniz in 2008. Mejja started singing in primary school with his brother Wambugu. Together they had formed a group called Ghetto Clan. In 2008 Mejja had his first breakthrough song titled 'Jana Kuaje In 2011, Mejja released a song dubbed 'Landlord' which put him in the spotlight. In 2014, Mejja formed a group called 'The Kansoul' together with Kid Kora, and Madtraxx. The group dropped their first song 'Dabo Tap' later that year. In 2020, Mejja was in much collaboration including 'Cheza Kama Wewe' by Trio Mio and 'Utawezana' by Femi One He featured in Bensoul hit 'Nairobi' alongside Sauti Sol in 2021.
*Age Restrictions: 21+
Date: August 5, 2022. 
Time: 4:00 pm onwards
Prices: Royal Table (2500QR), VIP (300QR) and Regular (150QR)
Location: Crown Plaza, West Bay, 1st Floor
Ticket Booking: Q-tickets.com
2- KAIA Beach Club 
Find your ultimate retreat, a perfectly tailored experience blending elements of music, dining, entertainment & relaxation in a luxury destination.
Visit Kaia Beach Club at Hilton Salwa Beach Resort & Villas and enjoy a fun getaway with the Beach and Pool day pass.
Kindly note Kaia Beach Club operates (Adults only 21+) QID / Passport scanning both hotel and nonhotel guests. 
Dress code: Smart casual / Beach attire. Local and traditional attire not allowed.
Beach beds and sun loungers are available on a first-come, first-served basis.
Fully Redeemable F&B at the KAIA
Date: Ongoing until May 29, 2023. 
Time: 4:00 pm onwards
Prices: 150(QR)
Location: Hilton Salwa Beach Resort and Villas
Ticket Booking: Q-tickets.com
3- Bullet Train
Five assassins aboard a fast moving bullet train find out their missions have something in common.
Watch this thrilling action film now showing at Qatar Cinemas near you.
Book your tickets now at www.q-tickets.com 
4- PSG Summer Program
Best summer programs for indoor and outdoor football training for all ages between 5 and 17.
Date: Ongoing until August 18, 2022
Location: Across various location
Registration: Register at PSG Academy Qatar
5- Taste of Qatar Food Tour 
Despite its relatively small size, Qatar is home to fantastic multicultural establishments serving a whole host of Middle Eastern and other delicious international cuisine. During this fun tour with one of our licensed tour guide as we will combine a comprehensive tour of Doha for you with a mystery tour of some of the local food places and restaurants. Please inform us of any food intolerances when you book and let us organise the rest.
Dates: Ongoing until October 31, 2022
Prices:
Ticket Booking: 
Features: 
• Food 
• Transport 
• Guide 
August 6, 2022 - Saturday
1- RAMARAO ON DUTY (TELUGU)
Ramarao is a fair government officer who bends the rules without second thought when it comes to fighting the lapses in the system. When transferred to his own village Mandal, situations take him on a quest where he faces challenges and has to take on evil.
Watch this amazing crime thriller film now showing at Qatar Cinemas near you.
Book your tickets now at www.q-tickets.com.
2- Across Borders Exhibition by Lauren Morell
Across Borders, a pop-up exhibition by Fashion Design alumna Lauren Morell will take place at M7, a center for innovation and entrepreneurship in design, fashion, and tech in the Msheireb district of Doha, from August 6 to August 30.
In celebration of the 50th anniversary of U.S. and Qatar diplomatic relations, this exhibition is funded by US Embassy in Doha.
Across Borders aims to:
Recreate traditional and environmentally friendly garments.
Promote sustainable living and cultural exchange by revisiting the process of textile production.
Highlight similarities between indigenous American cultures and Qatari culture.
Date: Ongoing till August 30, 2022. 
Time: 10:00 AM to 8:00 PM
Prices: Free
Location: QC HUB, M7 - Ground floor
3- Sea Caves water & Adventure Park - Desert Falls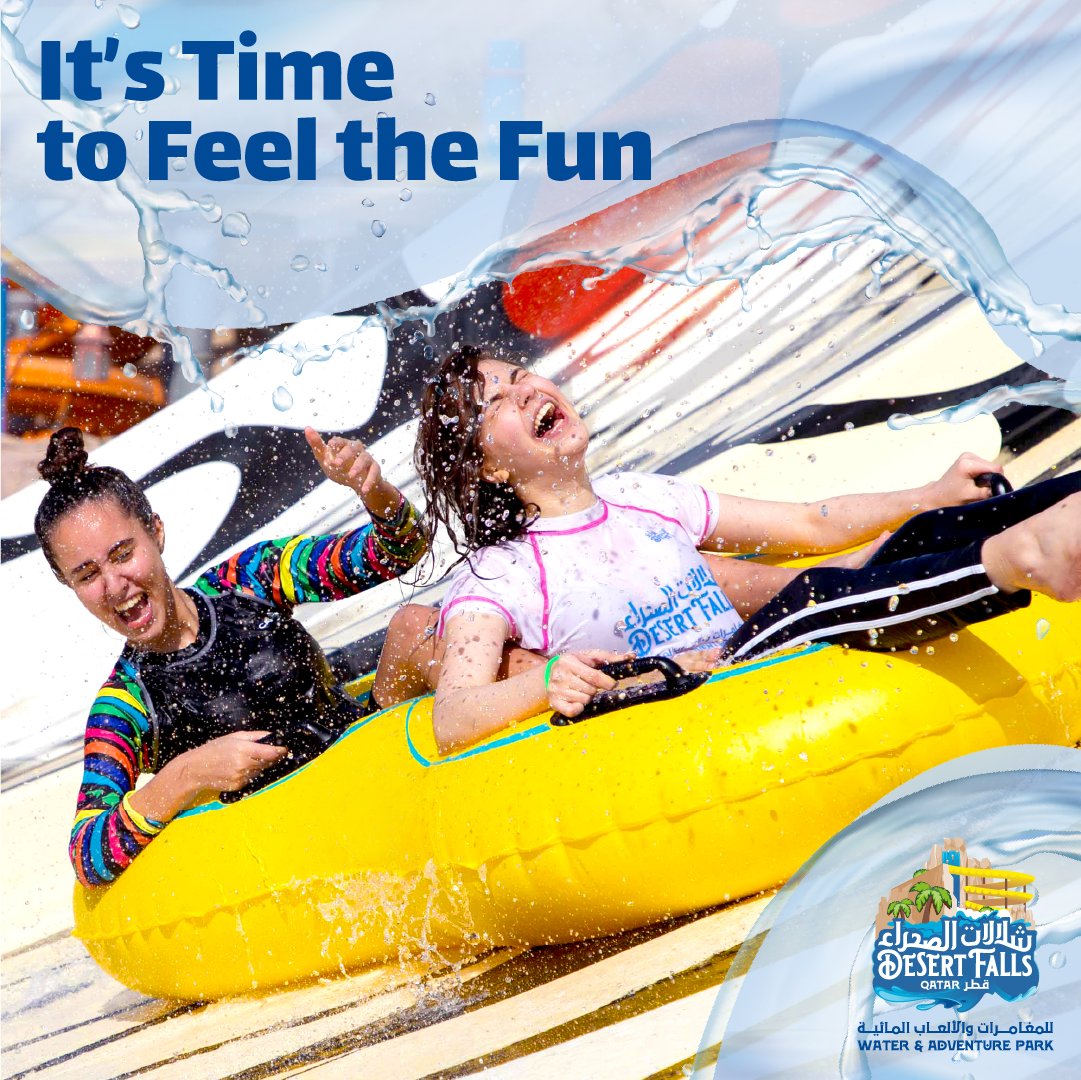 The admission ticket gives access on a specified date to Sea Caves Water Park, which is part of Desert Falls Water and Adventure Park - one of the largest theme parks in the Middle East. Located within Hilton Salwa Beach Resort & Villas, Sea Caves Water Park features 28 slides and rides, including the water park's signature ride "The King Cobra" and many other attractions including the Kids Ship Pool, the Whizzard Mat Racer, inner tube slides, Surfing Dunes, Family Abyss, Falls Pool and the Wave Pool.
Access to the separate adventure attractions at Desert Falls (canyoning, diving, go karting, laser tag) are not included in the general admission ticket which can be purchased separately on site.
Date: Ongoing until December 2, 2022
Tiiming:  10:00 AM Onwards
Location: Desert Falls Water and Adventure park
Prices: Adults (255QR) and Junior (195QR)
Ticket Booking: Book now at www.q-tickets.com. 
Rules & Regulations:
• All guests must adhere to the waterpark rules and regulations and follow instructions given by lifeguards and the waterpark team.
• Tickets cannot be exchanged, refunded, transferred or resold, and are considered void if damaged.
• Children below age 13 must be accompanied by an adult over the age of 18 years. Accompanied adult will be required to pay for entry. Water Park charge is per person for    entry.
• All guests, bags and property are subject to screening and security checks upon entry.
• Food and beverage items brought in from outside sources (not including plastic bottles of water, baby food, dietary or medicinal needs) are not permitted.
• No glass or sharp objects are permitted.
• Appropriate swimwear (nylon and lycra materials only) must be worn whilst using the pools and slides. Inappropriate garments (i.e. underwear, transparent, exposing or non-swimming attire) is not permitted. Guests may be asked to change into appropriate swimwear attire.
• Diving, running, jumping, horseplay and unruly behaviour or language is not permitted.
• Only lifejackets issued and provided by the park are permitted in the pools.
• Personal floatation devices are not permitted.
• Guests must meet the height, weight and health conditions indicated on all the rides.
• Toddlers entering the water must wear waterproof diapers.
• There are inherent risks in participating in slides and attractions. You are the best judge of your limitations. If unsure about a ride, please speak to a team member.
• For safety reasons, pregnant women and persons with heart conditions and back problems should not ride the slides.
• Guests with disabilities and/or special needs must be supervised by a parent, guardian or caretaker.
• Smoking is strictly prohibited including the use of e-cigarettes (except in designated smoking areas).
• Alcohol is strictly prohibited in the park.
• By entering the waterpark, guests agree to be photographed, filmed or recorded for any reason, without personal permission, payment or any other considerations.
• We reserve the right to view any recorded images by guests and delete footage if deemed inappropriate.
• The entire park area is under CCTV surveillance.
• The waterpark is not responsible for any loss, damage or theft. Lockers are available.
• The management reserves the right to deny access, or remove any person from the park for any reasons mentioned above, or for non-compliance with legal or government
requirements of the State of Qatar.
• All guests must present a green status on the Ehteraz app to gain access to the park.
• Juniors are allowed into the park accompanied by adults with green Ehteraz status.
• The availability of specific rides may vary from time to time.
4- Abstraction: Subverting Reality at Doha Fire Station
Abstraction: Subverting Reality is a group exhibition featuring works by Noor Abuissa, Amna Al-Baker, Shaikha Al-Hardan, May Al-Mannai, Hassan Al-Mulla, Ebtisam Al Saffar, Ryan Browning, Sarah Jayyousi, Jesse Payne, Michael Perrone, and Twiggy Shmeissany.
Abstraction in art goes beyond the five senses, creating a unique sixth sense, the sixth sense being an uncanny feeling that is not articulately described. No abstract piece is the same. No experience of abstract work is the same. In that sense, it is the most idiosyncratic form of art. The artist goes beyond reality to try to express what there are no strong words for through shapes, lines, and colours.
They encourage you as a visitor to be empowered to see what you want in each piece based on your life experience and identity. In this exhibition, the artist's perception is subverted and turned into a communal well of perception.
Date: Ongoing until September 24, 2022
Tiiming:  9:00 AM to 7:00 PM
Location: Gallery 4, Fire Station Museum
Prices: Free 
5- Beanstalk
Kids can't get enough of the Beanstalk adventure play area!
360 Play brings you this exciting entertainment hub designed to entertain and engage the whole family in some action-packed adventures!
Visit the Beanstalk today at the Mall of Qatar, located in front of the Food Court. Book now at www.q-tickets.com or contact 7064 4011 for more details.
Date: February 10, 2022 - February 23, 2023
Timing:  
Saturday to Wednesday: 10.00 AM to 10.00 PM
Thursday: 10 AM to 11:30 PM
Friday: 1 PM to 11.30 PM
Location: Mall of Qatar
Ticket Rates: General Pass (20 Mins) QAR 30, Premium Pass (40 Mins) QAR 50, Super Pass (1 Hour) QAR 60, and Family Pass - 1 Adult + 3 Kids (1 Hour) QAR 200
Ticket Purchase: Book now at www.q-tickets.com