THINGS TO DO (4 - 6 FEB)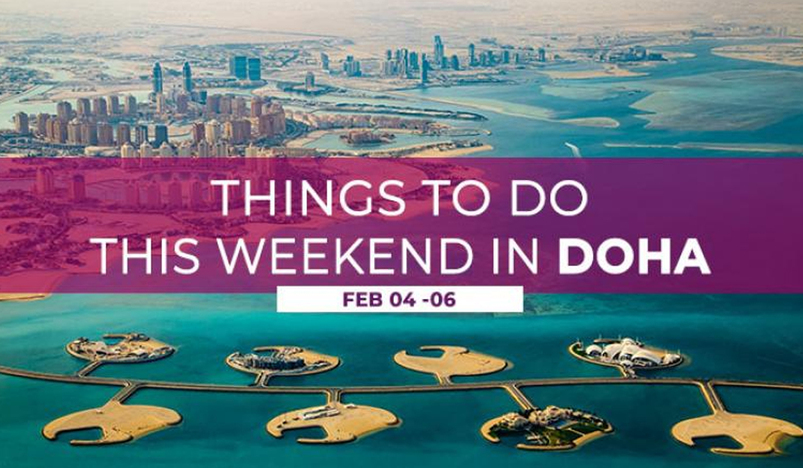 THINGS TO DO
The weather forecast for the coming weekend according to local meteorologists is Sunny and pleasant with 24 degrees Centigrade during the day and the temperature falling to 15 degrees with clear skies. It's the right time of the year to indulge in outdoor activities you can participate in with family and friends but please do remember to follow all pandemic preventive measures when you step out to enjoy this lovely weekend.
FIFA Club World Cup 2020 (February 1 - 11)
The 17th edition of the FIFA Club World Cup is currently being held from 1 to 11 February 2021, rescheduled following the postponement caused by the COVID-19 pandemic. Originally due to be held in 2020, the tournament will feature the champions of the six confederations, as well as the host nation's league champions.Matches will take place at iconic stadiums around the city, bringing elite football to venues that will go on to host FIFA World Cup Qatar 2022™ action. For schedules and ticketing information log in to https://www.fifa.com/clubworldcup/organisation/ticketing
Fire Station: Artist in Residence
Teachers Training, Grey Times, Artists in Residence
The AIR Exhibition sheds light on the meaning of exploring creativity during uncertain times. Artists expressed the artworks and projects through oil paintings, drawings, sculptures, installations, video and photographic works, reflecting the concept of creativity in times of isolation, as well as adapting to exceptional changes in life and creativity. Qatar Museums Learning and Outreach department invites visual arts teachers to attend training workshops delivered by the exhibition artists, where they review the created artworks, inspired by modern techniques.
English speakers: 2 and 3 February from 4:00 pm – 6:00 pm at Studio 101, 1st floor, Fire Station 
To register please visit:  https://www.qm.org.qa/en/teachers-training-grey-times-exhibition
Museum of Islamic Art (MIA)
Sculpting 101 February from 4:00 pm - 5:00 pm An educational tour for children aged three to five to explore clay, glass and metal. Children will produce clay sculptures and a still-life painting inspired by MIA's beautiful collection of vases and bottles; master the art of clay firing, glass blowing and metal making in the most fun and unexpected ways. To sign up, please visit www.qm.org.qa/en/programs-calendar
Lusail Fashion Festival (February 3 - 8)
Another fashion festival has been added to Qatar's repertoire. Lusail Fashion Festival will be running from February 3 - 8, 2020, in Lusail Corniche.
Souq Waqif Flower Festival 2021
Plant lovers, assemble! The third edition of the Souq Waqif Flower Festival is here, in collaboration with the Ministry of Municipality and Environment with 23 nurseries participating. Satisfy all your plant needs under one roof at this event! Location: Souq Waqif from 27 January 2021 - 6 February 2021, timings 09:00 am - 09:00 pm. No tickets needed
Qatar National Library
Scientific Applications in Cultural Heritage Forum
Qatar National Library is organizing the first edition of the "Scientific Applications in Cultural Heritage Forum" from January 25 to 30. Held virtually, the forum will feature lectures and presentations on pigments and dyes in manuscripts and heritage objects by leading experts in the field. Over the five days, these practical sessions will address the most important spectroscopic techniques for non-invasive and non-destructive analysis, given their impact on fundamental knowledge, interpretation and conservation.
International Art Exhibition at Doha Festival City
Discover 29 masterpieces made by talented residents in Qatar and from around the world.
Location: Centre Court, Ground Floor, Doha Festival City, Until 28 February 202,Time: 02:00 pm - 10:00 pm, No tickets needed. Phone: 4035 4444
Website: https://www.dohafestivalcity.com/home
Qatar Museums  Events
DRAWING
Date: 23 January 2021
Time: 11:00 am - 1:00 pm
Location: Art Workshop room
Part of the MIA Education
Apart from this, QM has launched several events and activities catering to a wide array of interests and artistic passions, to be hosted across its cultural institutions during the month of January. Members of the community can look forward to a range of culturally enriching programs designed to promote creativity and take art beyond four walls.  For a full list of upcoming events and activities, please visit qm.org.qa
Qatar National Library
On 23 January, join the Scamper Thinking Program. The Scamper technique is one of the most successful methods of creative thinking, providing seven different approaches to problem-solving. Join experts from the Library to learn about this simple but effective approach which can be applied in both academic and personal lives.
On 25 January, the Library launches the Scientific Applications in Cultural Heritage Forum which continues until 30 January. The first session will focus on pigments and dyes in manuscripts and heritage objects and will include lectures and practical sessions on the most important techniques for analysis in conservation. The forum will also look at Arabic manuscripts and their extraction methods and dyeing processes, as well as the conservation issues encountered with pigments and dyes found in Islamic heritage items.
For more information on all of the events taking place in January, keep an eye on the Library's website and social media channels for the latest.
https://www.qnl.qa/en/about/news/qatar-national-library-welcomes-new-year-host-learning-opportunities
Mal Lawal 3 Cars by NMOQ
Till Aug 1, 2021 @ 7:00 pm
Mal Lawal 3 Cars
Cars gradually began to have a larger presence in Qatar in the mid-1950s. During this time, cars were mainly imported and acquired with the intent to facilitate everyday life activities. For some, this was a turning point in the country's social history.
The excitement generated by the new experiences cars provided, was soon transformed into a passion for collecting cars. Many collect cars to document and preserve pivotal moments in the nation's history, evoke a sense of nostalgia and establish a collection of exclusive classic cars.
Mal Lawal 3 Cars showcases the private collections of two esteemed Qatari car collectors: Mr Salem Saeed Al Mohannadi and Mr Omar Hussain Alfardan.
The exhibition is open to all!
Torba Farmers Market
Torba operates a seasonal farmers market in Ceremonial Court at Education City and runs every Saturday, till March each year showcasing local fresh produce, artisan products and gourmet handmade food. Timings are 08:00 am - 06:00 pmNo tickets needed and for details Phone: +974 3100 8110 or  visit Website: https://farmersmarket.qa
Falcon's Eye pays tribute to Sheikh Saoud Al Thani
A Falcon's Eye pays tribute to Sheikh Saoud Al Thani, one of Qatar's greatest collectors and instrumental for laying the foundation for Qatar Museum's world-class collections. More than 300 artworks from prehistoric fossils and antiquities to Orientalist paintings and photography displays on show at the Museum of Islamic Art until10 April 2021 from 09:00 am - 07:00 pm. Ticket Purchased At the door or Online. Price: QID holder & Children below 16 - It's free! Students and groups of 25+ - 25QR Non-QID holders - 50QR
Website: https://www.qm.org.qa/en
DFI's Drive-In Cinema in Lusail 
Following an overwhelmingly positive public response, the Doha Film Institute's (DFI) first-ever Drive-In Cinema experience in Lusail, presented in partnership with Qatar National Tourism Council, will extend its public screenings into the month of April 2021.
Featuring an un-missable selection of films from Disney classics to contemporary family favourites, audiences of all ages are invited to the open-air cinema experience under the stars, which brings the community together at safe social distances in line with government guidelines and with the health of all guests as top priority. Visit the DFI website for tickets and the latest Drive-In screenings schedule: https://www.dohafilminstitute.com/nowplaying.
Water Sports at Saflia Island
Gathering is at Pearl-Qatar, Water Taxi PA-1 (25.364892, 51.540885).
A Traditional Qatari wooden Dhow boat will take you to the Safliya Island. 
Enjoy the water sports activities for two hours between Jet skis, Banana ride, Doughnut ride & swimming with LIVE BBQ meal on boat. 
Please contact Reservation Team for the gathering point & drop off +974-44553954. Flexible Daily Day Schedule with a Maximum of 04 Hours Duration at any time. 
Please check the available time with QIT reservation team via info@qittour.com
National Cruise Company
National Cruise Company offers unique opportunity to take cruise to and around the Safliya Island.
For the booking and more details feel free to call or what's App the following numbers 
 (66000926 - 77999666 - 50008830)
NCC also offers various other popular cruise trips like Day on the beach, City tours, Birthday, School and Dinner Cruisers along with on board Corporate events and  Fishing expeditions etc.
For more details log in to https://www.nationalcruise.com
Mangrove Kayaking Eco. 
Adventure & Discover Wildlife - Purple Island
The coast near Al Khor is a vast and beautiful mangrove forest, the best way to access the forest is by kayak. The area supports a lot of birdlife and is a
favourite destination for nature lovers. 
Suitable for families and those looking for a relaxed easy paddle taking in the greenery and birdlife of the nature reserve. Location: Purple Island, Mangroves, Qatar Untill 31 December 2020
From 05:00 am - 05:00 pm Ticket Purchase: Online, Adult - 200QR Child (12-7 yrs) - 100QR Kids (below 7 yrs) - 50QR. 
For more details +974 6696 3494 email: info@aquasportsq.com Website: https://paddleq.checkfront.com/reserve/
Water Sports Tour at Saflyia island
This special offer is to spend a wonderful day on AL-Safliya Islnd includes:
- Dhow Cruise Tour from the the pearl to the Island & back.
- Descend on the island, which is served with chairs, tables, umbrellas and a place for prayer
- Exciting water games (swimming - banana boat - kayaking - beach volleyball - bouncy kids)
- Grilled lunch buffet includes various types of oriental and western dishes and desserts
Trip price:
- Only 169QR for adults (+12 years) instead of 350 QR
- Only 99QR children (4 to 12 years old)
- Children under 4 years - free of charge
Book  by calling at one of the following numbers 44553954- 55864568-55575181 
For more details contact: info@qittour.com
International Handicrafts & Traditional Productions Cultural Market
If you are an enthusiast of heritage & handicrafts, then participate in the first edition of the International Handicrafts & Traditional Productions Cultural Market. The Cultural Village Foundation Katara announces that the registration for event which to be held at Building 48 square and runs until 28 February 2021. Ticket purchase not needed. For details phone: 66136130; 
email: eisa.almuhannadi@katara.net
Website: https://www.katara.net/en/whats-on/events/the-international-handicrafts-and-traditional-productions-cultural-market
Al Khor Park
The Ministry of Municipality and Environment (MME) has reiterated that park entry charges are related to the zoo at Al Khor Park only and no other public park currently has any entry fee. "There are more than 90 public parks in the State where entry is free for all," the MME tweeted recently.
The entry fee at Al Khor Park is set at QR15 for adults and QR10 for children up to the age of 10 years and persons with special needs. 
The fee for special events and functions is QR50, and the charge for feeding animals is also QR50, according to a chart issued by the MME on social media. The train ride at the park costs QR5 per person, while it is free for persons with special needs.  
The Ministry of Municipality and Environment has announced new timing for visiting Al Khor Family Park. As per the new timing, the Park will receive visitors from 8am to 10pm throughout the week, however ticket window will close by 8pm. 
Sunday is for general public and Tuesday is dedicated for women and children only. The entrance to the park will be closed when the number of visitors reach 10,000 and after that no new visitors will be allowed inside.
The Ministry called on the public to adhere to all precautionary measures in order to preserve their health and safety
Tasty Street
A festival organised at Katara with over 300 mouth-watering food kiosks, the event is being held at Shakespeare Street and runs until March 2021 from 3 pm until mid-night.
Winter Vegetables Markets
Eat healthy and live healthier life by buying home-grown veggies and help support local businesses and at the same time root for a greener environment. Grab local produce at the winter vegetable markets spread across the country located in Al Sheehaniyah, Al Mazrouha, Al Wakra, Al Khor-Al Zakhira and Al Shamal from October 29. 
The markets will be open between 7am and 4pm from Thursday to Saturday
The Camping Season Is On
Registration for the winter camping season started on 11 October in Qatar through the Ministry of Municipality and Environment. 
Camps can be held in Al Shamal, Al Ghashamiyah, Sealine, Ras Matbakh, Arida, Zekreet, Al Naqian, Al Kharra, Ashiraj and Umm Al Maa. One can camp in these areas
in three phases, with each stage covering different district.
Phase 2 started on October 14, with registration opening for Al-Reem Reserve, Al-Marwah, Al-Mazroa, Umm Al-Aafa'i, Al-Hashem, Al-Zubarah, Al-Udeid, Al Khuraij South, Abu Samra and Abu Zahlof. 
Finally, from October 18 registering was allowed  for campsites in Rawdat Rashid, Rawdat Aisha, Al Khor, Al Waab, Imgaitna, Al Ghariya, Al Mufair, Ras Al Nouf, Al Otouryah, Al Sane'ah and Al Rees West, and one can start camping from October 20.
Campers can register on the Ministry of Municipality and Environment website here mme.gov.qa. 
When venturing out, please follow all precautionary pandemic measures set down the MoPH and strictly adhere to those rules and regulations for your own safety and of those around you. 
QATARDAY wishes you all a pleasant, happy and safe first weekend of February 2021.