Theatre Affairs Centre Continues "Tournament Journey" Play Performances in Darb Al Saai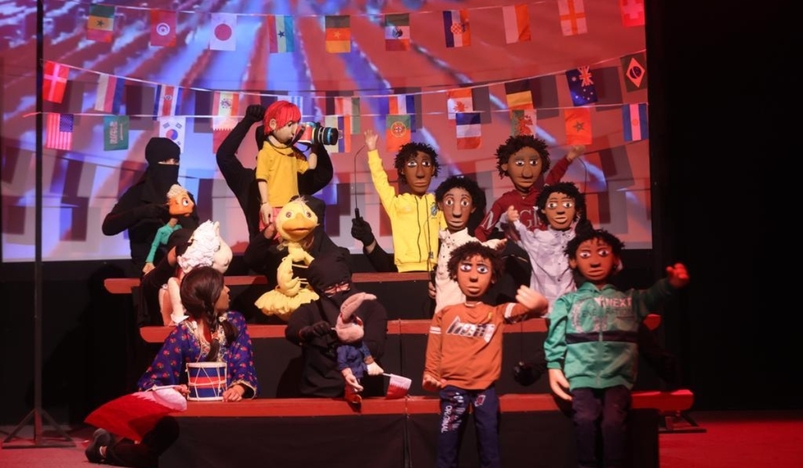 Tournament Journey Play Performances in Darb Al Saai
The performances of the play "Tournament Journey" presented by the team of "Puppet Space" are ongoing within the events of the Theatre Affairs Centre in Darb Al Saai amid festive and suspensive atmospheres with a huge turnout from the children.
In a statement to Qatar News Agency (QNA), director of the puppet show Muhammad Ali Bin Hamouda said that the puppet show has a major significance in developing the language and listening skills, where playing with puppets helps develop the language for children and assists them to overcome their shyness to engage in conversations with the others, in addition to upgrading the listening skills of children, because puppets in theatre narrate stories and incidents with an attractive style and promote confidence in children, as well as trigger imagination and innovation for them.
The show was intended to present an artist work that combines the actor and the puppet to be ingrained in the children's memory, and it is inspired by the incidents we live and the dream of hosting the world cup, as the "Tournament Journey" play narrates a child's journey with his friends from puppets that seek to attain the opening match in the world cup and watch the national football team, where they travel in a journey with the children spectators to another stadium of the eight stadiums dedicated to the world cup, and indirect information is offered on the esthetics of these stadiums, designs, stadium's history and the number of fans it accommodates, he said.
He indicated that the play presents a cultural, educational and recreational message to the children through which they get familiarized with the use of puppets, pointing out that the blend in the play show between the human actor and puppet is a catalyst to expand the imagination for children, adding that the center also presents another play titled "Realize your dream" which shows how family can back the ambitions of sons and daughters, in addition to presenting a myriad of workshops that target children from the age of three-year-old to 14, and are considered a combination of various hand and finger puppets, as per age category to educate the children the mechanisms of moving the puppets through selection of appropriate things from the environment.
(QNA)