The War in Afghanistan Is Officially Over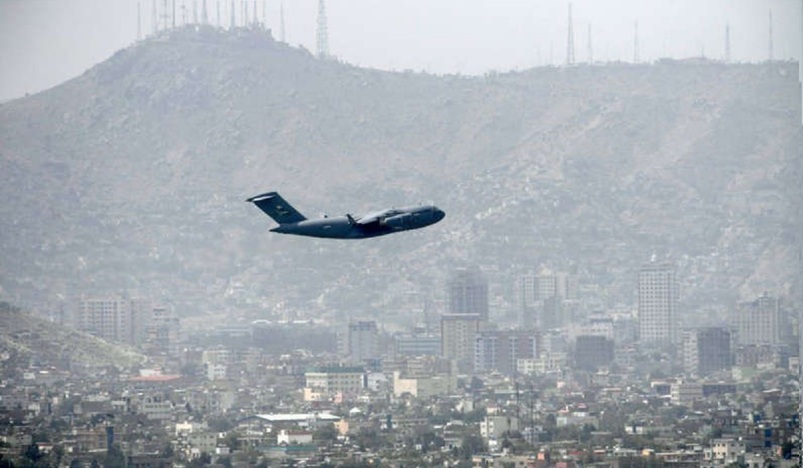 A US Air Force aircraft takes off from the airport in Kabul on August 30, 2021.
The 20-year U.S. war in Afghanistan officially ended Monday afternoon after the last American aircraft departed the Kabul airport and cleared Afghan airspace, completing the U.S. withdrawal and eliciting celebrations from the Taliban, which took back control of the country earlier this month as U.S. forces started to depart.
"I'm here to announce the completion of our withdrawal from Afghanistan and the end of the military mission to evacuate American citizens, third country nationals and vulnerable Afghans," Marine Gen. Kenneth McKenzie, head of U.S. Central Command, announced during a news conference Monday afternoon.
"Tonight's withdrawal signifies both the end of the military component of the evacuation but also the end of the nearly 20 year mission that began in Afghanistan shortly after Sept. 11, 2001," McKenzie said.
The last American C-17 left the airport at 3:29 p.m. Eastern Standard Time on Monday, McKenzie said – one minute before midnight in Kabul.
President Joe Biden had set an Aug. 31 deadline for the U.S. withdrawal from the country. It was previously unclear when the U.S. would actually pull out of the country – before the 31st or by the end of the day.
The flight marked the end of a frenzied U.S. attempt to evacuate American citizens and Afghans who worked with the U.S. or might otherwise be at risk, including those who have applied for or have been granted special immigrant visas. The U.S. and its allies evacuated some 116,000 people in the last two weeks.
Source: MSN (U.S. News & World Report)