"The Urge to Win" Artwork Unveiled in Club Suisse Doha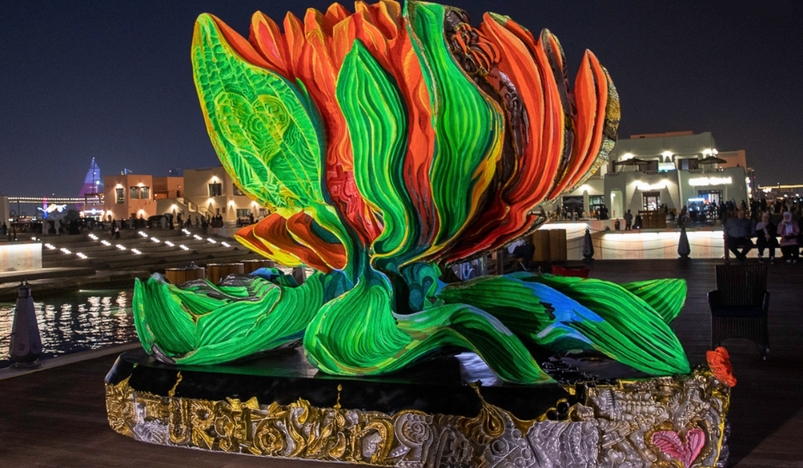 The Urge to Win Artwork in Club Suisse Doha
The "The Urge to Win" artwork was unveiled on Monday evening at the Club Suisse Doha in the presence of ambassadors and diplomats accredited to countries, media professionals, and artists, on the occasion of the FIFA World Cup Qatar 2022.
The artwork of David Pflugi, a renowned Swiss artist, is a traditional dhow that transforms into different shapes when viewed from different perspectives.
HE Ambassador of Switzerland in the State of Qatar Edgar Dorig In a welcoming speech to the guests, HE Ambassador of Switzerland to the State of Qatar Edgar Dorig said that the artwork is considered as an appreciation of the work carried out by the Supreme Committee for Delivery and Legacy and the follow-up to the World Cup matches, pointing out that this artistic event is one of the most important events accompanying the FIFA World Cup Qatar 2022 that included musical and performances show, which combined Swiss and Qatari culture.
"As if by magic, its outlines transform into different shapes when viewed from different perspectives: A flower in the desert, a football floating in the sky, a dhow sailing through the waves, a burning flame, the head of a falcon, a gargantuan world cup trophy," David Pflugi said.
Pflugi has been presenting artwork for years on the occasion of the World Cup, which is usually signed by the football stars who qualified for the semi-finals of the tournament.
In the 25 years since he devoted his life to the full-time creation of art, David Pflugi has become the creator of approximately 1500 works so far, ranging from small objects to room-size sculptures.
His achievements during this time have been remarkable. Works by David Pflugi are on display as permanent installations in public spaces in several locations internationally, including the Commerzbank Tower in Frankfurt am Main, Germany.
David Pflugi is the creator of a completely unprecedented style of art, which he has named Fusionism. Fusionism brings together the disciplines of sculpting and painting, merging them with new media, the human body, and cutting-edge technology.
In its most basic form, fusionist art consists of creating sculptures and reliefs, and then adorning them with multiple highly complex, painted anamorphic illusions.
The individual motifs are fully discernible only when a work is viewed from certain specific perspectives. Viewers are therefore forced to move around before an object to acquaint themselves with its secrets, constantly questioning their own previously held assumptions about the work they are viewing.
(QNA)