The Spa Fact Sheet- Park Hyatt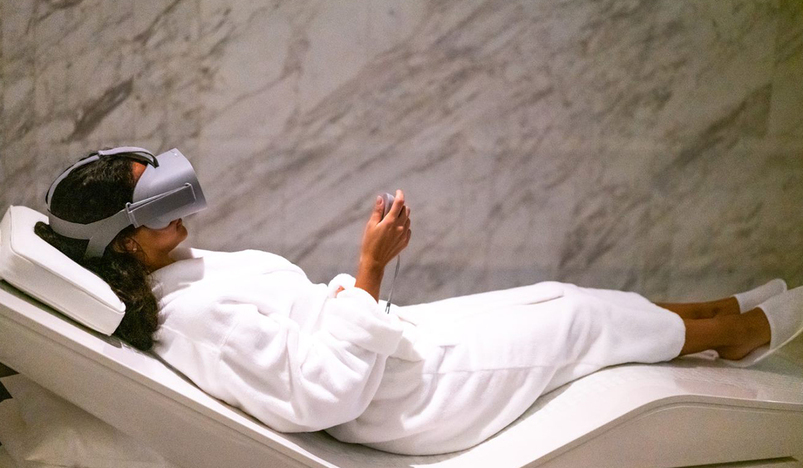 The Spa Fact Sheet- Park Hyatt
Park Hyatt  two-floor luxury spa is the most refined wellness and beauty destination in luxurious Msheireb district. Spread over two floors, one for ladies and one for gents, at the Spa guests can expect a thoughtfully curated, mood inducing treatments, and revel in a luxurious wet area featuring mood showers, whirlpool, sauna, steam, and an ice room. Virtual reality headsets are offered to guests post-treatment, completing their unique wellness journeys. 
Valuing guests' time, uniqueness and individuality, Park Hyatt The Spa offers tailor-made treatments perfectly selected to match all lifestyle preferences, and offer relaxation and relief for the most dynamic individuals and beauty aficionados. Completed with the top-of-the-line beauty and wellness brands, The Spa treatments provide both instant results and longer-term beauty and wellness effects, alleviating stress and tension. 
The team of highly-trained therapists, led by the experienced spa manager Wassima Boudraa, have an extensive experience in the best spa across the Middle East and internationally. Helping The Spa guests to choose the most suitable treatment, applying the finest savoir-faire to each step of the unique wellness journey individually elaborated for each guest. 
The Spa Facilities:
-    Two floor luxurious Spa for men and women– level 4/5 of the hotel
-    Gym
-    Sauna
-    Steam Room
-    Mood Showers 
-    Ice Room
-    Indoor Vitality Pool (Privatization option upon reservation)
   Beyond The Spa:
-    Outdoor Pool
-     Aldo Coppola Beauty Salon Gym 
The Spa Body Treatments:
-    Valmont Treatments:
VALMONT has dedicated its savoir-faire to the field of anti-aging, offering professional treatments that combine expertise, high-performance products, and precise gestures. Featuring unique and exclusive care protocols, VALMONT treatments stand out from all others thanks to the "butterfly motion" that sets the tone for each program. All Magicien du Temps treatments benefit from this exclusive and original gesture.
A world away from traditional beauty care, VALMONT treatments are composed like a symphony. The cadence of the movements reconciles opposites; it is at once enchanting and unexpected. The client leaves both relaxed and invigorated, the skin well rested and reawakened.
Treatment Types: 
1.    Purity of The Alps: A one-hour treatment, designed to purify, balance and unify the complexion. This latest VALMONT treatment is intended for all, and particularly for women whose skin displays a flawed texture, unevenness or a predisposition to imperfections.
2.    Radiance Ritual Brightness of Ice: A 90 minute-treatment, inspired by Asian care habits, this treatment doubles each step to create entirely new synergies between the gesture and the product. This treatment leaves the complexion even, radiant, and glowing, with a refined skin texture and faded age spots. 
3.    Hydration Ritual Sources of the Bisses: A 90-minute bespoke treatment that begins with a personalized diagnosis of the needs of your skin, followed by a complete facial, including exfoliation, extraction, massage, and VALMONT collagen face mask.
4.    Eyes Ritual Reflexion on A Frozen Lake: A 45-minute treatment for the eye area. It smooths fine lines and wrinkles through lymphatic drainage, lifting, and reflexology. At the end of the treatment, dark circles will fade away and the eyes take on a dazzling, youthful look.
5.    Energy Ritual Vitality of the Glaciers: A 90-minute vital treatment for overstrained lifeless skin. It minimizes the impact of stress, pollution, and the high demands of modern life on the skin. 
6.    Majestic Treatment – The Signature Facial Ritual: A 120-minute comprehensive treatment designed for the face and the neck. It offers a moment of perfect delight, including beautifying care for hands, face, and neck. Enjoy a voluptuous massage by combining three different protocols including a youth massage inspired by the Japanese Kobido technique.
Lines and Volume Summit of the Cervin: A 90-minute treatment using a lifting elixir, which reduces wrinkles and fine lines. A 99.9% pure native collagen mask, plumps the tissues and redefines the contours of the face acting as a biological facelift to restore vitality and youthfulne
KOSMÉ Treatments and Rituals:
KOSME PARIS was born out of a passion for rare plants, cultivated in an environmentally sustainable manner and that have proven effective when used in skin care. Kosme' develops a high-end line of cosmetics, which combine the powerful natural assets of the plant world, rich textures and an enduring respect for the environment.
1.    Sleep Ritual: Prepare to be lost in a blissful state of mind and a great night's sleep. KOSMÉ has created a set of techniques to help you relax and encourage deep sleep.
2.    De-Stress Ritual: Tension drifts away for a calmer mind. The treatment begins with breathing techniques and flowing movements to slowly release mind and muscle tension.
3.    Energy Ritual: This treatment allows you to stop, unplug and reboot. Senses will awaken, while your body and mind will receive a boost of natural energy. It combines stimulating scent and tonic movements. You will be energetic for your next meeting.
4.    Body Scrub: 30 min-body polish scrub treatment, with Mauritian sugar, leaves a satin veil on the skin to maintain skin moisture throughout the day.
 VITAMAN Male Treatments:
This line is 100% Sydney-Australian made. Spa-quality products formulated to address men's unique skincare and haircare needs. The brand never uses harmful synthetic chemicals, artificial fragrances, or unnecessary colors. Free from sulfates, parabens, phthalates, glycols, mineral oil, DEA, TEA, ethanol, and lanolin. Cruelty-free with no animal test. All of the packaging are environmentally conscious and fully recyclable.
Treatment Types:
1.    The De-Stress Back Massage: Specific attention is given to this much neglected area of the body, to soothe muscular backaches. A truly unique Australian experience, an hour of tension release for the back.
2.    The De-Stress Body Massage: This signature relaxing massage treatment is a body time-out. Leaves you feeling relaxed and energized.
3.    The Sports Massage: An ideal massage for sports enthusiasts recovering from intense physical activity. This deep tissue, tension releasing massage helps to eliminate the pain and stiffness that accompanies joint and muscle strain.
4.    The Deep Muscular Stretching Treatment: This treatment has been designed to boost energy, perfect for pre and post exercise. VITAMAN combines the unique benefits of stretching and pressure points using Shiatsu and Thai techniques.
5.    The VITAMAN Looks Good Facial: 30 or 60 facial treatment designed specifically for modern men. It combines anti-ageing techniques and hydration. It is vital to take each individual's skin sensitivity into consideration
6.    Express Manicure: It is a 30 minutes' treatment, fingernails and cuticles will look neat and professional.
7.    Express Pedicure: it is a 45 minutes' treatment; your feet also merit a rejuvenating treatment to withstand the rough demands we put on them.
VITAMAN male treatments offer as well Callus treatment and Paraffin treatment.
Aldo Coppola Beauty Salon:
Aldo Coppola is a luxury beauty salon chain with over 200 beauty ateliers in the world inspired by the philosophy of excellence in hair, beauty and wellness for the soul – a 360° approach to beauty. Founded in 1966 through the creative and artistic talent of Mr. Aldo Coppola, the company today stands for true innovation, collaborating with high fashion brands, famous photographers and the most discerning international magazines. Aldo Coppola raises the bar when it comes to hair coloring techniques, hair styles and products. 
Aldo Coppola Atelier in Park Hyatt Doha has Hair Dressing Stations, Manicure and Pedicure Lounge. 
Salon services:
-    Blow-Dry   
-    Hair UP
-    Turcion Waves
-    Aldo Copolla Customized Hair Treatment 
-    Makeup services (Makeup at the Atelier/ Wedding Makeup)
The salon also provides Kure Bazaar Nail treatments: Kure Bazaar is the first nail lacquer of the next generation to combine the ethics of an eco-friendly formula with vibrant colors of Parisian fashion.
Kure Bazaar Nail Treatments includes: 
-    Signature Manicure without Polish
-    Signature Manicure with Gel Polish
-    Signature Pedicure without Polish
-    Signature Pedicure with Polish
-    Signature Pedicure with Gel Polish
-    Acrylic Nails, and Gel or Acrylic Extensions.
Gym Services- Stay Fit!
Park Hyatt Doha is the perfect place to stay healthy and fit with our 24-hour Gym facilities and swimming pools, open from 6am to 9pm. The pool is open from 8am to 8pm. 
PH's Gym offers a number of options for our customers:
-    Single Membership:  4 membership packages (1,3, 6 Months, and one year)
-    Couple Membership: 4 membership packages (1,3, 6 Months, and one year)
-    Day pass available for use of our facilities and swimming pool
-    Personal Training available upon request
WELLNESS PROGRAM:
 We know how hard it is to stay healthy and fit, so we crafted a personalized journey for you. 
Your program begins with a body analysis to give you a better understanding of your body composition. Our personal trainer will create a unique program to get you fit. Once that is complete, our spa therapist will tailor your detox ritual. To end your journey, sit back and relax in our vitality pool and energize with a light lunch designed by our Chef at Anis Restaurant.
HOW TO SPA 
ARRIVAL: Please arrive 15-20 minutes prior to your appointment time to check in, fill out the necessary paperwork, change into your robe and relax in our facilities prior to your treatment. 
SPA ATTIRE: A luxurious robe and slippers will be provided upon your arrival to the spa. Please disrobe to your level of comfort. All staff members are professionally trained and licensed to ensure the highest quality of service and integrity. Proper draping techniques are always used to ensure privacy and comfort. A secure locker will be provided for your belongings.
Quite Environment: To ensure a quiet and relaxing environment, please kindly switch your mobile phone to silent mode. 
Shaving and Health Consideration: Shaving is not recommended prior to any body exfoliation treatment or hair removal services. Please inform the spa staff if you have any medical conditions.
CANCELLATIONS: As a courtesy to other guests, please provide a minimum notice of 12-hours for appointment cancellations or changes. 
Age Requirements: The minimum age required to use the spa facilities is 16 years old. Salon services are available for children, but they must be accompanied by an adult. 
Gift Card: Our spa treatments and products are available for gifts and purchase. Please contact our receptionist for further details.