The Minister of Finance Meets Credit Suisse Group Chairman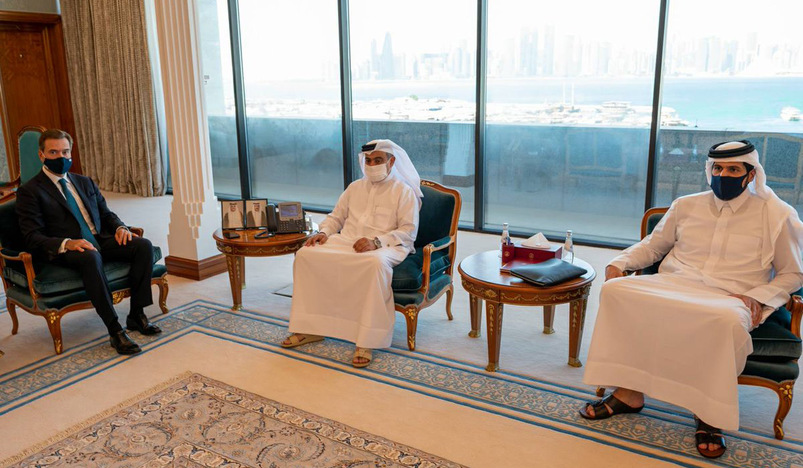 Qatar Finance Minister met Credit Suisse Group Chairman
HE Minister of Finance Ali bin Ahmed Al Kuwari met today with Chairman of Credit Suisse Group Antonio Horta-Osorio and his accompanying delegation, who are currently visiting the country.
The meeting saw the signing of a Memorandum of Understanding (MoU) between the Investment Promotion Agency of Qatar (IPA Qatar) and Credit Suisse, in the attendance of HE Minister of Commerce and Industry and the Chairman of IPA Qatar Sheikh Mohammed bin Hamad bin Qassim Al Abdullah Al-Thani, CEO of IPA Qatar HE Sheikh Ali bin Alwaleed Al-Thani, CEO of Qatar Financial Centre Youssef Mohammed Al Jaidah. The meeting was attended by the chairman of Credit Suisse Qatar Eric Varvel, head of Credit Suisse Middle-East Bruno Daher, CEO of Aventicum Capital Management and chief executive of Credit Suisse Qatar Aladdin Hangari, Strategic Client Partner at Credit Suisse Patrick D'amico.
HE the Minister of Finance thanked Credit Suisse Chairman for their joint cooperation efforts.
The meeting dealt with discussing joint cooperation, the most prominent development in the economic, investment, and trade fields.
The MoU will see IPA Qatar support Credit Suisse's operations in the Qatari market, enabling it to provide the widest variety of products and financial services to local and international companies. That includes Private banking services, asset management, investment banking, among other services. The MoU will also place the cornerstone for establishing a global center for technological innovation in Doha that will provide the resources to support Credit Suisse's different operations. It will also work on developing local talents, support innovation-related research, and transfer knowledge in the field of training. The partnership will pave the way for future cooperation in other fast-growing sectors such as fintech, in addition to promoting it in Qatar to serve regional and international markets.
SOURCE: QNA