The Expo 2023 Doha's Qatar Pavilion Draws Inspiration From The Ras Abrouq Landscape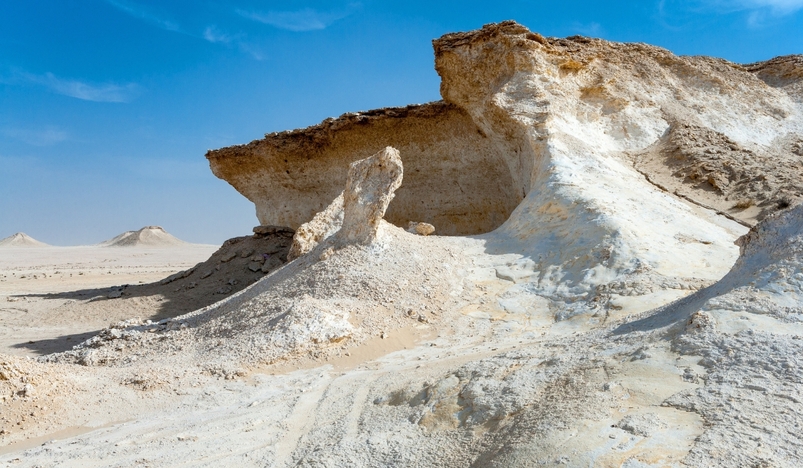 The Ras Abrouq Landscape
The Qatar Pavilion at Expo 2023 Doha will exhibit the nation's heritage, honoring traditional art and architecture with a special focus on the captivating Ras Abrouq landscape. In a post shared on Expo 2023 Doha's official X account, it was mentioned that they aim to bring the essence of Ras Abrouq to life, paying tribute to traditions and celebrating them throughout the event's six-month duration.
Blending modern design and artistry, the pavilion promises an unforgettable experience for its visitors. Ras Abrouq, situated at the northern tip of the Zekreet Peninsula, north of Dukhan, features a beach and numerous archaeological sites, bearing the traces of ancient human habitation and the presence of semi-nomadic tribes.
The distinct rock formations, including the iconic mushroom-shaped hills, have made Ras Abrouq a magnet for tourists and scholars alike. This landscape, characterized by its striking white cliffs with delicate limestone layers, serves as a backdrop to an exceptionally preserved archaeological site. The peninsula's majority is protected, designated as a nature reserve for wild deer.
Expo 2023 Doha, scheduled from October 2, 2023, to March 28, 2024, will prominently feature tradition and culture, allocating substantial space for cultural activities. The expansive Cultural Area of 500,000sq m and the Family Area at Al Bidda Park of equal size will host the Cultural Bazaar, showcasing a vibrant marketplace with traditional artisanal products from diverse countries, including exquisite handmade crafts.Anticipating the participation of 80 countries and an influx of three million visitors, Expo 2023 Doha invites everyone to explore its offerings free of charge. Entry details are available on the Qatar Tourism application Visit Qatar. Notably, the expo will also introduce the Hayya Card option, allowing visitors to access the event throughout its six-month duration.
Originally introduced during the FIFA World Cup Qatar 2022 as a Fan ID, the Hayya Card facilitated entry into Qatar and stadiums, while providing complimentary access to metro and bus services. The Ministry of Interior has extended the validity of the Hayya Card, permitting cardholders from abroad to enter Qatar until January 24, 2024.