The Expo 2023 Doha Theme Supports Sustainability And Innovation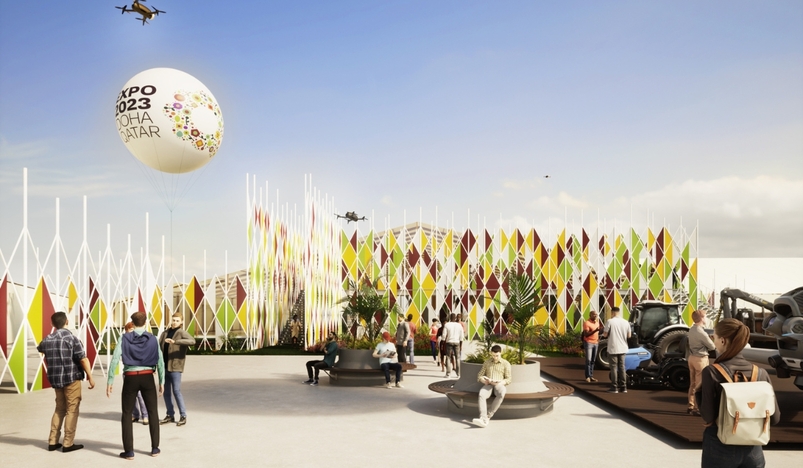 Doha Expo 2023
In Doha, Qatar, as the Expo 2023 approaches its last month in the countdown, the focus shifts to the event's captivating theme, "Green Desert, Better Environment," and its associated subthemes centered on promoting sustainable advancements and addressing the persistent challenge of desertification.
Taking place at Al Bidda Park, the Expo venue is on the brink of becoming a center for innovation, sustainability, cultural interaction, and entertainment. With the bold aspiration to create a significant impact, the Expo is committed to providing an inclusive experience that reaches across boundaries and generations.
As per information provided on the Expo 2023 Doha website, the heart of the Green Desert concept embraces a comprehensive approach that covers cultural, educational, economic, social, and scientific dimensions.
This innovative strategy combines traditional agricultural methods with advanced techniques like hydroponics, permaculture, and vermiculture, all while maintaining a commitment to sustainability.
The official website stated, "The greening of deserts is a sustainable project for irrigation and forestation of dry areas or regions near water sources like lakes, rivers, seas or oceans. Also, we need to promote the benefits of clean technologies like irrigation with natural water sources and renewable energy supplies. Thus, the Green Desert concept entails modern agriculture based on technology and innovation, supported by enhanced environmental awareness, in order to attain sustainability."
At its core, the Green Desert approach revolves around a contemporary agricultural landscape that leverages technology and innovation. Paired with heightened environmental awareness, this blueprint aims to achieve sustainability.
The Expo 2023 Doha divides its focus into four subthemes: Modern Agriculture, Technology and Innovation, Environmental Awareness, and Sustainability.
For instance, under the umbrella of Modern Agriculture, the discourse centers on topics such as Enhancing Farmers' Role, Bridging Knowledge and Technology, Ensuring Coordinated Solutions, and Promoting Permaculture. The Expo envisions these discussions as pivotal in spurring innovation and scientific advancements to ensure a sustainable, secure, and affordable global food supply while mitigating climate-related impacts.
On the Technology and Innovation front, the Expo highlights Hands-On Experience, Rainwater Harvesting, Alternative Energy Solutions, and Urban Greenery and Urban Farming. These avenues, recognized as key catalysts, seek to harmonize agricultural productivity and environmental stewardship.
Simultaneously, the Expo emphasizes the call for Environmental Awareness, aiming to foster connections alongside education, focusing on concepts like FoodPrint and Perma Gardening. It advocates for the delicate and irreplaceable nature of the environment, urging immediate action to address imminent challenges.
Lastly, Sustainability emerges as the central theme, manifested through three aspects: Economic, involving investments in innovative agricultural technologies; Social, fostering a connection between people and nature to enhance awareness; and Environmental, transforming arid areas into flourishing agricultural spaces and lush forests.
Scheduled to run for over six months, from October 2 to March 28, 2024, Expo 2023 Doha is expected to attract around three million visitors, making it Qatar's second-largest gathering after the previous year's World Cup.
In an interview, Dimitri Kerkentzes, Secretary General of the Bureau International des Expositions (BIE), the governing body for global expos, emphasized the paramount importance of education in these events.
Kerkentzes stressed the urgent need for a united global effort against climate change. He stated that the Expo serves as an educational platform, enlightening individuals across nationalities and geographies about the necessities of climate adaptation. The collaborative endeavors of countries with diverse climates promote collective learning to drive essential adjustments in daily lives.