Texas A&M University signs MoU with Qatar Primary Materials Company to enhance sustainability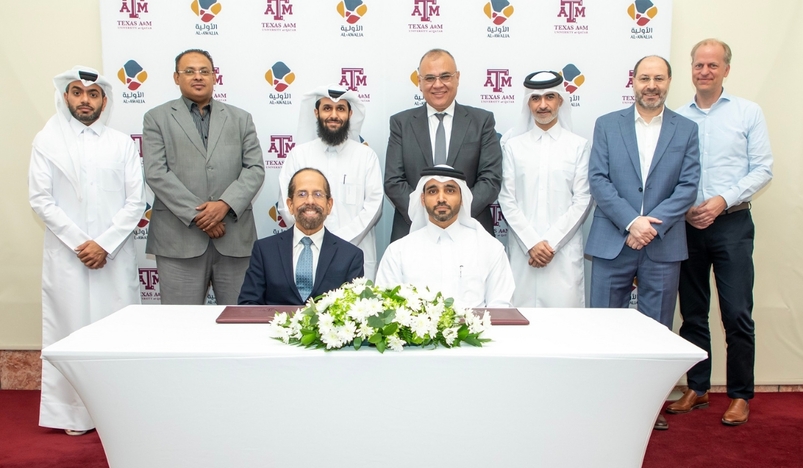 Texas A&M University at Qatar signs MoU with Qatar Primary Materials Company to enhance sustainability in construction
Texas A&M University at Qatar, a Qatar Foundation partner university and Qatar Primary Materials Company (Al-Awalia) have signed a memorandum of understanding (MoU) recently to collaborate on promoting sustainability and recycling of construction materials.
 Mr. Abdulaziz Ibrahim Al Tamimi, CEO of Al Awalia was joined by Texas A&M at Qatar Dean Dr. César Octavio Malavé in signing the MoU during a ceremony in the Texas A&M Building in Education City.
 According to the MoU, Texas A&M at Qatar and Al Awalia will combine efforts to improve the quality of recycled construction materials and enhance their use in various applications: 3D printing of structures and road construction. The MoU will strengthen this partnership and expand the collaboration to various domains of sustainable and resilient infrastructure systems.
 It will also enable the two organizations to pursue translational research that will help secure resources to build Qatar's future, in an environmentally sustainable, economical and efficient manner.
 "At Texas A&M in Qatar, we strongly emphasize the significance of industry collaboration and active engagement with key stakeholders to foster a positive impact in Qatar," said Dr. Malavé. "We are excited to collaborate toward sustainability and recycling of construction materials. By leveraging the combined expertise of Texas A&M at Qatar and Al Awalia, we aim to conduct impactful engineering research and foster innovation. Our joint efforts hold the potential to directly benefit Qatar's construction sector, bringing about positive change." 
 Mr. Al Tamimi said, "Qatar has consistently demonstrated its dedication to preserving natural resources. This partnership marks another milestone in our efforts to introduce sustainable solutions within the construction industry of our country. By combining the expertise and research insights from academia with our practical industry experience, we anticipate the generation of positive outcomes. We eagerly anticipate witnessing the fruitful outcomes of this collaboration."
 Dr. Eyad Masad, mechanical engineering professor at Texas A&M at Qatar, said that the university has had several successful collaborations with Al-Awalia that helped to advance technologies in use and upcycling of construction materials.
 Increased collaboration, cooperation, and interaction will allow both institutions to work towards their common goal of enhancing sustainability within the construction industry in Qatar. The Memorandum of Understanding signed by the Al Awalia and Texas A&M at Qatar reflects the desire of both organizations to support Qatar in achieving its goals set forth by Qatar National Vision 2030.