Texas A&M hosts Pakistani students at the second U.S.-Pakistan women in energy scholars program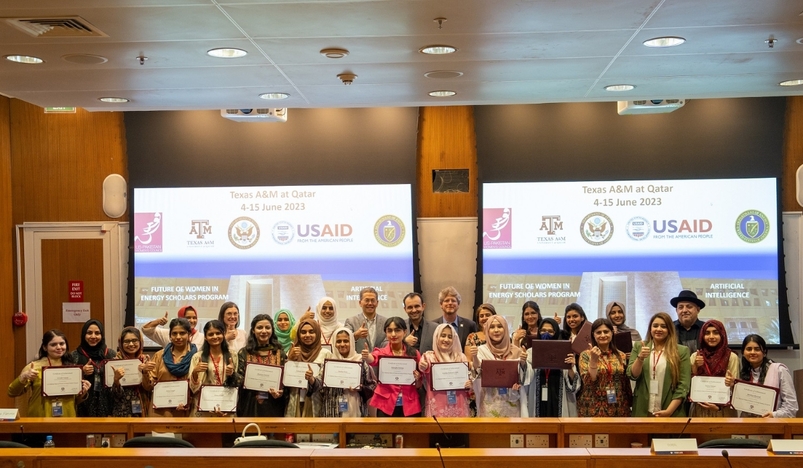 Texas A&M at Qatar hosts Pakistani students at the second U.S.- Pakistan women in energy scholars program.
Nineteen female undergraduate students from Pakistan participated in the second annual U.S.-Pakistan Women's Council Future of Women in Energy Scholars program, hosted by Texas A&M University at Qatar, a Qatar Foundation partner university. 
The program was sponsored by the U.S.-Pakistan Women's Council, a public-private partnership between the U.S. Department of State and Texas A&M University, that seeks to increase women's economic participation in Pakistan by promoting women's entrepreneurship, employment, and access to career-enhancing educational opportunities. In addition, USAID, the U.S. Department of Energy, the U.S. Embassy in Islamabad, and the U.S. Embassy in Qatar provided significant support for the program.
The young women represented nine universities from four different cities in Pakistan and were proficient in a wide range of academic disciplines including chemical engineering, electrical engineering, biotechnology, software engineering, geophysics, environmental engineering, mechanical engineering, geography, and earth and environmental sciences. More than 480 qualified young women studying at 30 different universities across 14 cities in Pakistan applied to the program.
The students were welcomed to Texas A&M at Qatar by Dr. César O. Malavé, Dean of Texas A&M University at Qatar, and Dr. Ioannis Economou, Executive Associate Dean.
"At Texas A&M at Qatar, we are cultivating a new generation of engineering leaders and researchers," said Dr. Malavé. "Leaders who will have — and in fact, are already having — direct impact on the growth and development of the State of Qatar, the region and the world. Our Engineering Summer School programs aim to challenge and inspire you to pursue graduate studies and advanced degrees. The summer school experiences we have designed will give you a head start on preparing for graduate school at a world-class university and enhance the value of your undergraduate degree."
The Future of Women in Energy Scholars Program combines rigorous academic coursework on the energy economy and practical immersion in the workforce. During their time in Doha, the students participated in courses that covered a variety of topics including natural gas processing, fossil energy, laboratory safety, artificial intelligence tools, research methodology, career perspective in oil & gas, hydropower, solar thermal energy, global innovation, wind energy, energy consumption, nuclear power, energy security, water treatment and desalination, sustainable development and energy systems, membrane separations, and plastics upcycle. External speakers from Georgetown University Qatar, Carnegie Mellon University at Qatar, Qatargas, Total Energies, and the U.S. Department of Energy enriched the technical program with discussions on energy policy, energy security, nuclear energy, entrepreneurship, business management, professional development, and more."
In addition to classroom coursework, the students conducted experiments in Texas A&M Qatar's state-of-the-art laboratory facilities, heard from influential female alumni working in the energy sector, and visited research facilities located within Education City such as the Total Research Center-Qatar, and Green Island. The students also attended a Women in Energy Roundtable hosted by the U.S. Embassy in Doha, which featured women from the American Chamber of Commerce, Qatar Energy, and ConocoPhillips. Qatar Foundation member, Earthna, also organized a session for the students to showcase their learning and research.
The students had an opportunity to brief the Pakistani Embassy in Doha on the program and their ambitions upon returning back home.
The Doha segment of the program was organized by the Office of Academic Affairs. Dr. Konstantinos Kakosimos, Associate Dean for Graduate Studies, directed the technical part of the program and organized the visits to industrial partners, and Rola Abou Ghaida was in charge of all the logistics of the program. 
The participants said that it was an enriching experience – both from an academic and cultural perspective. Amna Khalil a student of the National University of Science and Technology, said, "It was a very interesting learning experience – to be in classes with amazing faculty, and to interact with industry leaders who gave us insights on career paths to take after we graduate. The cultural experiences we have had in Qatar have also added value to our trip."
"It was a phenomenal experience," said Umna Nasir Ali, a student of NED University of Engineering and Technology. "What stood out to me was the diversity of the student body, and the faculty here. Qatar has been so welcoming, and we will cherish our time here. Education City is definitely an incredible place for any student to be.
Following their two-week program in Qatar, the students returned to Pakistan for a one-week familiarization trip sponsored by USAID to engage with key Pakistani public and private-sector organizations in Islamabad and Lahore to learn about Pakistan's energy sector.  In total, they visited 16 prominent private and public energy sector entities in Pakistan using cutting-edge technology and received presentations on Pakistan's energy situation and challenges. The scholars also met with technical experts, business leaders, education leaders, and government officials and had a chance to learn more about career opportunities in their fields.
"We commend the Pakistani government's decision to increase its share of renewable energy to 60 percent by 2030.  We remain committed to supporting this goal by creating opportunities for all Pakistanis, including women, to benefit from the country's inclusive growth and development," stated U.S. Deputy Chief of Mission Andrew Schofer.