Strong Presence of Turkish Companies at DIMDEX Reflects Strong Relations with Qatar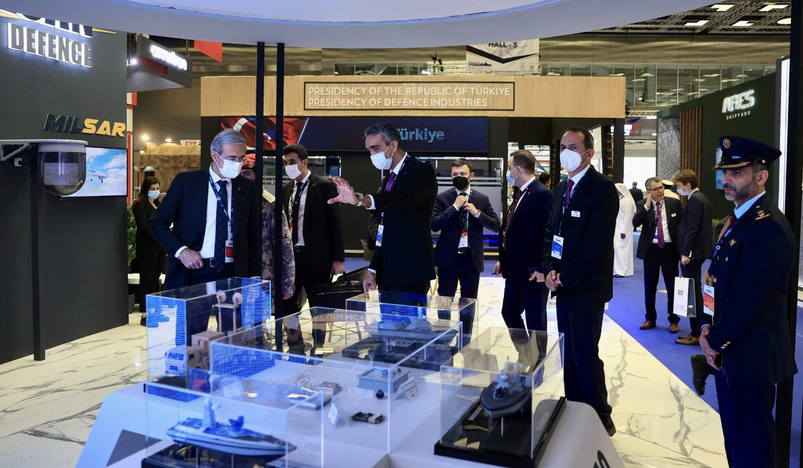 DIMDEX 2022
HE President of the Turkish Presidency of Defense Industries Ismail Demir highlighted the significance of participating in the 7th Doha International Maritime Defense Exhibition and Conference (DIMDEX 2022), and the strong presence of Turkish industries and companies in this important event, which reflect the strong relations between Qatar and Turkey especially in the field of defense and security.
In press statements on the sidelines of DIMDEX 2022, HE noted that the Turkish pavilion displays many military and naval products that are multi-tasking and multi-use and are characterized by high technology.
He added that the Turkish participation in DIMDEX 2022 aims at promoting the cooperation between Turkey and Qatar, and open new markets for the Turkish products through DIMDEX which enjoys a great global interest, noting that Turkey and its distinguished companies in military industries have a strong aspiration and political will to make progress in this field.
He indicated that Turkey has strict industrial laws and rules that cannot be deviated from, and specific ways to reach a high level of combat and reconnaissance capabilities, adding that all Turkish war products are characterized by high technology and high quality, and that Turkey also provides training with specific programs on its equipment for countries that deal with it and use its products.
With regard to the agreements that were signed in the last edition of DIMDEX, and whether each party fulfilled its contractual obligations, HE Ismail Demir said that all contracts between companies followed the correct and specified steps in the contracts, and that the Qatari and Turkish sides are moving steadily in this direction, noting that the products that were agreed upon often related to technologies from other countries.
He pointed to a great diversity and development in the size of the industry in Turkey in the last ten years, as it focuses on achieving self-sufficiency and developing the local economy; noting that the COVID-19 pandemic emphasized the need to move in this aspect and provide everything the State needs in the defensive, maritime and cyber security sector.
HE the President of the Turkish Presidency of Defense Industries noted that the Turkish companies display their diverse and multi-tasking products at DIMDEX 2022, indicating that the economic benefit is great for both the Qatari and Turkish sides in the fields of defense, research and advanced systems.
He stressed the importance of advanced solutions in the defense and maritime industry, which is a vital and important field and brings great benefit to the economies of countries, adding that the cooperation between his country and Qatar in the field of defense and advanced solutions is continuous and growing, and such events would enhance this cooperation and interdependence between the two brotherly countries.
For his part, President and CEO of the Turkish Aerospace Industries (TUSAS) Temel Kotil said: "We are excited about our presence in Qatar in order to continue and increase our cooperation... in addition to displaying our platforms," stressing that his company has signed a cooperation protocol that will contribute to the academic development of both countries in the field of aviation.
"We have taken an important academic step in cooperation with Qatar University, according to which we will continue to contribute to strengthening the scientific and academic cooperation in this important field," he added.
(QNA)