Strike Begins at UK's Biggest Container Port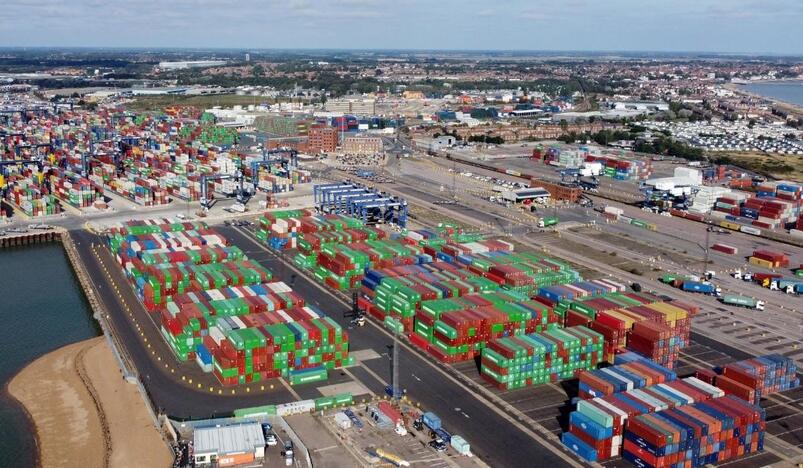 Image Source: Reuters
Dock workers at the UK's largest container port have gone on strike for the first time in 30 years.
About 1,900 members of the Unite union at Felixstowe in Suffolk are walking out for eight days in a dispute over pay.
Unite said members rejected a 7% pay offer from the Felixstowe Dock and Railway Company, which it said was below the rate of inflation. A port spokesman said the strike was "disappointing".
A picket line formed early on Sunday as the strike began, and the union said it would be manned until 22:00 on each day of the walkout.
Miles Hubbard, from Unite's regional office, told the BBC: "Very few people reported for work this morning. "The picket line has been in place since 6am and we're getting great support from the public."
About 2,550 people work at the Port of Felixstowe - the country's busiest port, handling about 48% of the UK's container trade.
Ahead of the strike, port spokesman Paul Davey said workers had been offered 7% plus a single payment of £500.
He said the offer represented "an increase of between 8.1% and 9.6%, depending upon the category of worker at the port", at a time when the average pay increase in the country was 5%.
"We've got a shrinking economy, we're going into recession - as a country I think that's a very fair offer indeed," he said.
Freight transport body Logistics UK said it was "not expecting massive disruption" from the strike action at the port.
A spokesperson for the trade association told BBC News: "Felixstowe is not a just-in-time delivery port - everything coming in is scheduled well in advance.
"If it [the strike] goes on for longer than eight days then those using the port will be looking at alternative routes, but at the moment there is plenty of stock in the supply chain. Others have already been planning alternative routes - we're not expecting panic."
The spokesperson added: "As an industry, we are incredibly flexible and have been working for a while to put these goods into alternative ports if they have to be."
But PA press agency's industrial correspondent Alan Jones described the action as unprecedented.
"Dock strikes are as big as it gets really because of the importance of goods coming in," he told the BBC. "A lot of companies have suffered a shortage of goods anyway, partly because of Brexit and the pandemic, so this really is going to cause a lot of problems. "Felixstowe has been strike-free for about 30 years."
Source: BBC News