State of Qatar Signs Comprehensive Air Transport Agreement with the European Union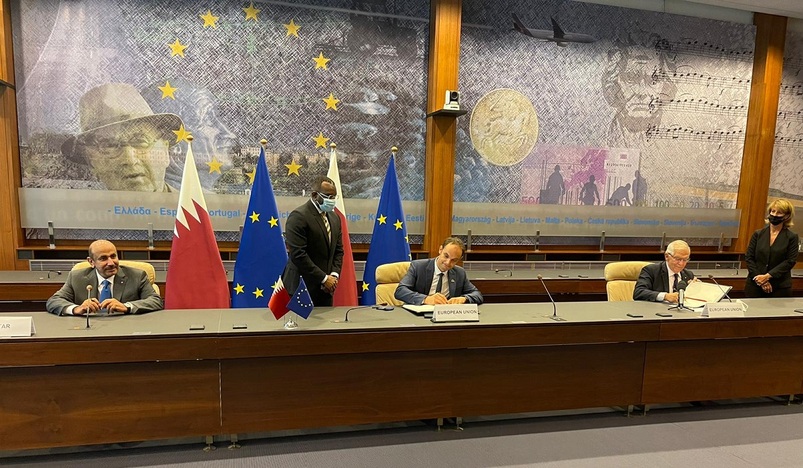 State of Qatar and the EU Member States
The State of Qatar signed the Comprehensive Air Transport Agreement with the European Union, ushering in a new chapter of cooperation in the field of air transportation between Qatar and EU countries. The new Agreement replaces already-signed bilateral agreements but will not strike out the previous rights granted to the State of Qatar and the EU Member States.
The Agreement was signed in Luxemburg on October 18, 2021, by Qatar's Minister of Transport and Communications HE Jassim Saif Ahmed Al-Sulaiti, Minister of Foreign Affairs of the Republic of Slovenia HE Anže Logar, whose country is the current President of the Council of the EU, and the High Representative of the EU for Foreign Affairs and Security Policy and Vice-President of the European Commission HE Josep Borrell.
Per the Agreement, the companies concerned from all intended countries will enjoy an easy and free access to markets with less restrictions, aiming to significantly boost the opportunities of competition which all parties were keen they shall be fair and shall ensure the application of the principles of the International Civil Aviation Organization (ICAO) through "allowing fair and equal opportunities for all parties."
The pact will also allow Qatar's national carrier to enter European markets easily (without restrictions) and expand its network in EU countries with the possibility of linking it to the rest of networks without limits to payloads or number of flights, thus reflecting positively on the national carrier's profitability.
On this occasion, HE Minister Al-Sulaiti said that the Agreement will undoubtedly be beneficial to all its parties and it is the first of its kind in the Gulf Region, for transportation rights (third and fourth freedoms).
He added that the Agreement will allow a phased progressive liberalization over four years after which markets will have become fully liberalized where the concerned companies will be able to exhibit the capacity that is appropriate for their needs, thus allowing Qatar's national carrier to operate in some key European markets such as France, Germany, Spain and others.
HE Minister said they were so glad for signing the Agreement, which had seen serious negotiations from both parties to render it successful and that reflects the sincere intention for developing the bilateral ties between Qatar and all EU countries to accelerate development and ensure an effective contribution to strengthening bilateral economic relations.
The Minister said that the Agreement is a testimony to Qatar's notable profile in air transportation and that the national carrier has such an active role around the world.
The Minister thanked all parties that did contribute to the success of the Agreement, particularly the negotiating teams representing the Agreement and Qatar who successfully reached the final version for signing the pact, wishing Qatar-EU bilateral relations more success and progress.
Source: MOTC