Startup Grind Pitch Battle in Qatar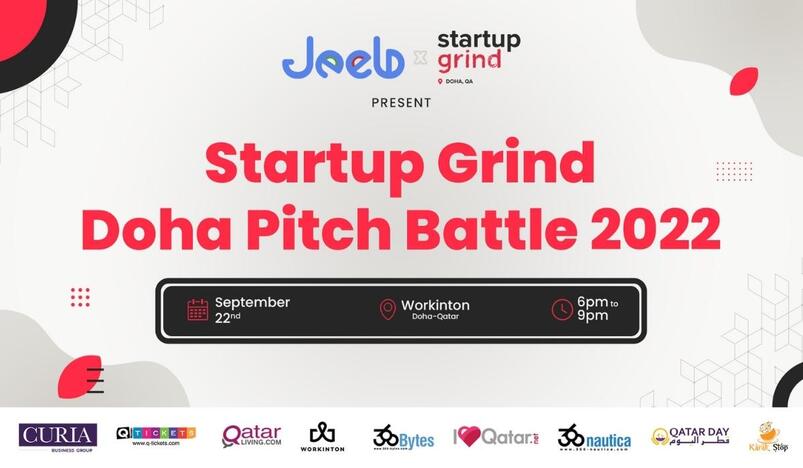 Startup Grind Pitch Battle in Qatar
Startup Grind Doha and Jeeb have announced a pitch battle, the first event of its kind for the start-up community in Qatar. At this event, contestants ranging from those who have not yet set up their start-ups and are aspiring entrepreneurs, to young start-ups who are less than two years old, will share their ideas with the judges and the audience present. Start-ups will compete to see who can make the best pitch and bag the prize. 
The creation of a networking platform for start-ups in Qatar, that is on par with the best in the world, is the mission of the Doha Chapter of Startup Grind. This event is sponsored by Jeeb, positioned to be the "easiest grocery delivery app in Qatar''. Jeeb is also a start-up and the brainchild of Mr. Bashar Jaber, who decided to bridge the gap by empowering shoppers with over 15,000 grocery product listings and by providing a unique 2-step feature for ordering groceries easily online. This event is powered by 360 Nautica, which plays the all-important role of a start-up ecosystem enabler. For the past 15 years, this organization has been instrumental in the launch and growth of numerous tech start-ups that are prominent brands in the middle east today, especially in Qatar.
At the Doha Chapter of this fantastic event, local innovators will compete in a pitching competition to win prizes, gain visibility and with an aim of attracting investors & partners.
Entry Conditions:
·       MVP Stage (pre-launch)
·       Early-Stage Start-ups (0 to 2 years old)
·       Qatar based start-ups only
When and where is the Pitch Battle?
Thursday, September 22, 2022 | 6 PM – 9 PM
Venue: Workinton M7, Msheireb Doha
What will the winner get?
- 5000 QAR Cash prize
- In-kind rewards of up to 100,000 USD by companies like - Hubspot, Chargebee, Mixpanel, American Express, Zendesk, DuploCloud, and many more. 
- Chance to network with Investors, key people involved in the start-up ecosystem in Qatar
- Meet local partners and start-up service providers
About The Venue Workinton M7
Workinton M7 – is a unique Creative and Tech Hub at the heart of Msheireb Downtown Doha. It is a community -centric co-working space curated for creative souls with entrepreneurial minds. Workinton M7 has cultivated an environment for creative, innovative, and tech-enabled start-ups. They aim to redefine the start-up ecosystem in Qatar through collaborative workspaces, educational content and supporting an ever-growing community of startups, SME's, corporates, investors, students and freelancers. Organizing this event at such an amazing venue will not just create the right ambiance for the pitch battle but will inspire many others to participate and explore the start-up ecosystem in Qatar.
Benefits of Signing up for Startup Grind
·      Chance to pitch their start-ups and ideas to investors and industry experts
·      Cash and kind prizes for winners and participants
·      Opportunity to present elevator pitches
·      Connect with Investors, executives, and top companies / service providers
·      Press packages for their start-up, including the press release
·      30 Minute "investment readiness" sessions with our pool of mentors
·      Get exclusive resources and network with world-class experts and peers
·      Brand promotion opportunities to Startup Grind's 3.5M+ audience (blog, social channels, and more)
 
What can attendees look forward to?
·        Watch and listen to some of the best start-up pitches for interesting products and services in Qatar
·        Network and meet industry experts and mentors with technical know-how who can help them reach their business and personals sooner
·        Avail exclusive pricing and offers on marketing and tech support / services from the marketing and technology partners of this event
·        Experience and understand the advantages of signing up to Startup Grind and the steps / requirements for the same
Why should you attend this event?
Startup Grind emphasizes on the importance and potential of networking entrepreneurs and start-ups. Creating an environment for start-ups to launch and thrive is their aim. Through these events, they bring together all the elements required for founders, entrepreneurs, and start-ups to succeed.
Registration Link - Startup Grind Pitch Battle 2022
Use Code – SGXJ100 for free registration.