Sports for Health Conference Highlights Health Benefits of Football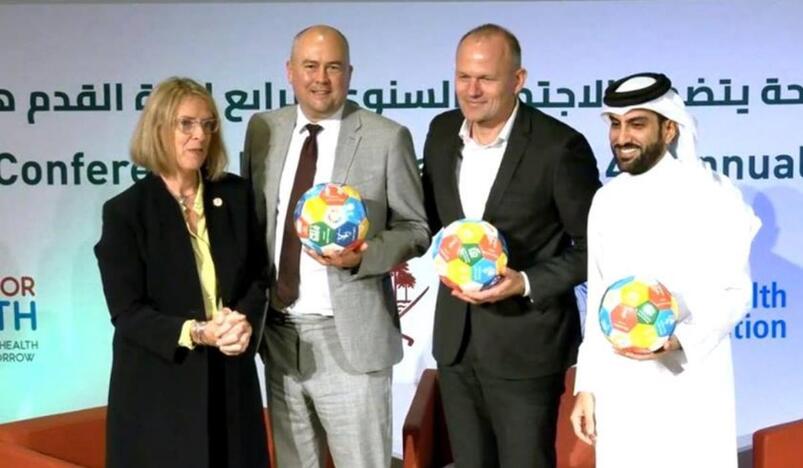 Sports for Health Conference Highlights Health Benefits of Football
The Sports for Health Conference, which incorporated the 4th annual meeting of Sports is Medicine, shed light on the health benefits of football. It took place as part of the World Innovation Summit for Health (WISH 2022), which launched earlier today.
HE Minister of Public Health Dr. Hanan Mohammed Al Kuwari spoke during the conference and said that organizing the global conference aims to use sport to promote health and social development. The Sports for Health Conference is held in cooperation between the Ministry of Public Health and the World Health Organization (WHO). It serves as a platform for the exchange of information and expertise in the field.
Her Excellency said that holding the conference came following the signing of an agreement in October 2021 between the State of Qatar, WHO, and FIFA to enhance health during the FIFA World Cup Qatar 2022 to ensure the health safety of peoples in Qatar and around the world.
Her Excellency stressed that the cooperation between these parties makes the FIFA World Cup Qatar 2022 a model to follow, and creates a tangible legacy for sports and health, with tangible and measurable solutions in the field of health and enhancing security and health, which will form a future standard for other countries that will host such huge sporting events.
HE the Minister of Public Health added that the 4th annual meeting of Sports is Medicine aims to enhance global capabilities in designing health programs that uses sports in general and football in particular. It also aims to bridge knowledge gaps in that field and provide an opportunity to learn from international experiences in the field of sports medicine and other sports programmes to enhance these policies and practices in Qatar and the world. 
Source: QNA