Spaniard on his way to Qatar World Cup on Foot reaches Iraq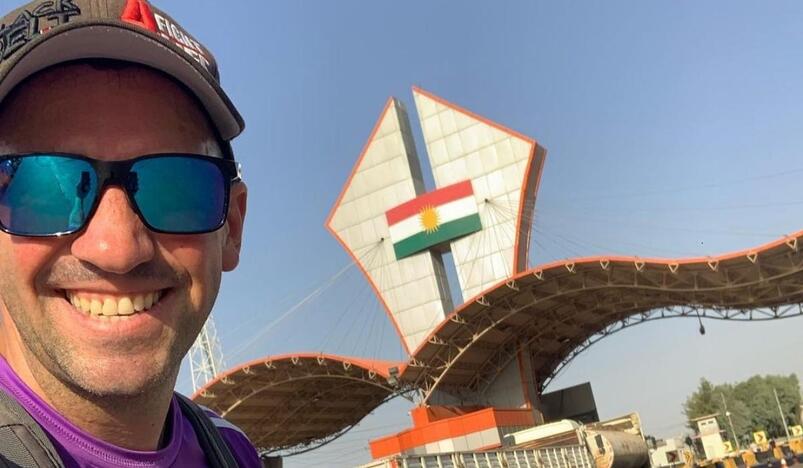 Image Source: Santiago Sánchez Cogedor Instagram
Santiago Sánchez Cogedor, a Spaniard, has already arrived in Iraq after beginning his epic journey from Madrid to Doha in January of this year with the hopes of making it to Qatar in time for the FIFA World Cup 2022 opening ceremony on November 20.
Cogedor stated in a video he posted on his social media accounts on Wednesday that he had reached the village of Zakho in the Kurdistan region and would soon cross the Iranian border. He also noted that he had passed Erbil and other cities on his way to his goal of covering the over 6,500 kilometers on foot in time for the opening ceremony of the biggest sporting event in the world.
The adventurer, who frequently uploads updates on his adventure, has been sleeping in his tent, at hotels, or with new friends he has made along the road as he travels towards Qatar.
He claimed to have estimated the journey would take around a year, which is why he had begun early in January.
"In terms of kilometers, I do an average of 14–15 kilometers a day. On some days, I do more, like yesterday when I did twenty-one," he said.
Cogedor said that in order to get around the difficulties he has in talking with people he meets along the way, he has been using a translation program on his phone.
"One of the most surprising things is the way people are surprised that I am going by foot. They couldn't believe it. Oftentimes, I have to take out the map and show where Spain is and what the route is. The route I took to get there and what I have left," he added.
He claims that the mental state is the hardest aspect of the journey, as it is in other situations.
"I often don't walk with my feet, but I walk with my mind. If your morale is good, your body is good," Cogedor noted.
The Spanish man departed Madrid in January and has since traveled extensively around Turkey and Europe.
Before setting out on his trip on January 8, the sports-loving explorer, age 42, had a meeting with Abdullah bin Ibrahim Al Hamar, the Qatari ambassador to Spain.
"The trip will be a journey that will make me a better person, a better human being. It will be continuous learning, nights of loneliness, and I want to share that with the people I am with," Cogedor said before the start of the trip.
For his 11-month journey, the Spaniard is reportedly traveling with his wheeled suitcase that contains a gas stove, water purification tablets, and his tent.