Souq Waqif Flower Festival a big draw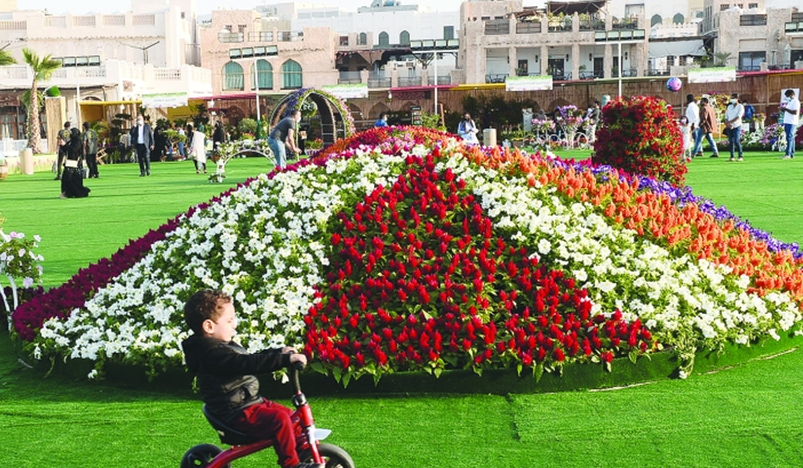 Souq Waqif Flower Festival a big draw
The Flower Festival 2021 at Souq Waqif Doha has become a major attraction, featuring a wide variety of flowers and other ornamental plants from various local nurseries and farms.
The festival is being organised in collaboration with the Ministry of Municipality and Environment through the Agricultural Affairs Department and the Public Parks Department. Running until February 9, it will be open from 9am to 9pm daily.
Strict Covid-19 precautionary measures in place at the festival
"I and my wife like to visit these kinds of events where we see colourful flowers almost everywhere, it is very pleasing to the eyes," an expatriate named Masoud told Gulf Times. "We came to also enjoy the weather, the view, and the relaxing atmosphere here."
Masoud, who just bought a number of indoor and outdoor plants, said he was also pleased with the knowledge of nursery staff about the plants they sell, and how to grow and maintain them, in addition to the "excellent services they provide".
He added that he was able to save more time Friday since he skipped going to nurseries in other locations far from their apartment. "I was also happy to see several gardening tools and equipment, as well as potting soil, fertilisers, in a number of stalls here at the festival".
The beauty and bursting colours of the flowers at the festival added vibrancy to one of Qatar's heritage sites and popular tourism destination, according to Masoud.
Filipino expatriate Linda echoed Masoud's statement saying that the festival serves as "a haven for gardeners and plant lovers like me and it's a good place to spend the weekend."
"It's good to have an event like this in Doha during the cold season where people can buy flowers and plants, saplings, to beautify their small garden or their rooms with indoor plants," she said.
Apart from offering flowers and plants at reasonable prices, Linda added that the festival somehow helps in educating and raising public awareness on the importance and health benefits of gardening.
Organisers are implementing strict Covid-19 precautionary measures by limiting the number of visitors at the venue, requiring them to wear face masks and show a green code on their Ehteraz mobile app, and urging people to practice social distancing, among others.