Smurfs Musical Live in Qatar - July 28 to July 30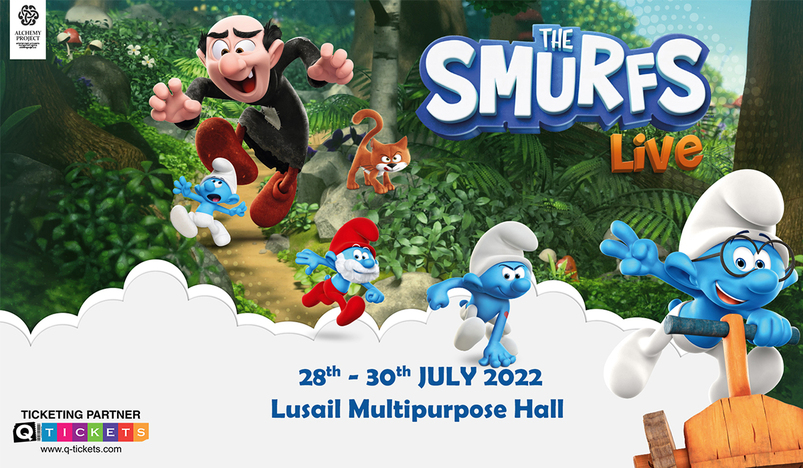 Alchemy Project Presents Smurfs Musical Live on Stage
Who doesn't love the blue and bubbly Smurfs? See these world-famous animated cartoon characters come to life and perform live on stage at the Lusail Multipurpose Hall, with multiple shows running over from July 28-30.
In cooperation with Qatar Tourism and Qatar Airways, Alchemy Project presents a magical musical for children of all ages. It's a story based on the classic Smurf comic books and animations, but with an important environmental message.
Eight of your favorite Smurfs characters including Papa Smurf, Clumsy Smurf, Brainy Smurf and the adorable Smurfette are coming to Doha to entertain us. The evil wizard Gargamel and the puppeteers will accompany these amazing blue creatures in this 'Smurftastic' journey.
The story is set in Spring – Smurfs' favorite time of the year when the characters are busy preparing for the much-awaited annual Spring Parade. But, while the Smurfs make merry, sing and dance with excitement, the wicked Gargamel comes up with a plan to trick Mother Nature and bring an end to the festivities.
The Smurfs Live on Stage is a tale of magical adventure that will see the Smurfs battle Gargamel and save Mother Nature while promoting family values and the power of a true team spirit amongst children.
Little fans, mums and dads and grandparents alike can get ready to cheer the Smurfs as they come to life on a magical stage, which brings this story from our favorite fairy tale books to life with life-sized Smurfs in their mushroom-shaped forest houses, vibrant backdrops and wonderful sing-along music.
Created in 1958 by Pierre Culliford, fondly known as Peyo, The Smurfs have become some of the most loved cartoon characters all over the world, especially after the launch of their animated cartoon series in 1980.
Produced by Hanna Barbera, the Smurfs series spanned 272 episodes, which were dubbed into 40 languages, and has enjoyed top rating in more than 100 countries. Millions of Smurfs DVDs continue to be sold in huge volumes internationally.
Recently, a new milestone was achieved with the creation and release of the Smurfs 3D movies; the first 3D movie came out in 2011 and sequels followed in 2013 and 2017. Smurfs once again are endearing themselves to new audiences with all new CGI Animated TV series now released globally. With all this on the cards for the Smurfs, audiences in Qatar will have the chance to watch their favorite Smurfs up close and to be a part of their adventures.
Event Details
Dates and Timings:
• July 28, 2022 - 5 pm
• July 29, 2022 - 3 pm and 7 pm
• July 30, 2022 - 1 pm and 5 pm
Location: Lusail Multipurpose Hall
Ticket Rates: Silver 1&4 (145QR), Silver 2&3 (195QR), Gold 1&4 (245QR), Gold 2&3 (295QR), Platinum 1 (345QR), and Royal 1 (545QR)
Note: Children below the age of 2 do not require tickets.
Ticket Booking: Book now on www.q-tickets.com
Filled with magic, adventure and fantasy, this musical show will make your weekend more fun and exciting. Tickets are selling fast. So, hurry and book your tickets TODAY!