Shura Council Participates in 'Voting on Emergency Item' Session within IPU General Assembly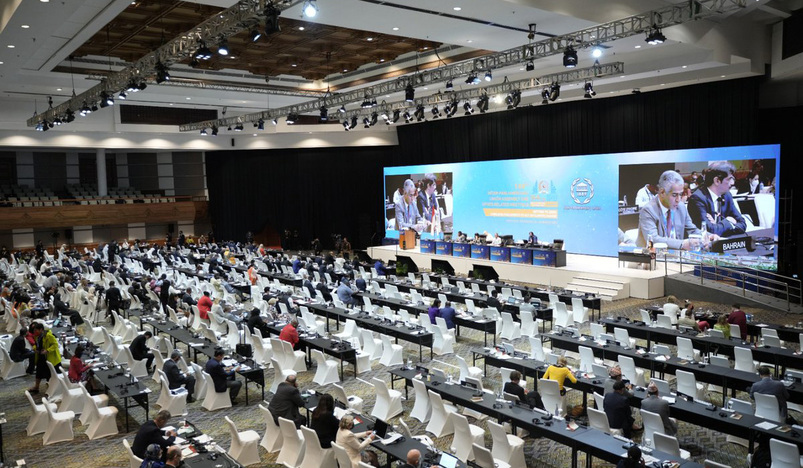 144th General Assembly of the Inter-Parliamentary Union
The Shura Council participated Wednesday in the session on the voting of the adoption of the "Emergency Item," during the work of the 144th General Assembly of the Inter-Parliamentary Union (IPU), which is currently held in Bali, Indonesia, under the theme of "Getting to Zero: Mobilizing Parliaments to Act on Climate Change."
The Shura Council's delegation was chaired by HE Member of Shura Council Abdulla bin Ali Al Sulaiti.
During the meeting, they adopted New Zealand's draft resolution as an emergency item entitled "Peaceful solution to the war in Ukraine, in compliance with international law, the UN Charter and territorial integrity." It was adopted by the 144th General Assembly by consensus of all parliaments participating in the meeting, with some countries' reservations.
The resolution calls for an immediate end to all attacks, a safe corridor for humanitarian support and assistance, and full compliance with the rules of international and humanitarian law. It urges countries to provide humanitarian assistance to alleviate the suffering civilians are suffering from the war.
The resolution also appeals to parliamentarians in Russia and Ukraine to strengthen initiatives to stop hostilities and resolve differences by peaceful diplomatic means.
In her speech to the 144th IPU General Assembly, HE Deputy Speaker of the Shura Council Dr. Hamda bint Hassan Al Sulaiti stressed Qatar's belief in the need to respect the national sovereignty of all states, the importance of peaceful coexistence and enhanced cooperation between them, the peaceful resolution of all differences, and the need to refer to negotiations and international legitimacy and international law.
(QNA)