Shine Gold & Diamonds to Launch a Brand-new Outlet at Al Watan Centre, Doha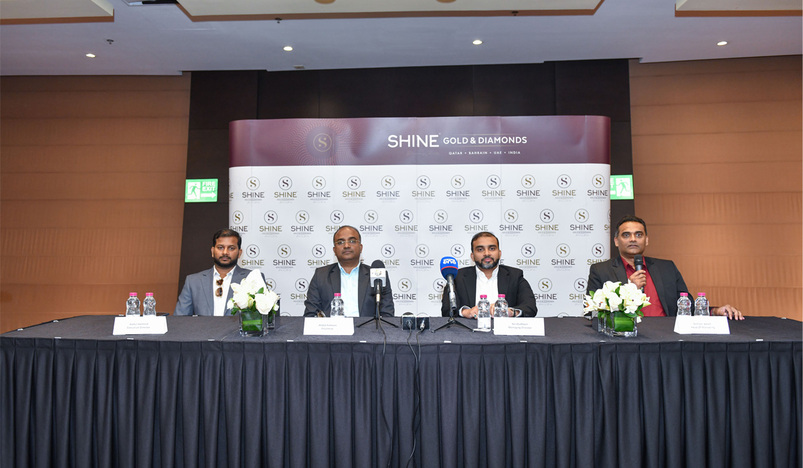 Shine Gold & Diamonds
Shine Gold & Diamonds, Qatar's most trusted and celebrated jewellery brand to launch its 17th outlet at Al Watan Centre, Qatar on 27th October 2022 at 3 pm. The outlet will be inaugurated by Mr. Abdul Rahman, Founder & Chairman, Shine Gold & Diamonds. The famous social media influencer Jumana will be the celebrity guest for the event. As part of the grand inauguration, the brand is extending special offers on jewellery purchases. The first 500 customers to purchase jewellery worth QR 1000 can avail 1 gram gold coin (22 karat) free. The offer will be valid from 27th October to 29th October 2022 (3 days).     
Shine Gold & Diamonds started its journey as a family business in the year 2000, with its first retail outlet in Bahrain.  
After its initial foray into Gold and Diamond business in Bahrain, the family business under the brand name Shine Gold & Diamonds entered Qatar market anticipating the business potential in Qatar, in the year 2005.  
Presently Shine Gold & Diamonds has 12 outlets and a Jewellery workshop in Qatar, 3 outlets in Bahrain, 1 outlet in India, and a procurement office in Dubai.     
In Qatar, Shine Gold & Diamonds has been primarily selling 18 karat gold jewellery and diamonds. This new outlet will be the first outlet to focus primarily on 22 karat gold jewellery. Besides 22 karat gold jewellery, there will be 18 karat gold jewellery, 24 carat pure gold, diamond jewellery, pearls and precious stones.
Sarafudheen, Managing Director, Shine Gold & Diamonds said, "We are thrilled to announce the launch of our new outlet at Al watan Centre today. Doha is a very significant market for us, not only for our retail business but also for our custom-made jewellery segment. We have a large workshop in Doha where we make unique designs as per our customer requirement. It is our constant endeavour to provide the best service and offerings to our esteemed customers. This new outlet would showcase traditional and contemporary jewellery designs to suit diverse tastes and preferences of our valued customers" 
"We are happy to expand our operations in Qatar. I believe this new outlet with its elegant ambience, and with excellent jewellery collections will become a favourite spot for jewellery buyers." said Abdul Hameed, Executive Director of Shine Gold & Diamonds.