Sheikha Moza walks in solidarity with Turkiye-Syria earthquake victims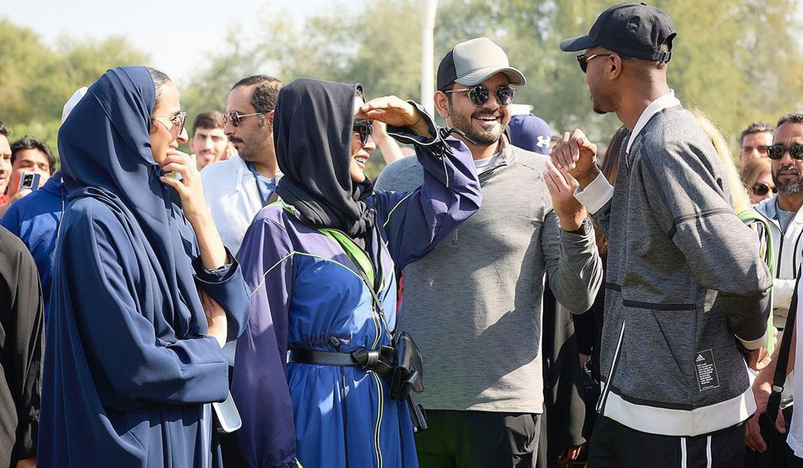 Sheikha Moza
HH Sheikha Moza bint Nasser, Chairperson of Qatar Foundation, kicked off this year's National Sport Day activities at Qatar Foundation by leading off a walkathon in aid of Turkiye and Syria, called 'Walk For a Cause'.
HH Sheikha Moza was joined by HE Sheikha Hind bint Hamad Al-Thani, Vice Chairperson and CEO of Qatar Foundation, and HE Sheikh Joaan bin Hamad Al-Thani, President of Qatar Olympic Committee, who participated in the walkathon, held in collaboration with Qatar Charity to raise funds for those affected by the recent earthquake.
Fatima Al Mohannadi, a community member who took part in Walk For a Cause said: "My heart has been so heavy this past week and I wasn't sure I wanted to do anything this National Sport Day, until I heard of this walk. It was the perfect way to start this year's National Sport Day by using it as an opportunity to show our wholehearted support for the people in Turkiye and Syria." This year, Qatar Foundation (QF) hosted a fun triathlon, called Try-a-Tri, to create awareness about the sport and encourage more participation in it. Try-a-Tri was open to anybody who wished to try the sport, with distances in the adult and children's categories marked as 100m for swimming, followed by a 4km bike race, and ending with a 1.5km running race. The event saw many experiencing a triathlon for the first time.
Brik Zine Eddine, a Try-a-Tri participant in his thirties, who works as a safety and security officer in a private company in Doha, said: "It is National Sport Day that provided me with the opportunity to get acquainted with and participate in this sport. Qatar Foundation continuously highlights the importance of sports and seeks to promote it to everyone in society." In addition to QF's line-up of sports challenges and activities across Education City - which saw large numbers of community members participate, with Qatar Olympic Committee as QF's main partner - the Education City Stadium was also utilized to host sports activities for women and girls only, hosting the semi-finals and finals of the Women and Girls Football Tournament.
The Education City Stadium also saw teams compete in a functional fitness challenge made up of burpees, squats, mountain climbers and others, and using equipment such as rowing machines and medicine balls.
Ensuring that sports activities are inclusive, QF's Ability Friendly Program and Renad Academy - a QF school - hosted games of basketball and football. With Qatar having hosted the most accessible FIFA World Cup, QF aims to contribute to a sporting and social legacy that can be accessible to people of all ages and abilities - reflecting that sport is there to benefit everyone, and that it can provide momentum for a culture of accessibility and a sense of empowerment that has enduring societal value.
Centered at the Ceremonial Green Spine in Education City, QF schools organized an array of exciting sports activities, where each schools' students showcased their unique skills and interests. Tariq Bin Ziad School presented traditional Qatari games, while students from Qatar Academy for Science and Technology demonstrated Qatar athlete Mutaz Barshim's high jump, and students from Qatar Leadership Academy showed their mastery of jiu-jitsu.